Twenty seven years ago, the Rwanda Patriotic Front rebels shifted their battle frontline from a flat terrain East to the forested mountainous north.
The rebels built a special bond with residents of the new frontline zones. This was Paul Kagame's strategy – He was commanding the entire war against the ruthless genocidal forces.
Burera district was one of the new frontline zones in the north composed of four districts including; Gicumbi, Musanze,Nyabihu and Burera.
As presidential campaigns move into the final days , candidate Paul Kagame has returned to Burera district for a new battle – soliciting for votes ahead of the August 4th elections.
"We camped in Burera and surrounding areas, fought battles and won. We are now building this region," Kagame told RPF party supporters today at a campaign rally.
Under the past governments, there were no developmental activities in Burera district. But today there is significant transformation in Burera including the standards of living of residents.
For example,  Donat Ngezehe recounted his transformational story at a RPF campaign rally in Burera. He said, "When Kagame introduced the one cow per family program, I was the first to get a cow and it has since produced 9 calves," he said as supporters cheered him.
The one-cow-per family program was introduced in 2006 to uplift the poor. About 300,000 households have benefited from this program.
The cow which Ngezehe got has enabled him acquire land; "I started growing beans and now I supply to Uganda."
"Can you imagine I bought two cars and built a modern house," He said, adding that under the previous governments he grew up in a grass thatched hut.
In his lengthy testimony as supporters and candidate Kagame attentively listened, Ngezehe said that when he was growing up, he didn't go to school because his parents were very poor- he cared for the neighbours cattle in exchange for food.
"I am enroled in school in Primary one – because I want to learn reading and writing,"  said Ngezehe now in his 40's.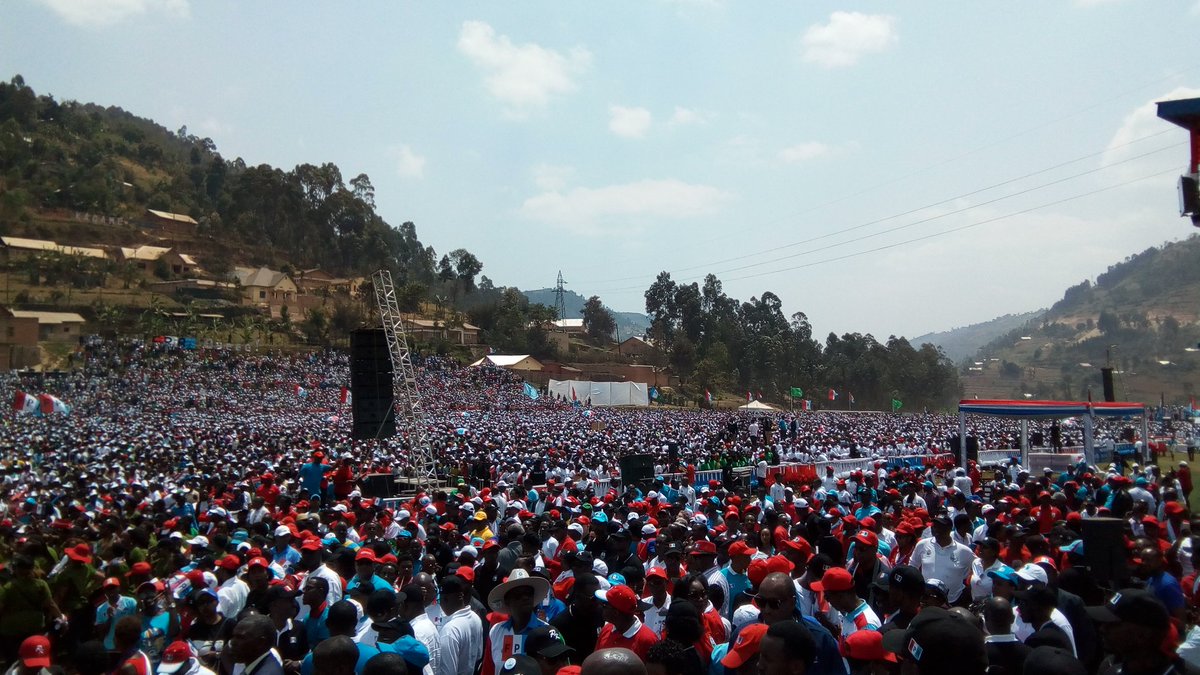 For all this transformational journey Ngezehe said, "If we vote for him, I will stand here next time announcing that I have started a maize factory," he said.
The war against poverty in Burera district is being fought through several public private partnerships and many initiatives.
Burera is currently popular for  Irish potato farming, tourism, Butaro regional cancer Centre and a new medical school under construction and an airport.
Kagame reminded Burera supporters of other battles they fought together and won, "Those working together reach far."
"Voting is choosing construction of more schools, trading, ICT, general development ," Kagame said.
Kagame said all he needs is for every supporter to play their role but does not doubt their collaboration, because of a special bond with him.
"We have made a covenant. People who work together 100%, cannot fail to make a covenant. None should break this covenant," Kagame said.
He said working together is a motto within RPF and the allied 8 political parties.
"We will never fail; we have RPF, we have Kagame, we have the political parties with them. If we fail, wouldn't that be shame?"
Kagame reminded supporters through his favourite campaign song "Nda Ndambara Yandera Ubwoba," loosely translated as 'am not scared of any battle'
"Since we have you, he said, we shall not fear any battle," Kagame said.