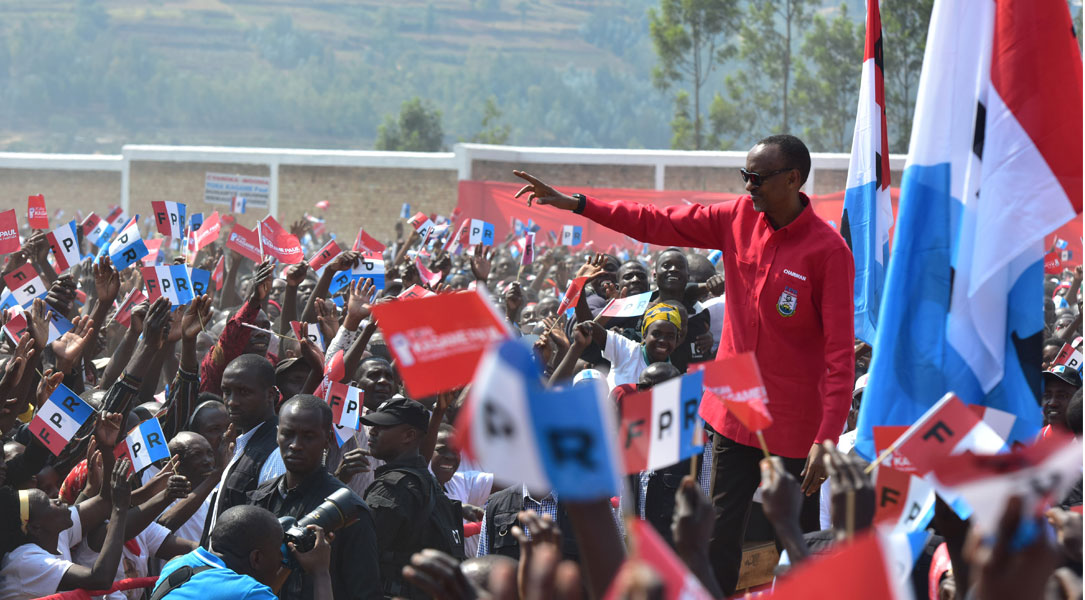 Candidate Paul Kagame -the flag bearer of the Rwanda Patriotic Front (RPF) today told his supporters at a campaign rally in Nyamagabe district  that his mission is "to put all of you at same state of well being with nobody left behind."
In the past regimes, residents of Nyamagabe district had been branded 'Abatebo' – meaning hungry people. This was mostly due to the district's infertile soils and poor leadership.
Speaking to thousands of RPF supporters at Nyagisenyi stadium, said such a bad label should be history; "You will never be the same again," he said amidst chants.
Until 2002, the former Gikongoro prefecture in Southern Rwanda, Nyamagabe district was like an abandoned district. Soils were infertile and farmers could not even harvest any crops.
That same year, Kagame summoned business community and opinion leaders in the district. The meeting had one agenda; to discuss how to develop their region.
From this meeting there was a crucial outcome. An investment group – Multi Sector Investment Group (MIG) was formed.
Kagame himself offered the group Rwf11 million to support the investment group. According to Francois Kanimba, Rwanda's Minister of Trade and East African Community affairs, "He (Kagame) challenged us to do something for our region which many Rwandans thought had been cursed."
Nyamagabe had been deserted. Hundreds of residents had fled the area as others succumbed to hunger until the late 1980's.
Today, after several mega projects launched the district has become a bread basked in the region.
With 890 shareholders the investment Multi Sector Investment Group (MIG) has raised Rwf1 billion and began investmenting.
Several other projects including tea factories have been established in the district as well as infrastructure projects.
These include a $ 10 million Mushubi tea factory with a 20,000 tons annual production capacity, Kitabi tea factory with 17,000 ha producing 2,250 tons. The factory generated $ 7 million in 2014 out of a total $ 51.76 million countrywide.
Coffee has earned MIG many awards, including the Cup of Excellence in 2008, which rewards best coffee farmers worldwide.
For instance, Governor of Southern Province, Rose Mureshyankwano said electricity roll-out has moved from 2% to more than 21% in the past 7 years, with only 3 sectors out of 17 sectors not connected.
"We will connect the whole district. Voting RPF is the right choice," Kagame told residents amidst massive applause.
Kagame promised Nyamagabe district residents that he will upgrade 149km Huye-Nyamagabe-Rusizi road very soon if he is elected. "You will just slide to Rusizi," he said. Kagame's next stop on his campaign is Huye and Kamonyi districts in Southern Province.