On Monday, KT Press revealed details of payments made to American lobbying firm Podesta Group supposedly by disgruntled former official David Himbara, a close associate of self-exiled Rwandan tobacco tycoon Tribert Rujugiro.
Today, we trace the dubious trajectory from an even earlier lobbying contract signed in 2003, to Tuesday's hearing at the US Congress in which David Himbara and disgraced ex-soldier, Robert Higiro testified.
The hearing in the House Foreign Affairs sub-committee on Africa, whose deliberations are non-binding, was chaired by Congressman Chris Smith, partially accompanied by ranking member Congresswoman Karen Bass. No other member of the sub-committee was present at the hearing, which is highly unusual, and points to the lack of interest by other members of the 9-member committee.
As per stipulations, the US government was represented by Ambassador Donald Yamamoto, Acting Assistant Secretary for African Affairs at the State Department. Also invited to speak was Search for Common Ground, an international NGO operating in the Great Lakes Region and Amnesty International.
During the hearing, Ambassador Yamamoto stated that U.S. policy toward Rwanda sought to support the Rwanda to continue making progress as it recovers from the 1994 Genocide against the Tutsi. He concluded that, "The government and people of Rwanda have reasons to be hopeful as the country continues to build a brighter future linked to peace and economic development".
Himbara and Higiro used the session, just as they did in 2015 before the same sub-committee, as a platform to sell an unrecognizable narrative about Rwanda. Himbara also managed to insert a plea about UTC, the Kigali shopping mall abandoned by Rujugiro when he fled Rwanda.
The Search for Common Ground representative Mike Jobbins, said the exact opposite of the two Rwandan witnesses with an axe to grind, recommending sustained support and engagement with Rwanda and the region.
While Congressman Smith was unusually persistent, almost desperate, in his quest for details of presumed violations in Rwanda, Congresswoman Bass, before leaving the session for another event, commented that it made no sense to claim that everything was bad, particularly in light of the prevailing political climate in the US.
So how did Himbara happen to score, not one but two, hearings in Congressman Smith's sub-committee?
Back in 2003, one Theogene Rudasingwa (then Director of Cabinet at the President's Office) signed a contract on behalf of the government of Rwanda with JWI, another lobbying firm. One of JWI's registered lobbyists for Rwanda was one Gregory Simpkins, who was at the time between two stints as Congress staff member.
KT Press has obtained the contracts from the US Congress website. (US law requires that all transactions by lobbyists on Capitol Hill (seat of US Congress) to gain access to lawmakers, must be filed on the publicly accessible platform.)
Fast forward to today.
Rudasingwa is no longer in government but living in self-exile in the U.S. capital. He is one of the four founder members of the Rwanda National Congress (RNC), a self-declared political party composed of disgruntled ex-officials in opportunistic coalition with known terror networks like the FDLR, the ex-genocidaire militia based in the DRC. Rujugiro is believed to be a key financier of RNC, and Higiro used to identify himself publicly as an RNC coordinator in Belgium.
As for lobbyist Gregory Simpkins, he's now back at Congress again, as the staff director for the U.S. House Subcommittee on Africa, Global Health and Human Rights. According to his bio on the House's site, Simpkins manages the committee's activities and advises the chairman, who just happens to be – Congressman Smith!
As KT Press reported HERE (title $ hyperlink), the hearing was the result of cash payments totaling $440,000 to the Podesta Group, a PR and lobbying firm. The firm arranged access for Himbara and team to Congressman Chris Smith, facilitated by staffer Gregory Simpkins (Rudasingwa's old lobbyist friend).
But where did all that money come from? Only Himbara is listed as Podesta's client, but our investigations have revealed that none other than Tribert Rujugiro is the one financing the dastardly plot.
Himbara and Rujugiro have maintained a long friendship. They regularly make joint appearances on Voice of America radio and TV, where Himbara puts in spirited defense of his businessman associate.
Podesta Group had earlier produced a promotional video [hyperlink this] featuring both Rujugiro and Himbara as part of a campaign attempting to restore the tobacco tycoon's damaged reputation. It is posted on the Podesta Group website.
However, on contracts and declaration forms publicly available on the US Congress website, only Himbara is mentioned as the source of funds. The question the becomes, is the Podesta Group knowingly violating U.S. lobbying laws by concealing the ultimate source of funds for contracts it signs, not to mention the ultimate beneficiary: a foreign political organization seeking to influence US government officials?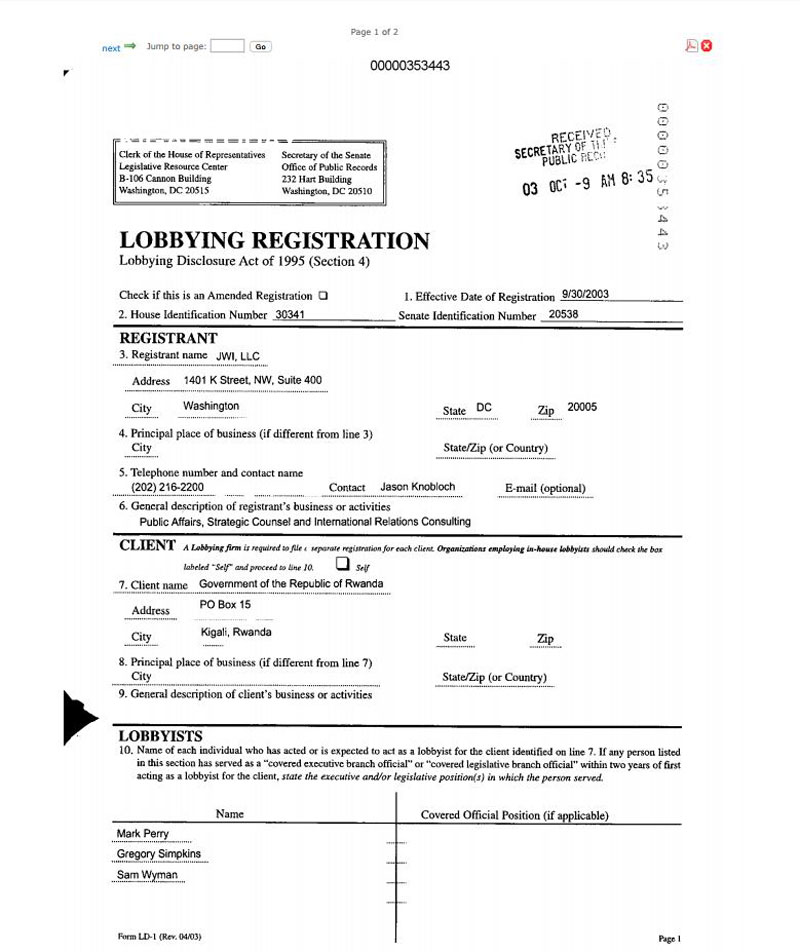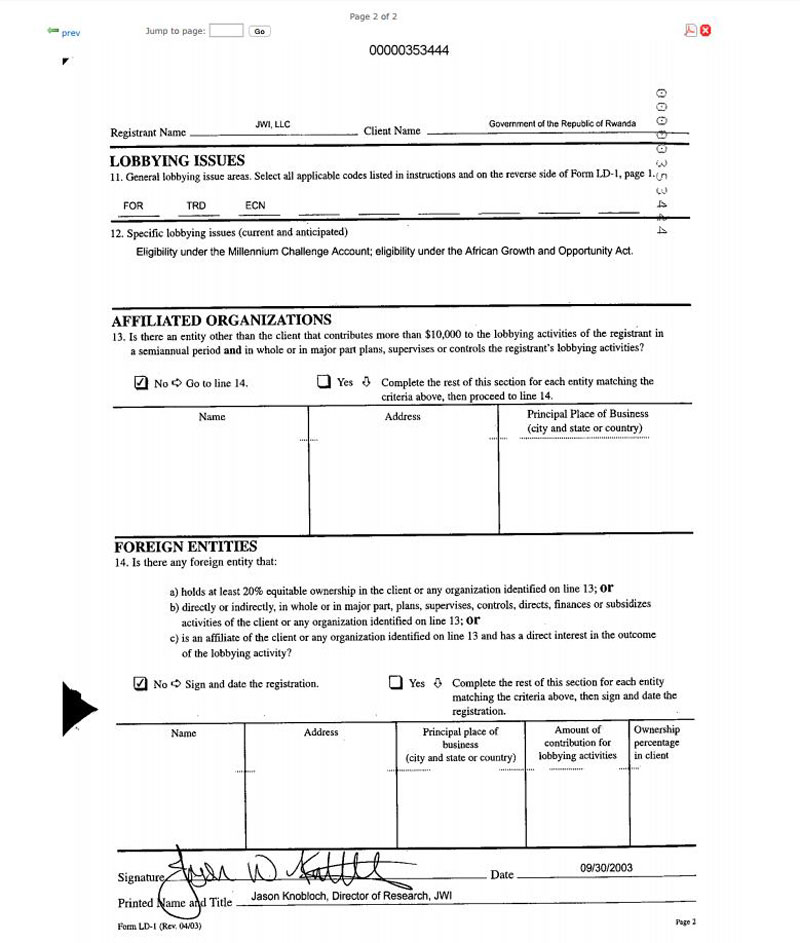 Here are more exhibits