On October 28, 2017, the global cricket family will assemble in Gahanga sector, Kicukiro district, Kigali City to inaugurate the long-awaited Rwf950.2 million state-of-the-art international cricket stadium, first of its kind in Africa.
The inauguration ceremony is expected to attract over 200 high profile cricket personalities from different parts of the globe, but majority will come from the UK.
The stadium has been under construction since June 2016, with the works being overseen by the Rwanda Cricket Stadium Foundation (RCSF), an NGO that is registered in Rwanda and the UK. RCSF patrons include former UK Prime Minister David Cameron and West Indies cricket great, Brian Lara.
In 2011, the Rwanda Cricket Stadium Foundation (RCSF) was founded in memory of Christopher Shale to promote reconciliation in Rwanda through the construction and management of the first international standard cricket ground in the Rwandan capital, Kigali.
The not-for-profit stadium, which sits on a 4.5 hectare plot in Gahanga, will operate a sport for all policy to ensure Rwandans can have access to the country's fastest growing sport. The intention was never to create a cricket stadium in the conventional sense but to build a unique platform for promoting reconciliation.
The multi-purpose facility will include an international standard cricket ground and a pavilion with restaurant, meeting rooms, bar and free HIV-testing facilities.
Upon completion of the stadium, RCSF will transition from a construction project to a charity called Cricket Builds Hope (CBH); an initiative that will use cricket as a vehicle for social change. Through its network of ambassadors, Cricket Builds Hope will leverage the power of cricket to educate, inspire, and mobilise people in developing countries to overcome their greatest challenges and be agents for change in their communities.
The facility comes at a right time when cricket in Rwanda is growing at a rapid speed across the country. However, despite the rapid growth, facilities to serve cricketers in the various categories have been a serious challenge.
For the last 15 years, over 10,000 Rwandans of all ages have been introduced to the 'gentleman's game.'
Cricket began in Rwanda in wake of the 1994 Genocide against the Tutsi following the return of Rwandans that had spent decades in exile in English-speaking, cricket-playing countries such as Uganda, Kenya and Tanzania.
Charles Haba, a former President of Rwanda Cricket Association from 2000 to 2017, is known to many as the founding father of the sport in the country.
He played a vital role to ensure that Rwanda Cricket Association (RCA) becomes an Affiliate Member of the International Cricket Council in 2003 and since then RCA has grown from only 3 men's clubs in 2000 to 12 today that play across 2 divisions.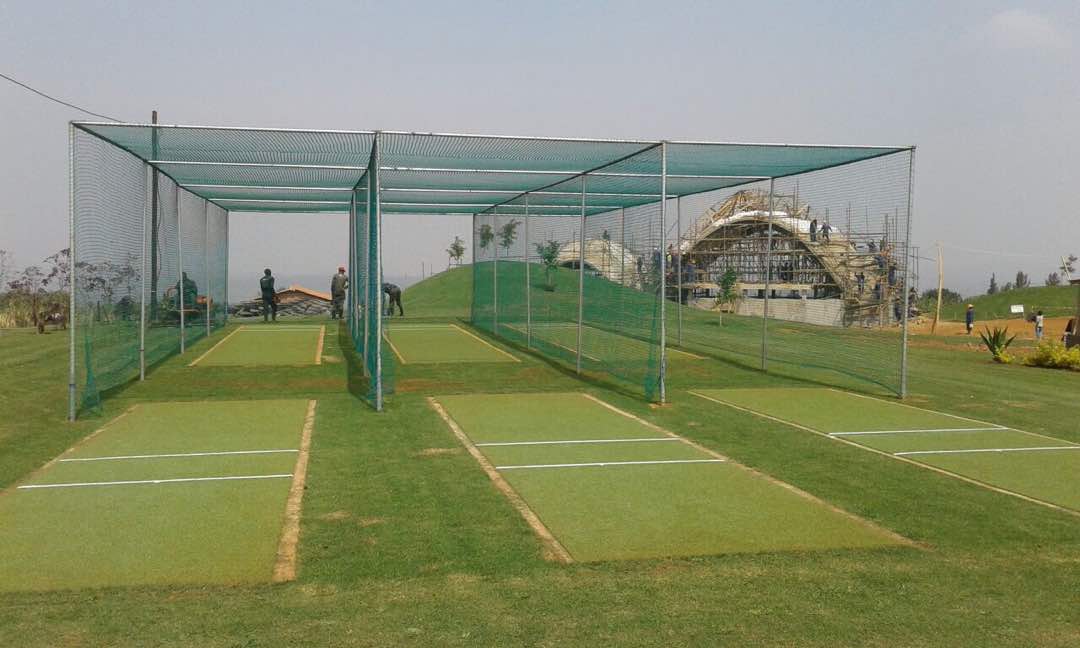 They also have an extremely competitive women's league comprising 6 teams – something many higher ranked nations only dream of.
The sport has been played in literally every province of Rwanda and the numbers have grown from 20 in 1999 to more than 10,000 cricketers today.
Cricket, being the fastest growing sport in the country, needed a major infrastructural boost for further growth.
Speaking to KT Press, Haba who now serves on the Advisory Board of RCA said, "Lack of facilities has been, by far, the largest impediment towards sustainable growth of our much cherished game. Gahanga cricket stadium will prepare our teams better for international engagements and will also make Rwanda a destination of choice for visiting teams."
As a person who struggled hard to introduce the sport in the country, having the facility in place for cricketers, Haba, says, "This is, to say the least, fulfilling. Indeed it is something we would only have dreamt of and much appreciation is extended to our partners in Rwanda Cricket Stadium Foundation."I
The Rwanda Cricket Association (RCA) president Eddie Balaba also spoke to KT Press on what it means to have this kind of facility in Rwanda.
He said, "The Gahanga Cricket stadium is going to give Rwandan players an opportunity to practice on the same standard of pitch as we find when we go for international games, inspire young Rwandans to want to play the game on such beautiful grounds and enable Rwanda to host international games that require high standard facilities,"
In a separate interview with one of the regional papers, Balaba said, "We want Gahanga to be the Lords of Africa. People should aspire to play at Gahanga. We want to make the stadium iconic for players across Africa by organizing world class tournaments.
"We already have one of the head line tournaments for the ladies in Africa the Kwibuka Peace tournament and we hope to have Namibia and Zambia part of the tournament next year.
The facility has come at a right time when Rwanda Cricket Association is keen on developing the sport from the grassroot through the development program currently underway in bid to have solid national team that will be able to battle for titles against known African nations. 
"Rwanda Cricket Association has a long term development program (U15, U17 and U19,) for the game of cricket in Rwanda beginning with inter schools competitions at district, regional and national level. Here we will get players to feature at U19 and eventually national team,"
"We already have national teams but the development program will guarantee continuous discovery of talent to replace players in current teams and enable the teams to improve over time," he said.
Rwandan cricketers have been playing the sport at the country's only, cricket ground located at the campus of Kicukiro College of Technology. It is made up of one concrete wicket covered with worn matting. It has an old and uneven concrete net and a basic shed to house the limited equipment the cricketers have. The players have no changing room either. Despite this, they have been playing and practicing with unparalleled passion and enthusiasm.
The Rwanda Cricket Stadium Foundation (RCSF) General Manager, Eric Dusingizimana, a national team captain has seen the construction of the stadium, brick–by-brick through the ambitious project — that of construction of the first international cricket stadium in Rwanda.
The Rwanda Cricket Stadium Foundation was formed in August 2011 to build and manage, on a not-for-profit basis, the first dedicated international cricket ground in Rwanda. RCSF's vision is to facilitate reconciliation, through the essential values of cricket, by supporting the rebuilding of communities in Rwanda.
Being a Civil Engineer himself, Dusingizimana played a crucial role in raising funds to the construction of the stadium.
And to help raise this money, he attempted to get his name into the Guinness Book of World Records for longest individual net session by batting for 51 hours straight in May, 2016.
Many well-wishers and supporters of his cause played their bit by bowling to him; the list included former British Premier Tony Blair was one of them.
The marathon effort earned him the world record for longest individual net session. Incidentally, he broke the record of Virag More, an Indian who had set a record of 50 hours 4 minutes 51 seconds in December 2015.
There were more good things in store for the man. He was invited to England for a fund-raising trip. The trip was extremely satisfying for him, as the fundraising dinner at Lord's saw £120,000 being pledged to the charity appeal to build the stadium in Rwanda. Further, Surrey CCC also donated £10,000 and pledged to commit a further £40,000 over the next five years. This feat got the stadium work going.
With the stadium ready for operational this year and coming to full completion in 2018, the cricket body will need more funds to support ground maintenance and cricket equipment as Rwandan teams set to get more international games at their home stadium.
 Government's support pivotal to the sport's growth
Cricket being an expensive sport, the Rwanda Cricket Association (RCA) has managed to make strides with the help of the government.
The Rwandan government has helped them not only acquire 14 hectares for the Gahanga cricket facility but also put up a cricket academy for the best players.
The cricket body has a cricket academy that will be admitting 15 boys and girls every year identified as future stars. These players are admitted to do their A-level (s4-s6) with a programme involving them studying till Lunch time and then sports training in the afternoon but the programme has a mixture of sports science.
The project is under the Integrated Polytechnic Regional Centre (IPRC) with other sports also included. The government also meets all preparation costs for national teams going to compete in World Cup Qualifiers.
RCA is also keen on improving the facilities and have four more facilities added to the two they already have, get all 30 districts in Rwanda playing cricket (sport being played competitively in 9 districts) and lastly make sure our U19 boys and ladies national teams are competitive in the region.