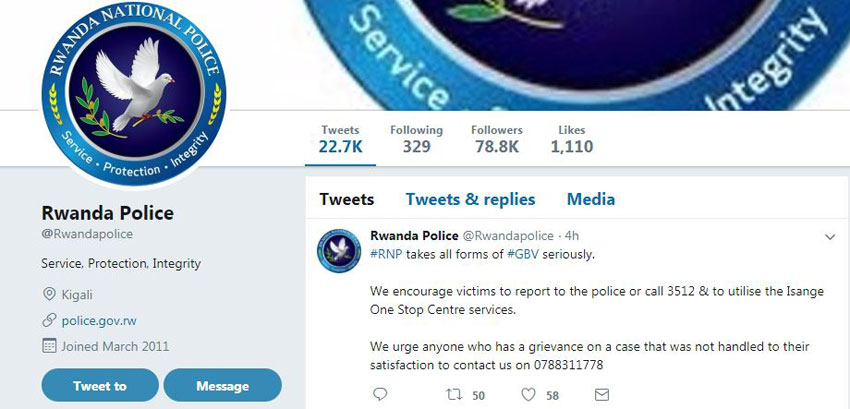 The court of public opinion has once again taken social media platforms especially Twitter by storm after an anonymous person launched an attack on four people accusing them of rape.
It all started on Friday 29th December 2017, when an anonymous person behind Rwandans on Twitter account came out to share a story of a man he accuses of being a rapist.
The person said that it has been a disturbing matter for a while and it is time to publicly talk about it and apologized to whoever may get hurt in the process.
Apparently, the thread was exposing a man called Kagabo Jean de Dieu, also known as 'Fifi'.
Many were in shock after his photo was exposed and it prompted endless comments on Twitter.
The thread attracted the attention of twitter enthusiasts and many involved in comments and retweets airing their views about the matter.
The thread said Kagabo not only preys on women who are in a vulnerable position, but also destroys them emotionally and psychologically to silence them.
On one instance, according to the anonymous accuser, Kagabo blatantly told one of the girls how he would make her look crazy if she dared to speak up, and that no one would believe her.
Just a few days after this social media spat, the same anonymous account opened up an attack on one George Ndirangu – a Kenyan journalist currently working with CNBC Africa.
The accuser had also exposed two other people; Alpha Rwirangira and one Habib Karim.
For Ndirangu, the anonymous account holder accuses him of 'allegedly raping a virgin girl' a few days ago. He accuses Rwirangira – a US-based Rwandan artiste of once attempting to rape a woman who was once a fellow congregant in a church in Kigali.
For Karim, the accuser says he had been drugging girls before raping them.
Since this started, Police have intervened and said all victims of Gender Based Violence should report to Police.
"RNP takes all forms of GBV seriously. We encourage victims to report to the police or call 3512 & to utilise the Isange One Stop Centre services. We urge anyone who has a grievance on a case that was not handled to their satisfaction to contact us on 0788311778," Police said on its Twitter handle.
Meanwhile, social media enthusiasts have since re-tweeted and shared photos of the accused several times – many proposing that the 'alleged rapists' be punished by the law if found guilty.
But others had different views. For instance, one of the tweeps; Edmund Kagire said:
"Now that we know who is behind the account, I am not surprised. Someone who said I should have died, that she couldn't believe people contributed money to save me, just because we couldn't agree in a debate? Such extremism and intolerance. How can we not question the claims?"
"I've had you blocked for a moment but I will unblock you for a moment since you're trying to get a reaction from me. 1) I never said you should have died. 2) My250 is a platform I created for our people to share their stories, it doesn't mean I am the one doing the tweeting," a tweep claiming to be the owner of the account used to name alleged rapists said.
Georgie Ndirangu, after several comments calling on him to come out and give his side of the story, said: "Kindly note: Anything spread or extended on this platform has the power to make or break someone's life. Mentally or otherwise. Completely. The truth always comes to light. But please be careful that you weren't part of bringing someone down based on the 140 – 280 characters you weren't certain of. We'll see this through to the end."