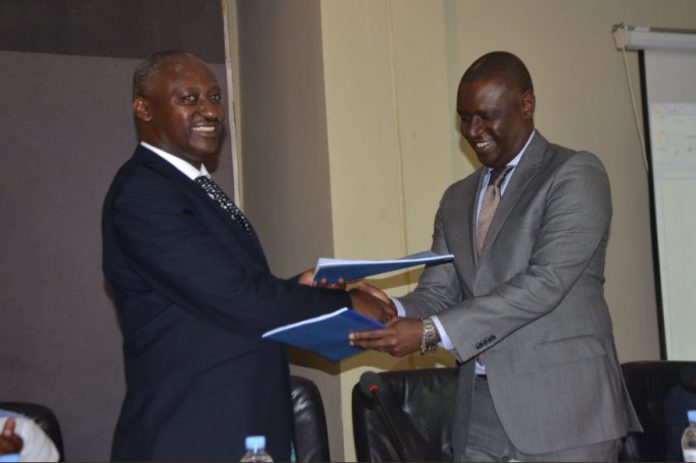 The newly elected Rwanda Private Sector Federation (PSF) Chairperson has assumed office with a new task of changing the face of the business community and trade fairs.
Today, PSF Chairman Robert Bapfakurera received official office documents from his predecessor Benjamin Gasamagera, at a handover held at a PSF Induction Retreat which opened on11th March 2018 at Golden Tulip Hotel – Bugesera district.
"To achieve a genuine economic growth, we need to have strong structures, teamwork, professionalism and efficient strategies that lead to this efficient growth," said Robert Bapfakurera during his welcome speech.
Top on Bapfakurera's agenda will be to ensure that the proposed Rwanda International Trade and Exhibition Park (RITEP) in Bugesera district is complete by the year 2020.
The RITEP project was initiated by Benjamin Gasamagera, who says that the project paper work was completed by the time of leaving office, pending implementation.
"The remaining part is to solicit for investors to inject $60.8 million budgeted for the completion of this project," said Gasamagera, the outgoing PSF boss.
Over the last 20 years, Rwanda International Trade Fair has grown and demand for more exposition ground, space for entertainment and sanitation services has been demanded from the PSF officials over a decade, through client satisfaction reports.
The current trade fair expo ground accomodates at least 15,000-20,000 potential clients every day during the 2017 expo, while 25000-35000 clients were registered during weekends according to PSF officials.
The new proposed RITEP project will sit on 13 hectares. It will have six exhibition halls (each having 3000 square meters) and an outdoor exhibition space of around 16,000 square meters compared to Gikondo Grounds on 4.8 hectares with 2 exhibition halls.
With confidence and experience as a hotel owner, the incoming chairman said the negotiation with government has been streamlined to have a collaborative effort in implementing development agendas.
"This project will be achievable in my first term. We need to have strong structures, teamwork, professionalism and efficient strategies to achieve a genuine economic growth," said Bapfakurera during his welcome speech.
PSF Chief Executive Officer, Stephen Ruzibiza said that mobilization for more members to join the federation will be enhanced as this will strengthen the federation's performance and focus immensely on linking members to more business opportunities in Rwanda's preferred markets.
Ruzibiza noted that the new members should advocate more for removal of business barriers, improve membership services and enhance capacity development to the members.