Germany's Team Embrace the World rider Hellman Julian registered his second stage victory in the on-going 10th edition of the Tour du Rwanda as he won stage five which started from Karongi and climaxed in Rubavu District on Thursday.
Julian won the 95km stage race in 02h27'34 in a close finish edging South Africa's Julius Jayde who also registered the same timing.
Julian said after the stage race, "It's unbelievable; I didn't feel well going into this stage. I had a lot of pain starting today's stage but I just told myself to continue and thanks to my team mates who worked incredibly well for me. I am so happy, so glad that I have won the second stage in this year's Tour du Rwanda."
The first stage victory that Julian won was on Tuesday this week when he claimed the 199.7km race from Huye District to Musanze District.
Team Rwanda rider Mugisha Samuel finished well in a bunch, registering a seventh-place finish in 02h27'37".
Other Rwandans who finished in the top ten includes Team Rwanda rider Munyaneza Didier and POC Cote de Lumière rider Uwizeye Jean Claude who all finished fourth and fifth respectively.
The 20-year old Mugisha who is on the verge of winning the 10th edition of Tour du Rwanda tops the general classification with a 21-second gap ahead of Uwizeye who is ranked second and 24 seconds ahead of Ethiopian Hailemichael Mulu.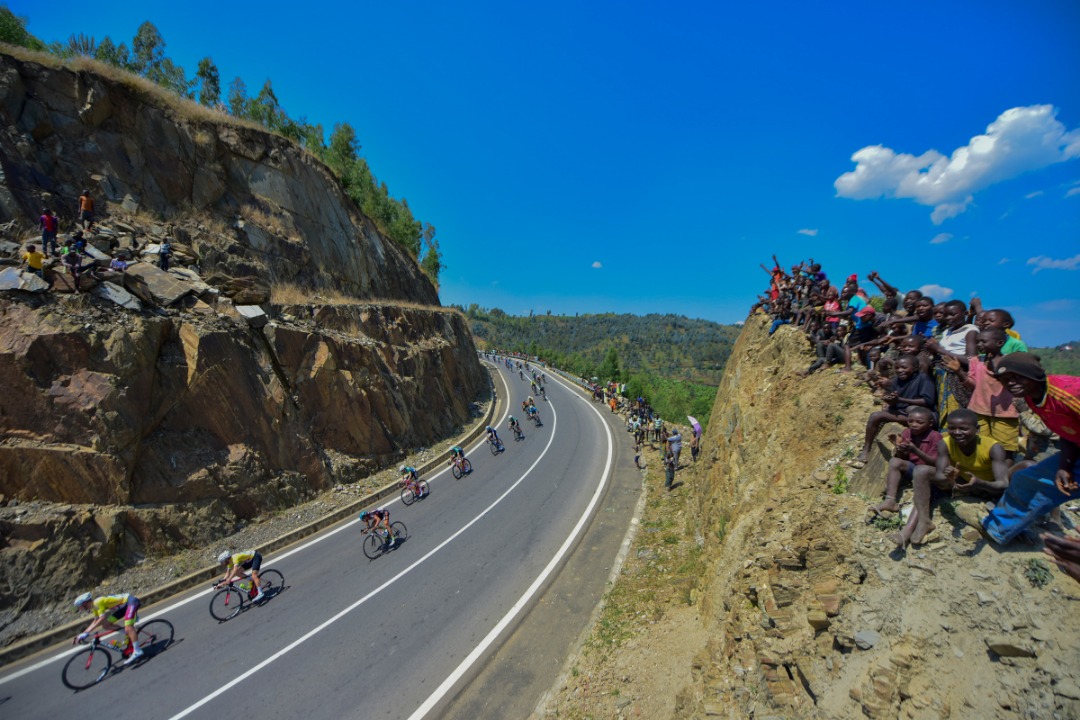 Following the climax of stage five which Mugisha retain the yellow jersey, the Dimension Data for Qhubeka rider said, "I want to thank all Rwandans who have been supporting us. This is a good achievement so far. I have high hopes of winning Tour du Rwanda and through hard work we will make it happen,"
Besides retaining the Yellow Jersey, Mugisha also emerged retained the accolade for the best young classification rider as well as the Best Rwanda and African rider categories respectively.
Ethiopian Hailemichael Mulu emerged the King of the Mountain while Hadi Janvier topped the sprints classification with POC Cote de Lumiere topping the Team Classification category.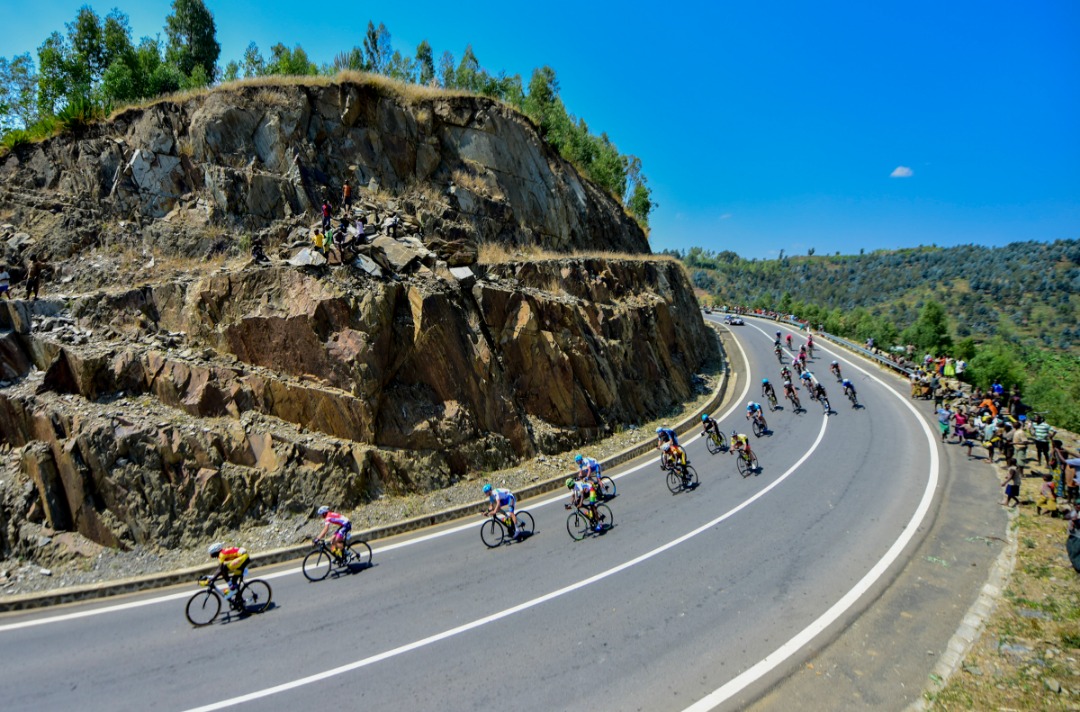 Action continues on Friday with stage six which will see riders covering 108.5km from Rubavu to Kinigi, undergoing three climbs while riding on the foot of the breathtaking Volcanoes National Park, home to the famous mountain gorillas.
10th Tour du Rwanda
Stage 5 Standings (Karongi-Rubavu)
1. Hellman Julian (Team Embrace the World, Germany) – 02h27'34
2. Julius Jayde (South Africa) – 02h27'34
3. Lozano Riba David (Team Novo Nordisk, Spain) – 02h27'36
4. Munyaneza Didier (Rwanda) -02h27'37
5. Uwizeye Jean Claude (POC Cote de Lumiere) – 02h27'37
6. Favre Teylaz Benjamin (Haute Savoir Auvergne Rhone) – 02h27'37
7. Mugisha Samuel (Team Rwanda) – 02h27'37
8. Voss Arnaud (POC Cote de Lumiere) – 02h27'40
9. Doring James (Team Descartes Romandie) – 02h27'40
10. Hailemichael Mulu (Ethiopia) – 02h27'40
General Classification-After Stage 5
1. Mugisha Samuel (Rwanda) – 16h35'30
2. Uwizeye Jean Claude (POC Cote de Lumière) – 16h35'51
3. Hailemichael Mulu (Ethiopia) – 16h35'53
4.  Lozano Riba David (Team Novo Nordisk) -16h37'20
5. Doring James (Team Descartes Romandie) – 16h37'43
6.  Ndayisenga Valens (POC Cote de Lumière) – 16h37'46
7. Hellmann Julian (Team Embrace the World) – 16h38'01
8. Munyaneza Didier (Rwanda) – 16h38'32
9. Lagab Azzedine (Groupement Sportif Des Petroliers) – 16h38'32
10. Temalew Bereket Desalegn (Ethiopia) – 16h40'08
Mountain Classification (Pts)
1. Hailemichael Mulu (Ethiopia) – 68
2. Rugg Timothy (Team Embrace the World) -45
3. Hellman Julian (Team Embrace the World) – 19
4. Mugisha Samuel (Rwanda) – 13
5. Manizabayo Eric (Benediction) – 9
Sprints Classification (Pts)
1. Hadi Janvier (Benediction) -13
2. Araujo Bruno (Petro de Luanda, Angola) -11
3. Ukiniwabo Rene Jean Paul (Amis Sportifs) – 8
4. Mugisha Samuel (Rwanda) – 6
5. Hailemichael Mulu (Ethiopia) – 6
Best Young Classification
1. Mugisha Samuel (Rwanda) – 16h35'30"
2. Hailemichael Mulu (Ethiopia) – 16h35'54"'
3. Doring Jonas (Team Descartes Romandie) -16h37'43"'
4. Munyaneza Didier (Rwanda) -16h38'32"
5. Temalew Bereket Desalegn (Ethiopia) – 16h40'08"
Best African Riders
1. Mugisha Samuel (Rwanda) – 16h35'30"
2. Uwizeye Jean Claude (POC Cote de Lumière) – 16h35'51" '
3. Hailemichael Mulu (Ethiopia) – 16h35'54"'
4. Ndayisenga Valens (POC Cote de Lumière) – 16h37'46"'
5. Munyaneza Didier (Rwanda) – 16h38'32"
 Team Classification
1. POC Cote de Lumiere -49h52'26"
2. Ethiopia – 49h55'22"
3. Rwanda – 50h01'43"
4. Haute Savoie Auvergne Rhône Alpes – 50h06'35'
5. Team Embrace the World – 50h22'31"