President Paul Kagame has said that nobody can bring him to his knees no matter what circumstances and that's the stance of Rwanda as a whole.
The president was this  morning launching the 16th National Leadership retreat.
The retreat is an important meeting where central and local government leaders and the private sector meet for candid talks about the life of the country.
This year's retreat comes while Rwanda  and Uganda are having issues following reports that Rwandans are experiencing arbitrary arrests and torture in Uganda.
"No body, can bring me to my knees. Because, coming to your knees, is your choice," Kagame said.
"But people can do harm to you, but bringing you to your knees, me and my country, we shall never accept that. We are much better than that."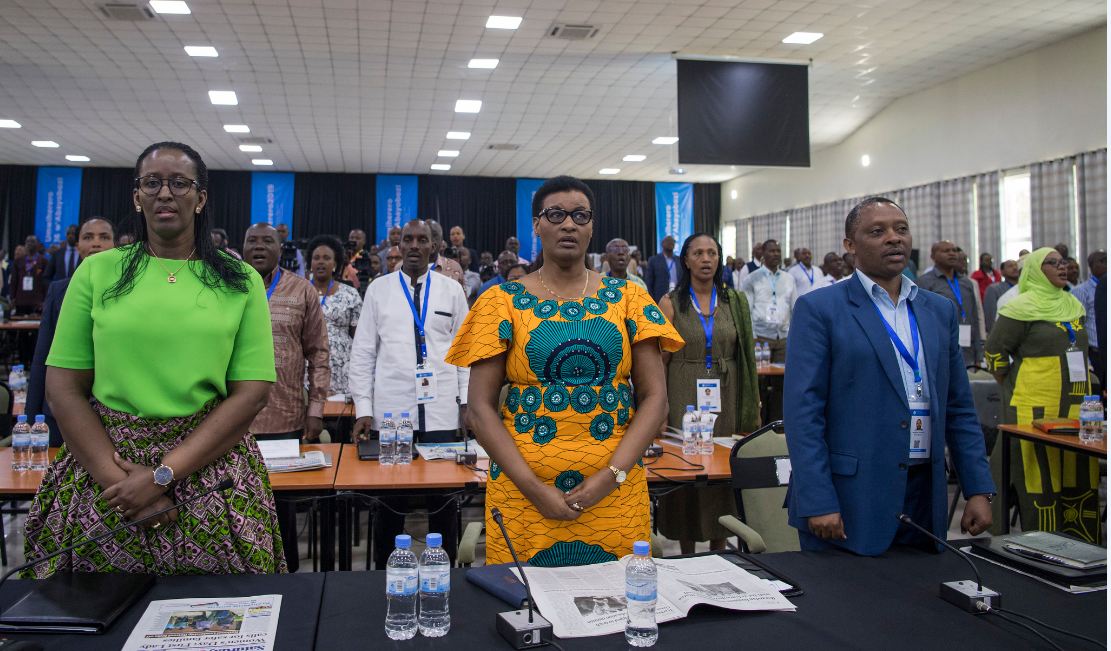 Kagame's advice to Uganda and any other neighbour is to choose from three types of relationships with Rwanda.
"There are three types of relationships between countries including; choosing to be friends, allies and that is what we want. If the other side has it, they will not find us wanting."
"The second type of relationship is: why don't you ignore me, I ignore you? If that is your choice for you, then it is fair though for me, it's not my choice."
The third category, Kagame said, is: you know, I don't like you and I will always cause you problems, and we shall always have issues.
"Much as it is not coming from me, It's also okay for me. But, you have to make sure you have capacity to sustain it. On our side, we should build capacity to absorb that."
Kagame went on to ask the neighbors to choose after several attempts to request his counterpart Yoweri Museveni to solve issues his country is causing to Rwanda with no results.
While opening the 4-day national leadership retreat, the president took valuable time to give an insight about the matter.
"Let me say it because after all it is no longer a secret, it is all over in the media: I want to just to tell it to you, with facts, with evidence, with figures where necessary," Kagame said at the Gabiro Military Baracks in front of the attentive government, and private sector leaders.
"We have Rwandans who go to Uganda…on the other side of the border, they use criteria for those whom they want to allow in, others are arrested, put in prison, military prisons, others, nobody knows where they are, every other week, there are those that are dumped at the borders, including those owning small businesses."
"When you ask them (deportees) they tell you: I have been in prison for the last two years, while Uganda tells you they are illegal immigrants…two years in jail, and no charge?"
The president was very elaborate on this matter and he mentioned specific cases that he himself was involved in explaining to Museveni to justify that Rwandans are being tortured on baseless allegations and Uganda government is being used by Rwandan detractors.
"It is on advice of some Rwandans from the so called RNC like Kayumba Nyamwasa in South Africa. They have authority on the other side (Uganda). They were given free hand to recruit in Uganda, including in refugee camps. They tell Uganda that so and so does not understand that we have to fight Kagame and RPF," Kagame said.
A case in example is René Rutagungira, a Rwandan retired military officer who was arrested in Uganda in the last two years.
"RNC approached this retired officer to recruit him and he refused while saying he is just surviving, not interested in politics or whatsoever. RNC then said, ok…you will not survive…they tortured him severely with the help of Ugandan intelligence but he still refused."
The president said that he happened to know about this case and discussed it with President Museveni, twice in Ethiopia. He understood that Museveni knew the case.
Scenarios that followed indicated to the president that actually, Uganda is being manipulated. Initially, Museveni had said that Rutagungira was arrested for being an illegal immigrant.
The charge would later change with Uganda saying that he murdered a Ugandan citizen, and recently, the charge has been changed to be "illegal possession of arms."
"I told Museveni. I leave it to you, deal with it the way you want," Kagame said referring to a meeting he had with Museveni after several requests.
"I told him you attend to it because it is in your country."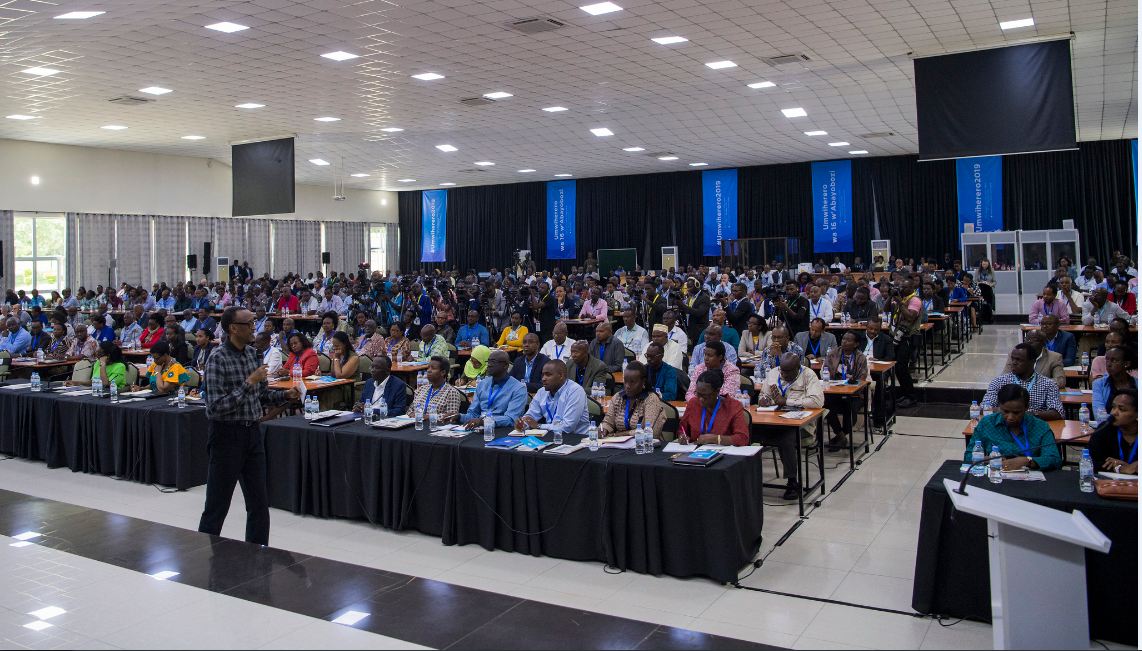 Several other cases were also brought to the attention of Uganda, including a case of a man who was arrested with his wife, leaving three toddlers at home. Rwanda was obliged to hasten someone to Uganda to save the babies.
Kagame said, Uganda agrees knowing the whereabouts of some of the Rwandans that were arrested, according to a list Rwanda provided. For others, Uganda cannot provide information on their whereabouts.
Meanwhile, the president narrated a series of other events that started way far in the 1990s, where a one Seth Sendashonga was involved in a plot against Rwandan government, with the help of Ugandan generals in Nairobi.
Gerard Prunier, a writer and himself a facilitator of the dialogue wrote in his "From the Genocide to Continental War", that Sendashonga was the founder of FDR, and in Nairobi talks, "he hoped to get support from the only decisive and progressive force in the region, Museveni's Uganda."
"It means, while we have been planning to develop, there was someone out there, saying that I will not allow this to happen," Kagame said.
Also brought to the attention of Museveni in the past was a case of Rwanda's tycoon Tribert Rujugiro who has businesses in Uganda and is supporting Rwandan renegades, always against Rwanda.
"At first Museveni said he did not know him, but later on, I proved to him how he knows him," Kagame said.
"He (Museveni) told me you guys in Rwanda don't know how to differentiate business and politics and I said: thank you Sir, but sometimes business and politics has no dividing line. I was trying to mean that if someone is supporting some groups, then there is no dividing line between his business and politics."
In either case, though, Kagame said he requested Museveni: deal with it the way you want.
"I once told Museveni:  I am begging you, deal with this matter. I don't see what Uganda benefits from this, we as Rwanda neither don't benefit from it," Kagame said.
The president even said he begged Museveni to tell him if there is anything wrong Rwanda did against Uganda so that it can be addressed, but he found none.
Cases of Uganda attempting to destabilize Rwanda by supporting those who seek to subvert government were reported n several occasions since the last two decades.
There is no need for our people to go to Uganda
Despite all these issues, the president said, that Rwanda welcomes Ugandans, and "does not touch them", but advised; there is no need for Rwandans to go to Uganda if it is for torture.
"I can only advise you not to go there," Kagame said.
Last week, Uganda raised a concern that Rwanda closed borders against it, which is contrary to east African community protocols on the free movement of goods and people.
Like previously, at the retreat, Rwanda clarified the case in point, that only one border – Gatuna is closed to trucks given undergoing construction of one stop border post on Rwandan side.
The president took this opportunity to ask the Minister of Foreign Affairs on the progress of activities and the later said, the border will be open for all vehicles in May.
In the meantime, Cyanika and Kagitumba border posts are fully operational.
The president is aware that the flow of goods and people will tremendously decline between Uganda and Rwanda, like it was the case with Burundi.
Regis Gatarayiha, Director General of Directorate of Immigration and Emigration told the president, that the flow of goods and people declined by 70% on Rwanda's borders with Burundi.
"We are not to blame on that," Kagame said.
In front of these challenges, President Kagame wants all government officials never to allow mediocrity.
In the past, the president mentioned cases of border communities who cross to neighboring countries – case of Uganda to fetch water, for schools and health services.
His concern, is that Rwandans cross the border for something the local authorities should provide.
To the private sector, he also requested to be competitive enough in providing made in Rwanda products to make the country self-sustainable.