Rwanda's President Paul Kagame has said that the East African Community (EAC) which he currently chairs 'is in good health' despite ongoing sour relations between Rwanda, Uganda and Burundi.
On Monday, Kagame met members of local and international media at a press conference held as part of 25th commemoration of the genocide against the Tutsi.
Journalists engaged the President on several issues involving Rwanda's relations with neighbours in the region, France and South Africa as well as suspected militias planning to attack the country, among others.
A journalist asked the President whether the absence of regional leaders (EAC) at the 25th commemoration on Sunday, April 7, signaled that the block is undergoing sour relations.
In response, Kagame said: "The EAC is in good health, irrespective of whatever aspects. Even if all heads of state of EAC would have been here as you and I would have wished, still there would be problems to address. It wouldn't be a solution. EAC countries… some of them were represented," Kagame said in reflection to presence of Tanzania Prime Minister and Uganda's Foreign Affairs Minister at the commemoration ceremony.
Last month, President Kagame accused Uganda of land locking Rwanda.
"I am sure some of the traders affected are in this room. We had containers leaving Kigali going to Mombasa (Kenya). You have to go through Uganda going to Mombasa. Actually the irony here is that both of us are landlocked. But for us we face double the problem of being landlocked because Uganda land locks us," Kagame told over 2000 business leaders during Africa CEOs forum in Kigali on March 25.
Rwanda says that it has for the past two years engaged Uganda over the issue of Rwandans who are being 'illegally detained' in unknown places in Uganda, traders' merchandise being confiscated in the same country and members of Rwanda National Congress (RNC) being given safe travel across Uganda, but in vain.
At the press conference, Kagame, told journalists that the issue of Uganda and Rwanda is being discussed 'outside media hype'.
On the recent claims that sections of militia groups claimed to be controlling part of Rwanda's western side, Kagame said that those throwing claims failed to stay in the country and contribute to its development, but just decided to talk about war.
"Rwandans who could not stay around to contribute to the development of their country are talking about war. Even on social media people are bragging that they have overrun some parts of the country. That is a passing story," Kagame said.
According to President Kagame, "Those who are behind it have in mind to provoke a war from which they mistakenly think they will benefit. They are trying to hide problems of their own and create a scenario where when war happens, you look the same. We refused this provocation."
The President reiterated, however, that Rwanda is never facing any emerging threat, but warned that Rwanda is well prepared for anyone attempting to threaten stability of the country's future generation.
During a speech yesterday, President Kagame warned that: "For those from here or from outside who think our country has not seen enough of a mess and want to mess with us, in defense of those children you saw and our nation, I want to say, we will mess up with them big time."
Reflecting on this during a press conference held at Kigali Convention Center, Kagame reminded that he was not talking of any emerging threat.
"In my speech I wasn't referring really to entirely new emerging threat. It was just the threat we have always faced over the last 25 years saying that for the change of that form in anyway, those people who are behind it should bear in mind that instability is not any good thing for anyone. And I was saying that what I referred to as future of the children of Rwanda and stability, we are just prepared for that," he said.
France in good terms with Africa
President Kagame expressed satisfaction on the way President of France Emanuel Macron has turned his country's diplomacy with Africa and Rwanda in particular.
Rwanda accuses France of its active role in the 1994 genocide against the Tutsi.
For the past 25 years, France has been at a slow or no pace towards accepting its role and apologise to Rwanda – until recently when President Macron directed for a commission to start investigating his country's hand in the genocide that claimed over 1 million victims.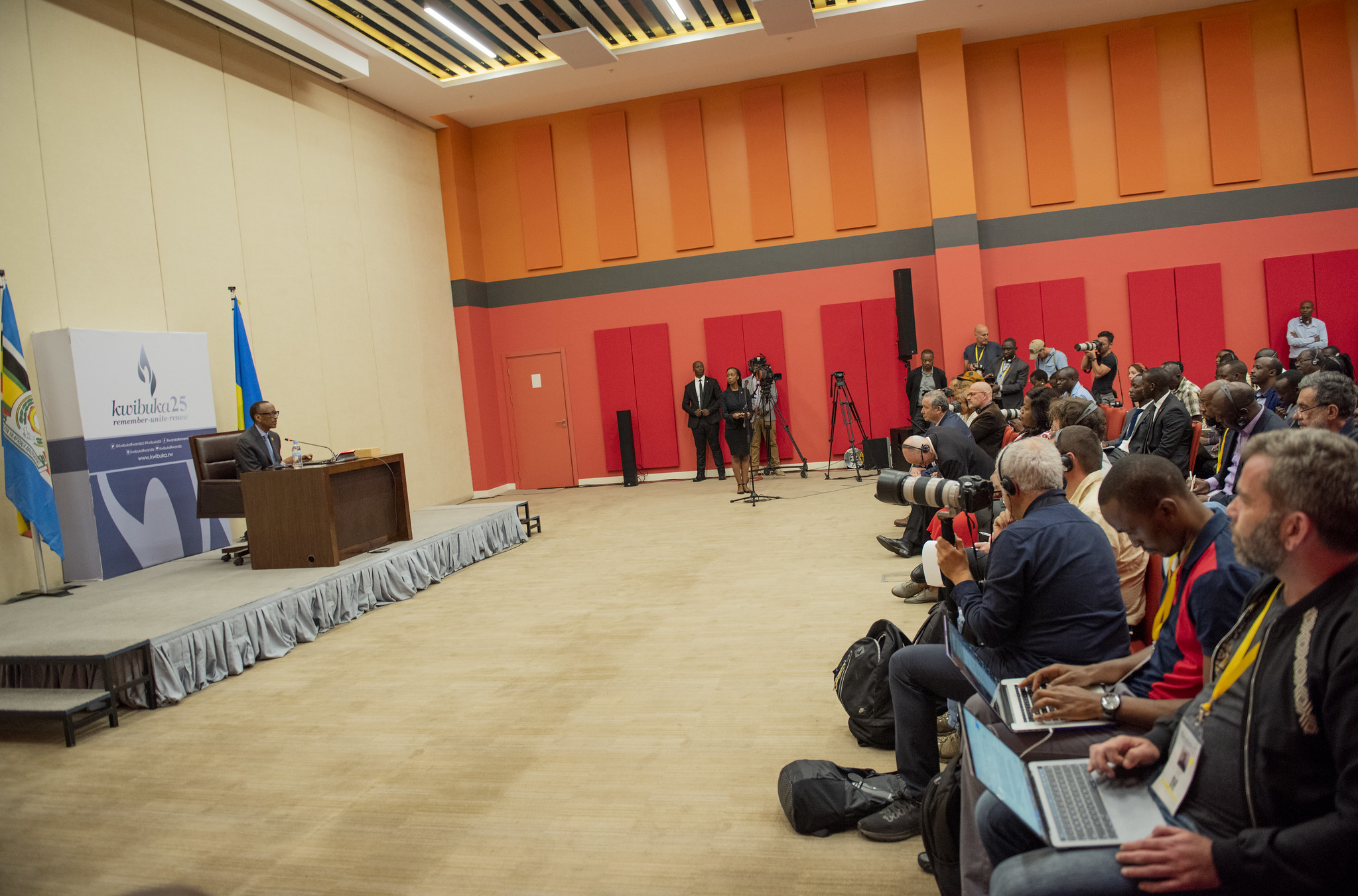 For Kagame, there has been "very significant progress…even in an environment of complicated politics" in the process to restore relations between France and Rwanda.
While France had for over the last 25 years gone slowly on its role in the genocide, President Kagame said that significant progress has been made under President Macron's term of office.
"There has been significant progress. Very significant in terms even in complicated environment of politics and all kind of things. We still make progress from the things that have happened including the way archives have been treated. Archives contain the truth that people can make interpretation of…so thinking about bringing up the truth or even making one step or the next day all the steps required, it is a good thing," he said.
Currently, Kagame said, he has seen the Presidency of Macron going beyond Rwanda to turn a new chapter of relations with Africa in a way that suits both parties.
"France is making good steps even in matters generally in Africa. I think looking at Africa differently in a better way…putting responsibilities in the hands of Africans as it would be and partnering with them the right way. It is something we have seen emerge with Macron. It is positive," Kagame said.