Bank of Kigali (BK) Group has officially showed off six lucky winners of the lucrative agriculture digital footprint winners who were able to do savings and make transactions under the Ikofi financial scheme.
Ikofi 'wallet' is a brainchild of BK which targets farmer's financial welfare which has meagerly been financed at 6% by commercial banks in Rwanda.
Using this wallet, farmers can make a no-strings-attached digital footprint through savings which allows them to acquire easy loans.
The differentiator of IKOFI from other wallets is that money lent by Bank of Kigali to farmers specifically for agro inputs will only be used to buy those specific agro-inputs without the ability to cash it out, send it or buy alcohol for instance.
With Ikofi, farmers can also make free of charge money transactions (send and receive) to make farm input orders and other payment using a Near-Field Communication (NFC) enabled smartphone or for farmers without phones transact using a NFC enabled key fobs (Agafunguzo) from the agro dealer nearby.
The winners, four men and two women, showed to the public this Monday were among the farmers who, upon hearing about the Ikofi campaign lottery, registered and used some of the services to stand chances to win Rwf1million.
One of the winners is Stephen Ndagijimana, a maize farmer in Gatsibo district who had an account in a local savings bank (Sacco) but had never saved a single coin nor solicited a loan.
When he heard of Ikofi during a village meeting which excited him to register but initially didn't believe that anyone can actually win the one million francs.
He then started by saving between Rwf40, 000 and 50,000 to reach about Rwf200, 000 in a month before he was contacted as a winner.
"When I heard this I thought it was conmen trying to trick me, but I only believed it was true when residents, who had heard my name over the radio started talking about me all over," Ndagijimana said.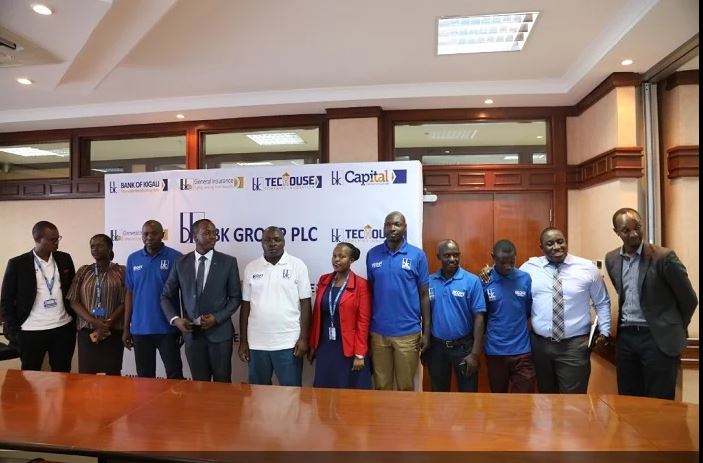 Ndagijimana says that if he had not joined Ikofi, he would be the same but since winning the 'free monies' he has laid big plans that will transform his life.
"I plan on buying more fertilizers and another cow to provide manure for my farm, but also buy a motorbike to transport produce in place of the bicycle which I have been using," Ndagijimana said.
One of the winners has since been selected each week (in the last six weeks) in a 30- week long Ikofi lottery that was launched in May at the inauguration of the product in Kigali city.
This means that Rwandans, especially farmers, have another 24 weeks to use the Ikofi financial services to stand chances of becoming overnight millionaires among the remaining 24 winners to be selected in the next days.
BK Targets Youth Agents
The awards also come with a fresh unanticipated demand from farmers like Emmanuel Ndikubwimana, whose opportunity to win a million francs among the first six farmers, changed his mind from being a subsistence farmer to an Ikofi agent.
Ndikubwimana, own 1hectare of land and rents another half hectare in Ngoma district. He says that he heard of Ikofi over radio and sought help from an agent to register after failing to complete the process on his phone.
He realized that if he didn't have knowledge on benefits of Ikofi, yet he has been dealing in seed multiplication, then there are so many who don't know who may need to be helped.
"I decided to become an Ikofi to tap into the gap of many farmers who don't go for bank loans because of the tedious paperwork and guarantee required, yet with Ikofi, there is no string attached but only savings," Ndikubwimana said.
To tap into this gap BK Group announcement plans to recruit youths as Ikofi agents across the country to subsidize the existing 1,000 agro dealers who also double as Ikofi agents.
"The demand is big and we have received this kind of feedback. That is why we are opening a new opportunity to recruit capable skilled youths to become agents,"  said Regis Rugemanshuro, Chief Digital Officer of BK.
According to Rugemanshuro, this decision is as a result of a soar in demand for farmers to join the Ikofi scheme which so far has over 100,000 of the targeted 500,000 planned to be registered.