'We are still in air' –a message from the State Minister in Charge of Transport Jean de Dieu Uwihanganye, received at exactly 13:53, reads.
The Minister, aboard Rwandair's A330-300 aircraft, christened 'Umurage', was responding to questions from KT Press on the national carrier's maiden flight to the Southern China commercial city of Guangzhou.
"We have Wi-Fi onboard on all our new Rwandair aircrafts," the Minister said, with just 1hr28'' left on the clock, before the aircraft could touch down at Guangzhou's Baiyun International Airport. The maiden flight had done 13 hours- 1 and half hours away from completing the airline's longest route so far.
The lucrative Guangzhou route, with a stopover at Mumbai's Chatrapati Shivaji International Airport, is expected to boost Rwandair's fortunes by tapping into existing booming trade between Rwanda and China.
"This route is an important milestone to Rwandair but also the Rwandan Aviation industry. It is the first longest route we are doing. It connects better the African regions we serve with China and India," Minister Uwihanganye told KT Press.
With China positioned as one of Rwanda's biggest trading partners, Rwandair is expected to cash in on the route, with the first flight already being overbooked.
"China is one of biggest trading partners of Rwanda and the region. The imports to Rwanda have been growing at 13 % annually and it is now around $400m per year the same as exports almost $6m, growing at 11%," he said.
Minister Uwihanganye said that the Guangzhou route will ease transport and significantly reduce transport costs and time which will have an impact on the Rwandan economy. He said that the route will greatly contribute to Rwanda's plan to be a regional aviation hub not only for passenger traffic but also cargo.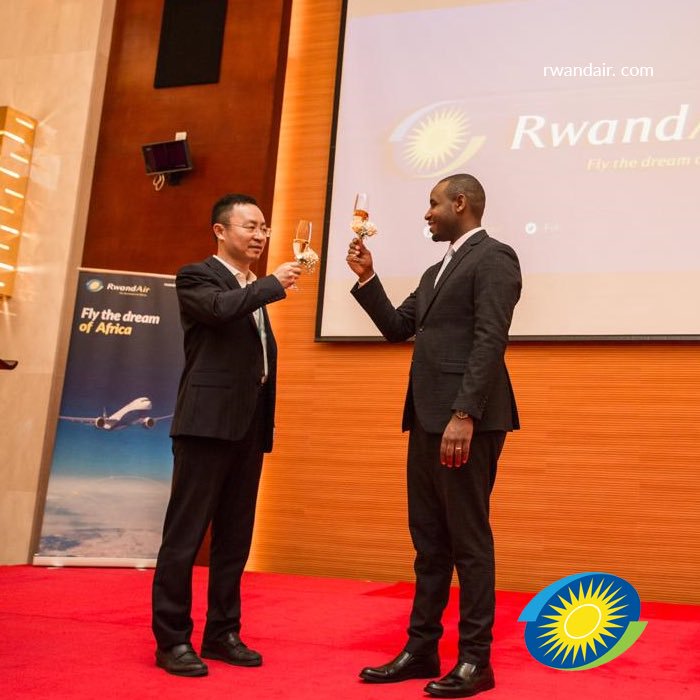 With a stopover at Mumbai, Rwandair seeks to be the main link between its 27 destinations, 23 of them on the African continent, with India and China –two countries which have become major destinations for business people. Guangzhou is Rwandair's 28th destination.
According to officials, the Guangzhou route, targeted by major  airlines from Africa and middle east, is going to be a competitive one, with Rwandair tapping into its central and west African markets to cash in on the route, considered a 'hot cake' for global airlines.
According to Minister Uwihanganye, Rwandair's passenger traffic has been on an upward trajectory in the three couple of years and the Guangzhou route is expected to boost the numbers further.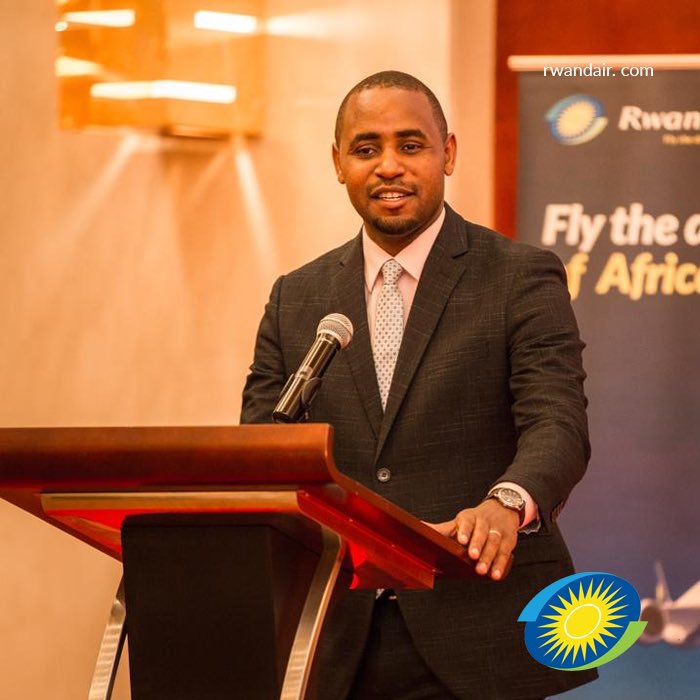 According to numbers from the Ministry of Infrastructure, Rwandair's traffic volume increased from 747,761 passengers in 2016/17 to 926,571 passengers in 2017/18.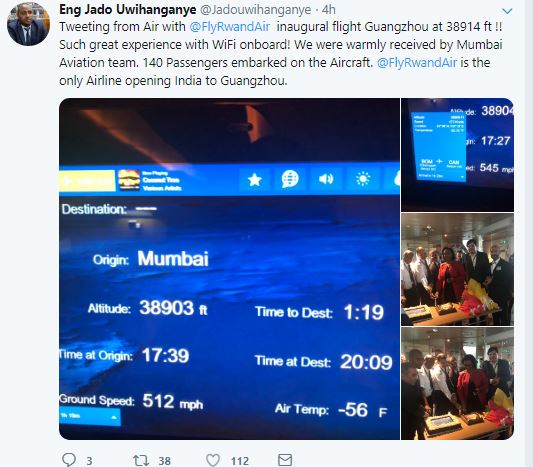 In 2018/2019, the number further increased to 1,151,300 passengers which reflects a 54% increase over the last three years.
Minister Uwihanganye said that the route is perceived to be a strategic and efficient line of operation for the local business community who will take advantage of the competitive fares offered by Rwandair.
"China is now being the factory of the world. There are more imports coming from China into the region, and the majority of products come from Guangzhou, which is one of the biggest trade hubs in China," Minister Uwihanganye explained.
He further said that according to statistics from the General Administration of Customs of China, in 2018, China's total import and export volume with Africa was US$204.19 billion, a year-on-year increase of 19.7%.
For Rwanda in particular, imports from China counted for $ 351,016,075 in 2017 and $ 390,336,288 in 2018.
This represents the growth rate of 11%. Exports to China counted from $ 5,295,336   in 2017 to $ 5,975,652  in 2018 which represents the growth rate of 13%.
Transport challenges
Despite growing numbers in trade volumes, members of the business community who trade between Rwanda and China have been lamenting about transport and logistical costs.
Officials say the opening of the direct flight to China will go a long way in solving transport and logistical challenges. Rwanda is also looking to tap into the Chinese tourism market, with a growing number of Chinese tourists increasingly picking Africa as a destination.
Members of the private sector have welcomed the development.
Andrew Gatera, a tour operator and founding partner of China-Africa Link Ltd, said the opening of the Guangzhou route will increase the number of Chinese tourists picking Rwanda as a destination of their choice.
"We are seeing a number of Chinese tourists increasingly picking Rwanda as a destination of their choice. The opening of this route will definitely make it easy for them because transport is a major factor in their decision making," he said.
"This is something we should take advantage of."
Gatera also owns company G-STEP TOURS, a tourism company.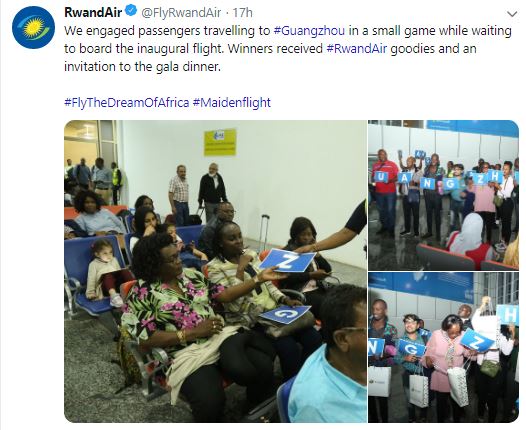 With many Chinese taking advantage of the country's economic prosperity, global reports indicate that more Chinese are now looking beyond their country, with excess revenues to spend on tourism and adventure.
In 2017 alone, there were about 131 million outbound Chinese tourists with each estimated to have spent an average of $726 per person on retail shopping.  Rwanda received 5,000 tourists in 2017 and 8,000 tourists in 2019 from China.
According to Minister Uwihanganye, this is one of the reasons the direct route was opened, to take advantage of the boom.
Speaking earlier on the route, the Chief Executive Officer of Rwandair Yvonne Manzi Makolo, who was also on the fully booked flight, said that the three-times a week flight will boost trade between Africa and China.
"With the increasing volume of trade between African countries and China, the need to meet the high demand of businessmen and traders travelling between Africa and Guangzhou is strongly felt. This new route will open new business opportunities and also increase our passenger and cargo traffic," Makolo said in an earlier statement.
The nearly 15 hour flight will be operated by one of Rwandair's newest aircrafts, the Airbus A330, with a triple class cabin on Tuesdays, Thursdays and Saturdays.
According to Minister Uwihanganye, the Aircraft left Kigali International Airport with a 99 % load factor, with almost 224 passengers, which shows the potential of the route.
Rwandair is the only Airline now linking Mumbai to Guangzhou. Rwanda got 5th freedom rights from India, which allows Rwandair to stop in Mumbai and pick passengers.
He said that on the maiden flight, which was colorfully and warmly received in Mumbai, Rwandair picked 140 Passengers enroute to Guangzhou.
According to 2017 records, Guangzhou's Baiyun International Airport is China's third-busiest and world's 13th-busiest airport by passenger traffic, handling an average of 65 million passengers a year.