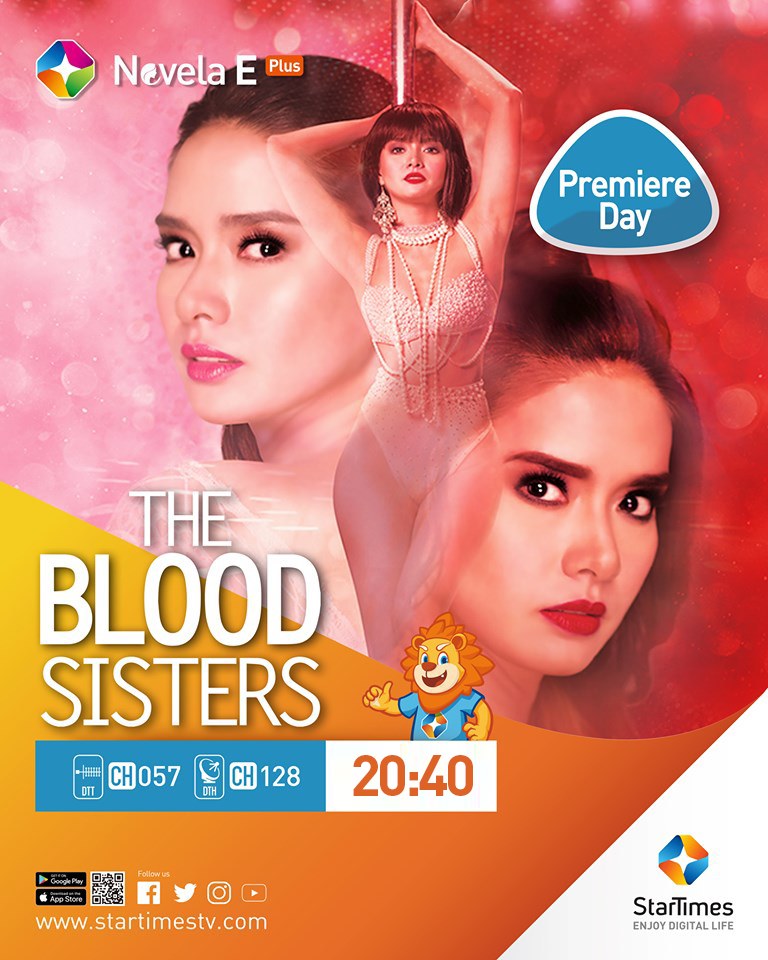 The hit novella Asintado enjoyed extraordinary popularity among audiences. After the finale, will you still be lost in the scene?
Don't worry, there is no gap or blank to suffer from. StarTimes Novela E Plus is offering you another exciting novella named The Blood Sisters (Philippine TV series, first and exclusively broadcasted in Africa) with each episode at CAT 20:40 every day since 18 August. Let's get a glimpse of this new fascinating series.
The Blood Sisters is leading by Erich Gonzales, a famous Philippine actress. Wait! Does the name ring a bell? Yes, she is the "Penang" in Be My Lady. This time she will present three sisters named Agatha, Erika, and Carrie all by herself.
They are triplets who were carried by a surrogate mother and got separated after an agreement their parents made fell through. The story started from the line of Erika, who is a dancer in a bar using her beauty to lure men for money to save her son from a chronic illness. However she witnessed a murder accidentally and then was chased by the killer.
On her way to escape, Erika encountered her sister Carrie who was brought up in a wealthy family. Unexpectedly the murderer mistake Carrie as Erika, giving the latter another chance to live another life belongs to the former. Later, the third sister Agatha come up and helps Erika discover the truth behind their secret lives.
In The Blood Sisters, the story revolves around the characters that appear in almost every scene. To witness how the triplets separate, reunite under the most complicated circumstances, to understand all scars and hatred behind their splendid appearance, to find out more mysterious relationship between different characters, welcome to Novela E plus and don't miss the attractive plots by following every day.
 StarTimes
StarTimes is the leading digital TV operator in Africa, serving nearly 26 million users with a signal covering the whole continent and a massive distribution network of 200 brand halls, 12,000 convenience stores and 11,000 distributors in more than 30 countries.
StarTimes owns a featured content platform, with 480 authorized channels consisting of news, movies, series, sports, entertainment, children's programs, etc. The company's vision is "To ensure that every African family can access, afford, watch and share the beauty of digital TV".
StarTimes achieves this by combining satellite and terrestrial DTV systems as well as OTT services to provide an open and secure digital wireless platform. The company provides a robust signal transmission service for public and private broadcasters, offers consumers outstanding Pay-TV programs, online video service, terminals, door-to-door service and flexible payment. In particular, The "StarTimes ON" App provides data-saving live TV and VOD service in high definition. Find out more about StarTimes ON at startimestv.com.