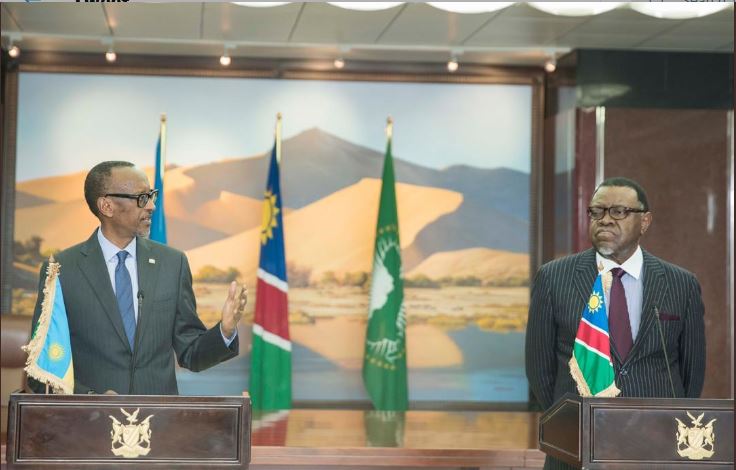 President Paul Kagame has told Namibian citizens and the media that the growth of the Rwandan economy is real, despite claims that the country is cooking figures.
The President, accompanied by First Lady Jeannette Kagame, is in the Southern African country for a three-day State visit that he started on Monday.
After holding bilateral talks with his Namibian counterpart President Hage Gottfried Geingo, the president told the press in a joint press conference that what is represented in figures reflects the real life of the citizens.
"The growth of our economy is real, it is felt by the people of our country, it originates with them, they are the ones who toil and put in hard work every day," Kagame said adding that Rwandans are doing well.
"I can confidently say that the people of my country are working very hard to improve their lives," the President said.
"They are happy with what they have whether in terms of their leaders or working together or making a difference for themselves between 25 years ago and now."
The president further said; "We are very fine. We have problems we have to deal with every day. My brother mentioned poverty that creates other problems."
From this, the president, however, said that a lot has been achieved and presented facts about Rwanda.
"We have been reducing levels of poverty very fast in actual fact, so it is helping us to resolve those other issues that people talk about."
One of the growth he mentioned was in areas of agriculture where people are now able to feed themselves.
"Growth in agriculture started about 12 years ago, we had never had growth before then. It is not just growth by numbers, it is growth that is felt in a farmers' pocket, how they are able to feed themselves and what they produce," the president said.
"That is why it is easy to measure the impact of some of the aspects of our growth. You can't cook these numbers. If you are able to do that and everybody else that deals with you in scrutinizing these numbers then there is a problem in the world and not just Rwanda."
Last week, Rwanda refuted an article by the Financial Times which claimed that the Rwandan Government falsifies data on poverty to give an impression that the country was making tremendous progress.
The day after, the World Bank also dismissed the Financial Times' story.
The president said that some reports on Rwanda are based on hearsays and content from the internet without always checking its authenticity.
"The internet is not the best place to find the truth. There is some good information but you have to make a selection of what is real and what is not real," Kagame said.
"If we cooked numbers we would be cheating ourselves not anybody else. Those writing stories about us are not people we want to please or satisfy. We want to satisfy ourselves."
We don't want to be validated, we want to do things that are good for us not just to please others.
Rwanda Strengthening Ties with Namibia
During the joint press conference, President Kagame said that Rwanda is looking forward to more interactions with Namibia.
"Going by what we have tried to do in our own country, I have no doubt that if Namibia is faced with such a problem, people have within themselves the capacity to overcome this or any other challenge," Kagame said.
"It is now necessary for people to look at what is of common interest to them and use whatever difference for opening up a discussion that drives towards what is good for all of them and not just for one group or one person."
Kagame also said Rwanda is one of those countries that have had lots of problems – including the 1994 genocide against Tutsi but overcame them, Namibia also cannot fail to achieve a lot since it has good leadership spearheaded by President Haige Geingob.