Ask a group of young Rwandans in their early twenties what is Rwanda's staple food. The answer you will get, tells you what Rwandans need – to go back to their tradition.
August 2, is when Rwandans celebrated Rwandan national cultural thanksgiving – a day many can't afford to spend to miss.
Traditionally called Umuganura, the day used to feature ceremonies of first fruits where the community had to bring tributes from the first harvest to the king whom they believed was the rain provider.
Staple food, essentially beans and sorghum paste with pumpkins and other traditional greens were eaten.
They would also share sorghum beer, fermented milk and, as time passed, banana beer.
Rwanda has become a republic and that ceremony has changed to a traditional thanksgiving, but that's not the main point, rather, the story is that Rwandans started slowly hating their staple food until they forgot about them completely.
"Staple food is sorghum paste with beans, all taken with fermented milk," said one young man.
But asked when he last ate that 'staple' he said "I have never tested that meal."
While this problem cuts across generations, Umuganura has remained the only event that brings Rwandans together and helps them to remember their roots especially traditional feasting.
From North to South, East to West, the event was celebrated in all villages and it featured traditional meals. You know them right from the way they are served; on traditional plates – inkoko which is woven from marshland grasses.
No worry that they can wet – traditional Rwandan food does not include sauce. Well, only sauce applies to those who eat meat. For vegetarians, there is none.
The traditional sauce is made out of beef – umufa and is served on a traditional bowl, imbehe.
However, Umuganura evolved to include celebration of all achievements across sectors of the country's life.
Across the country, officials joined citizens to celebrate the achievements together.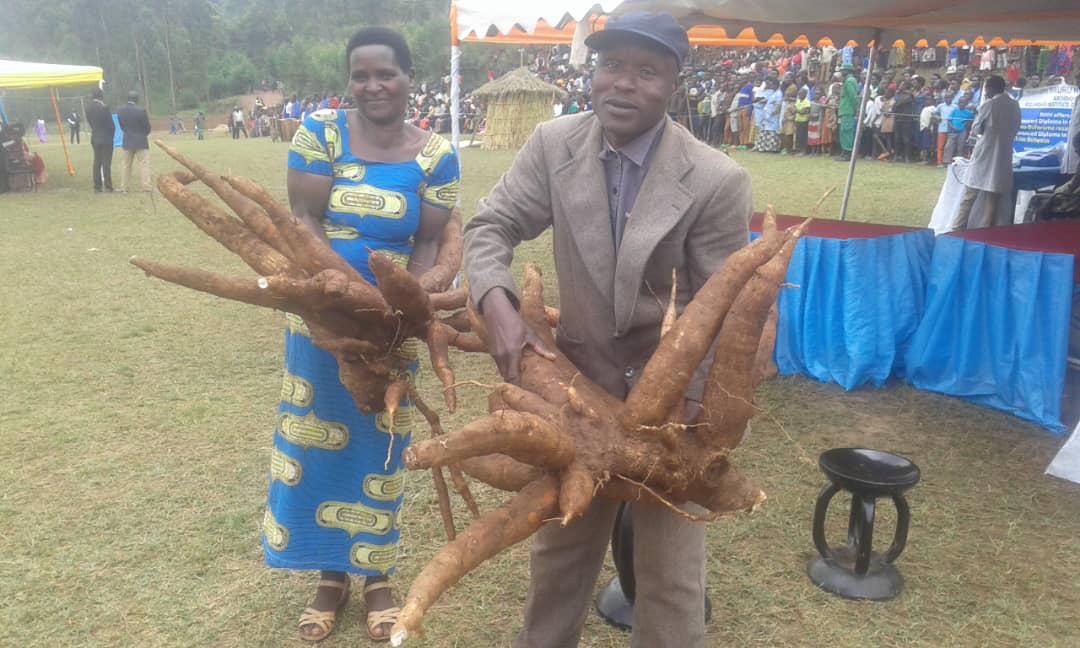 On the national level, this year, Prime Minister Edouard Ngirente was in Nyanza district – Southern Province where four districts were recognized for good harvest.
Nyagatare district, the country's stock of cattle, banana, maize and quite many other crops that fit the lowland was awarded for good harvest in farming while Rwamagana district still in Eastern Province was awarded for delivering good service.
Gasabo district in the capital Kigali was awarded for good harvest in industrial performance. No wonder, the location of Special Economic Zone (SEZ), which hosts a large number of factories in Masoro sector contributed to this.
Rubavu district bordering with Goma  – Western Province was awarded for best harvest in trade. The border Rubavu  – Gisenyi is the busiest of all with an estimated 100,000 people crossing to Rwanda from DRC or vice versa on a daily basis.
"This is a day we celebrate our achievements, and set more strategies for the future sustainable development through home grown solutions," Ngirente said.
PM Ngirente was particularly thankful that agricultural harvest increased, thanks to land use consolidation program and use of improved seeds. Maize, irish potatoes, rice, cassava and others yielded good results this year.
In other areas, made in Rwanda campaign was also reinforced by the creation of special economic zones and industrial parks across the country.
Kigali, Bugesera and Rwamagana industrial zones could be in advance compared to the rest.
"While we have made great achievement, it is also time to do a self-evaluation and set new strategies of good performance in those areas where we failed," Ngirente said.
"The youth most especially, I encourage you to work tirelessly for your own development and country's."
The youth, he said, should tap into existing opportunities, and make good use of the Business Development Fund (BDF) which supports startups.
No need to say that Umuganura celebration includes traditional performance. The major performance, I Nyanza Twataramye features renowned traditional artistes and modern artistes to capture the attention of all generations.
It takes place in Nyanza district, home to the former palace of the last kings of Rwanda on August 1 evening.
Rwanda dedicated a whole week to Umuganura starting with July 29 with a series of events varying from entertainment and celebration of several achievements, umuganura sessions, among others.
Rwandan Diaspora community and schools are also set to celebrate Umuganura.
#Inyambo Royal cows at #Umuganura2019 in Nyanza. Zigenda neza! pic.twitter.com/M8ptVkcEuN

— Fiacre Igihozo (@fiacozo) August 2, 2019