On Thursday, October 03, 2019, a Military Tribunal sitting in Nyamirambo, Nyarugenge district in the capital Kigali, adjourned a pre-trial hearing involving twenty-five suspected terrorists belonging to Rwanda National Congress (RNC).
The suspects, who had earlier on Wednesday appeared in the same court, face charges including treason, forming or joining an unlawful military organization, conspiring with other countries to destabilize the peace of another country and engaging in activities aimed at destabilizing a lawfully elected government.
In other words, the charges include (1) formation of an irregular armed group or joining it which is provided by Article 200 of the law determining offences and penalties and (2) Conspiracy against the established Government or the President of the Republic which is provided by article 202.
Appearing on the second day, Maj (Rtd) Mudasir Habib, requested the presiding judge to offer him time to look for a lawyer, claiming he could not stand trial without a lawyer.
"I request for ample to find a legal advisor in this trial," Maj (Rtd) Mudasir told the judge.
The presiding judge asked prosecutors to give their stand on the request, which they said was the right for the suspects to appear along with their lawyers.
When the judge asked other suspects if they would wish to have lawyers, they all repeated Maj (Rtd) Mudasir's request – pushing the presiding judge to adjourn the hearing to October 14.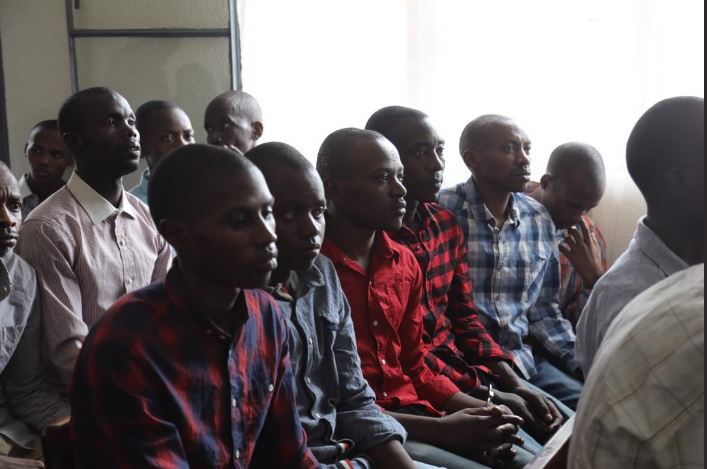 Apart from Maj (Rtd) Mudasir who confidently looked to be ready to find and afford a lawyer, other suspects who include Ugandans and Burundians, requested for the lawyer, but looked unable to hire them.
KT Press asked if such suspects can be granted free legal aid in Rwanda. In an interview with Julien- Gustave Kavaruganda – the President of Rwanda Bar Association (BAR) – the umbrella organisation of practicing lawyers in the country, revealed that the possibility is there, as has been the case for other suspects.
"Once we receive a notification from the court requesting us to provide free legal aid to any suspect, the Bar Association provides lawyers free of charge," Kavaruganda told KT Press, adding that the Association has previously provided similar services to other terror suspects.
"We even provided free legal aid to Nsabimana Calixte Sankara and other FDLR including Lt Col. Theophile Kamara Abega (real name Jean Pierre Nsekanabo) and Laforge Fils Bazeyi (real name Ignace Nkaka). This has been done through collaboration with courts," Kavaruganda told KT Press.
In April this year, Kacyiru Primary Court remanded Laforge Fils Bazeye who was the spokesperson of Forces de Defence et Liberation du Rwanda – FDLR and co-accused Lt Colonel Theophile Camara Abega, who was the head of Intelligence of the same group to 30 days in prison on suspicion that the duo could return to the armed group.
A month later, Callixte Nsabimana – the leader of a terror group 'FLN' that claimed responsibility of several attacks in the Rwandan South and Western Provinces, was arraigned before Gasabo Primary Court in the capital Kigali and pleaded guilty to the 16 charges.
Nsabimana whom Kavaruganda told KT Press received free legal aid from the Rwanda Bar Association appeared in Court along with his lawyer and revealed he received support from high ranking intelligence officers in Uganda and Burundi.
For the latest 25 suspects, it means they have at least eleven days from now to start the process of securing lawyers, and according to Kavaruganda, the possibility of free legal aid could become in soon, since some of the suspects are foreigners recruited into the terror group.
"We intervene to such people with no relatives to help them get lawyers," he said. Currently, a law on free legal aid is still under review. Mid last year, members of Rwanda Bar Association pushed the Government to bring the legal aid draft law back on the table for fresh debate by parliament.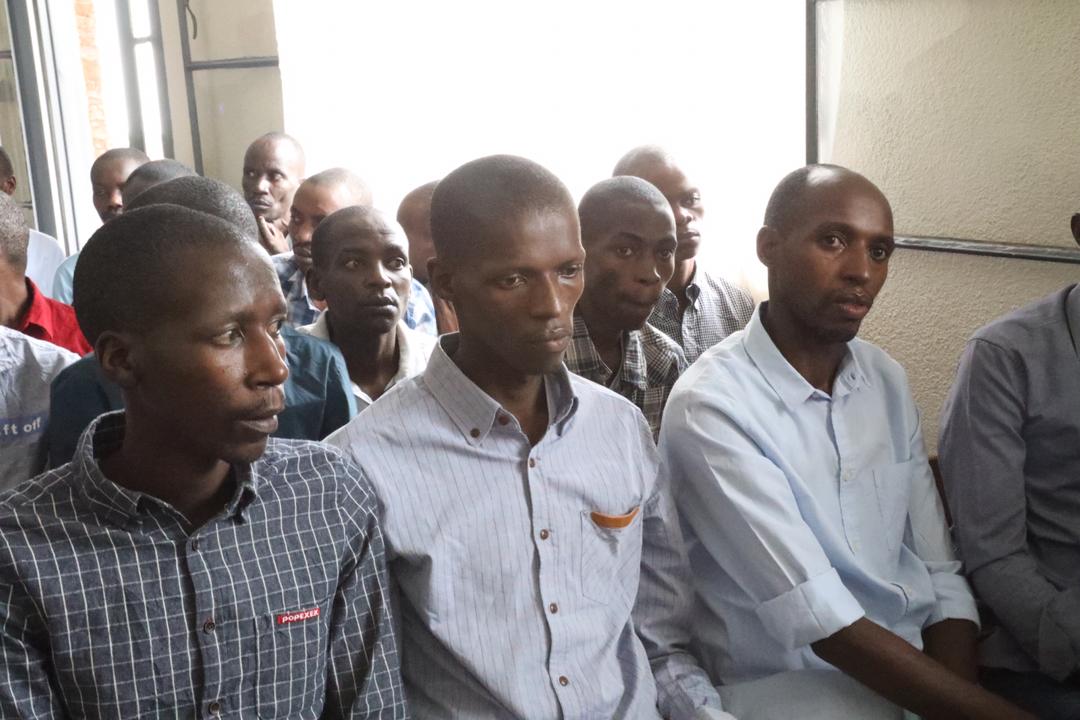 Currently, only Rwanda's Legal Aid policy provides leeway for suspected criminals seeking legal aid, as the law is still under review. The policy, according to Mnistry of Justice, has helped provide legal aid to suspects of crimes of genocide and crimes against humanity committed in 1994.