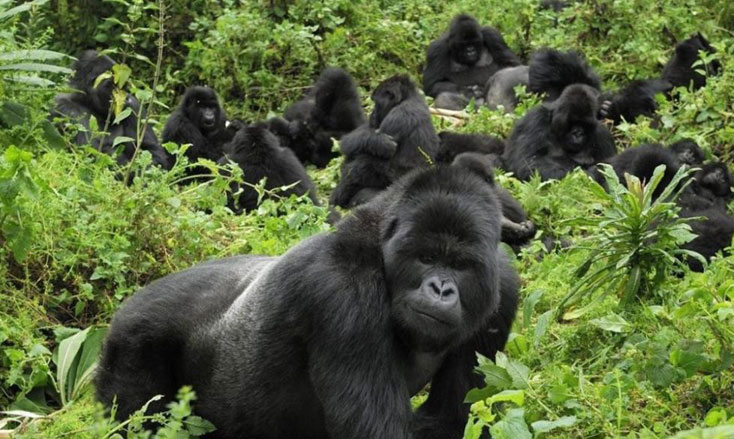 Rwanda through Rwanda Development Board (RDB) – the country's caretaker of conservation programs, has said that the recent migration of mountain Gorillas into the Ugandan territory is normal.
The comment came after Ugandan media politicized the movement of Gorillas into Uganda – linking it to the current sour bilateral relations between the two countries.
RDB said the movement is normal as has been the case in recent years.
"Why the drama??? It's normal and an ongoing pattern for gorillas within Virunga Park to cross. Rwanda has historically hosted the most gorillas crossing from neighboring countries. This is why we established Greater Virunga and a revenue-sharing scheme when gorillas cross," Clare Akamanzi – Chief Executive Officer of RDB said in a response to Uganda's Daily Monitor Newspaper which published a cartoon that politicized the movement of Gorillas.
The Greater Virunga Transboundary Collaboration (GVTC), was established in 2015 between the Democratic Republic of Congo (DRC), Rwanda and Uganda, as a framework of programmes, plans and activities to conserve a network of transboundary protected Areas in Greater Virunga Landscape (GVL).
It was established as an important program for endemic, threatened and migratory species, including lions, hippotamus, chimpanzes, golden monkey, leopards, Okapi, golden cats, crown eagles, buffaloes, lesser flamingoes, vultures, Rwenzori dukers, sitatunga, mountain gorillas, and elephants.
A statement issued by RDB cemented Clare Akamanzi's comment, said that Mountain gorilla movement in the Virunga Massif is extremely normal.
"They move from one country to another or have a ranging area (home range) covering two or three countries together because of various reasons,"
"These reasons include seasonal food availability as well as competition and stresses coming from inter groups competition. The inter groups competitions for food and reproduction are major factors determining gorilla ranging changes over time," Rwanda Development Board said in a statement.
Volcanoes National Park – home to rare Gorillas, remains one of Rwanda's cash cow.
Available figures from Rwanda Development Board indicate that in 2018, RDB sold 15,132 gorilla permits worth $ 19.2 million – representing a 25% increase compared to 2017.
In 2016, before the increase in the permit price, RDB sold 22,219 permits worth $15 million.