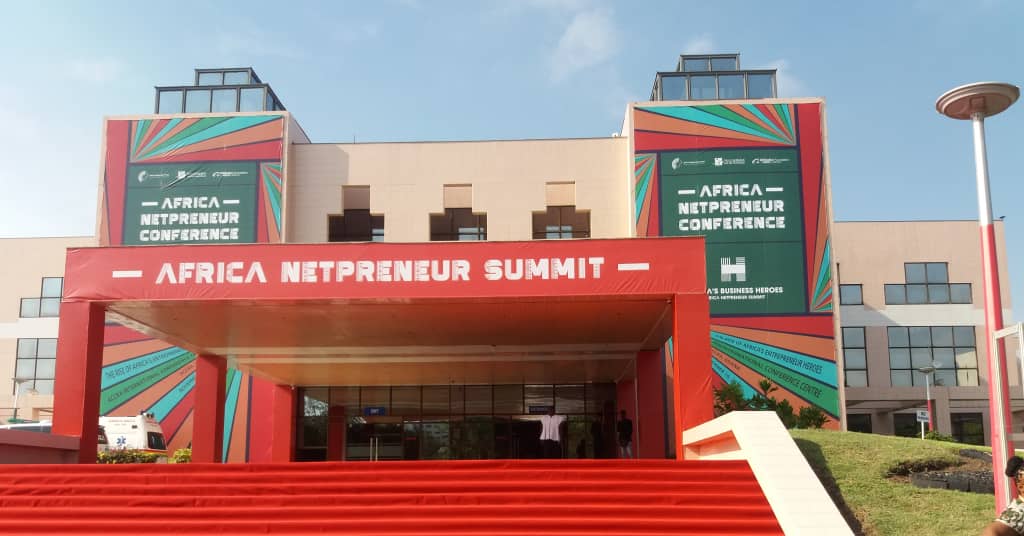 Accra, Ghana –  When Jack Ma – Chinese billionaire, philanthropist and Founder of Alibaba Group developed an idea to register his e-Commerce company in China in 1999, he was mocked and discouraged.
"At some point, I was told that this wasn't possible because there was no word "Internet" in the dictionary. I never lost the courage. I believed. I pushed hard until Alibaba Group was formed. Today, Alibaba is among the top 10 companies in the world," these were Jack Ma's words during an inspirational speech to thousands of  African youth at the Ghana International Conference Center in Accra, on Saturday.
Jack Ma is in Accra, Ghana with a $1 million envelope. He will, this evening, open it for 10 young African entrepreneurs – who competed harder to be selected out of the 10,000 applicants for the Africa Netpreneur Prize – a product of the Jack Ma Foundation to promote entrepreneurship in Africa.
It was a long journey. And two young Rwandans – Kevine Kagirimpundu and Christelle Kwizera made it through and are beneficiaries of the Jack Ma's $1 million envelope.
Kevine Kagirimpundu is the co-founder and Chief Executive Officer of UZURI K&Y – an African-inspired eco-friendly shoe brand and Christelle Kwizera is the founder of Water Access Rwanda.
At today's conference attended by the President of Ghana Nana Akufo-Addo and Ban Ki Moon – the former  and 8th Secretary General of the United Nations, an awarding of the prize ceremony will be organised later today in which Kagirimpundu and Kwizera will join 8 other young Africans to pitch their projects before Jack Ma and Strive Masiyiwa – a Zimbabwean billionaire and founder of Econet Wireless.
Masiyiwa is an active advocate of Entrepreneurship in Africa – through his several town hall conferences.
After pitching their projects, the over all winner will walk away with $250,000 (Rwf233 million) prize. The second will walk away with $150,000; the third will be given $100,000 while the remaining 7 finalists will be given $65,000 each.
The Africa Netpreneur Prize Initiative (ANPI) is a philanthropic initiative spearheaded by the Jack Ma Foundation – a charitable organization established in 2014 by Jack Ma.
The organization aims at supporting and inspiring the next generation of African entrepreneurs across all sectors, who are building a more sustainable and inclusive economy for the future of the continent.
After today's first awarding ceremony, in the next ten years, the ANPI will host the "Africa Business Heroes" show where ten finalists will be competing in a pitch competition to win a share of $1 million in grant money.
Like the former African President Nelson Mandela said, "The winner is a dreamer who never gives up."