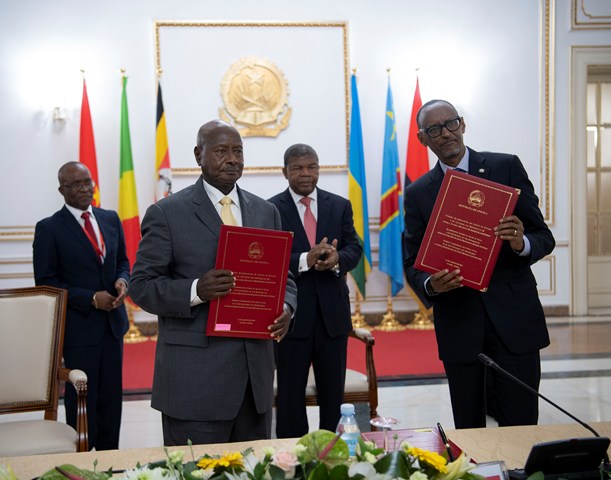 A rather lengthy article was published in Uganda's Daily Monitor on Wednesday November 13 under the headline 'Will Uganda-Rwanda meeting diffuse border crisis?"
The article was written in anticipation of the second ad-hoc meeting on the implementation of the Luanda MoU signed, in August 2019, between the presidents of Rwanda and Uganda. The MoU sought to bring an end to the crisis that is currently engulfing both countries in terms of bilateral relations.
The first ad-hoc committee meeting was held in Kigali on September 16th during which both sides agreed to meet a set of demands as stipulated in the MoU.
The Daily Monitor's publication ignores Rwanda's key concerns as stipulated in the MoU: Uganda must cease harassing Rwandans and supporting dissidents who aim to destabilize Rwanda.
In March 2019, the then Minister of Foreign Affairs for Rwanda tweeted, "We cannot let people go where we cannot guarantee their safety."
President Kagame has time and again noted that one cannot do business when lives of people are in danger once on the other side of the border. Indeed, the president repeated the same during a press conference last week.
"The demand from the other side (Uganda) is you must open the border. And we say yeah, we will open the borders. But how about the origin of the problem?" President Kagame said.
"The other ones who use it (the border), you arrest them (arbitrarily)," President Kagame underscored, adding that if someone has committed a crime, there are generally acceptable means of dealing with them, referring to Uganda's excuse for holding people against whom it has no evidence.
"If you have people who commit crimes, do you pile them and fail to produce them in a court of law?," the president wondered.
The President maintains that one cannot open borders that will be only one way, something that Daily Monitor, in its haste to promote pro-government propaganda regarding the crisis, seems to have ignored; in so doing, it missed a golden opportunity to challenge president Museveni on his expectation that once the border is open it will be used by only Ugandans.
Museveni's answer would have given the answer to Monitor's question whether the coming meeting will defuse the crisis between the two countries.
Encouraging criminality not a solution
The article by Daily Monitor goes on to make an absurd case in favor of smuggling, which is an illegal activity in both countries; it shifts blame for Uganda's failure to enforce anti-smuggling laws to Rwanda by charging it with high handedness. Rather than encouraging lawlessness, the Monitor should understand that the only way to stop people from risking their lives engaging in illegal activities is through strict enforcement.
"Thank you Madam Muhindo. Smuggling is indeed a cancer to cross-border trade. Violent smugglers, who resist arrest and attack police officers, are just criminals and will be handled as such," Rwanda's State Minister for Foreign Affairs tweeted in response to Uganda's Resident District Commissioner, Pulkeria Muhindo's commitment that her country will do better to enforce laws.
On Tuesday April 12, 2019, she had told the press, "We shall continue to tell our people to stop illegal trade, because even Uganda does not need illegal traders."
If the Daily Monitor believes that the Angola MoU is about the border, then perhaps it should excuse itself from further commentary on the matter before it embarrasses itself and undermines whatever reputation it has left as a credible newspaper.