Burundi's new President Maj. Gen Evariste Ndayishimiye says his government will establish New Coronavirus testing centres countrywide and conduct mass testing where necessary, in a move that suggests that the East African country is finally acknowledging the full extent of the outbreak.
The Burundian leader made the declaration on Tuesday as he made commitments of his new government but fell short of mentioning anything to do with working on the country's international and bilateral relations that have left Burundi in isolation since 2015.
However, unlike his predecessor Pierre Nkurunziza, who died on June 8, with subsequent reports suggesting that he could have died of the New Coronavirus, Ndayishimiye in a series of tweets seemed to admit that COVID-19 is prevalent in the country and measures will be taken to fight it.
"In terms of human health, today we launched a campaign against the New Coronavirus pandemic, which we have called 'Ndakira, sinandura kandi sinanduza'", which loosely translates into "I will heal, I will not get infected, I will not infect others'.
"To reach that goal, it requires individual and collective attention. No one exhorts you, exhort yourself; Comply with all the rules that the Ministry of Public Health has in all public places, even in homes," the Burundian leader said.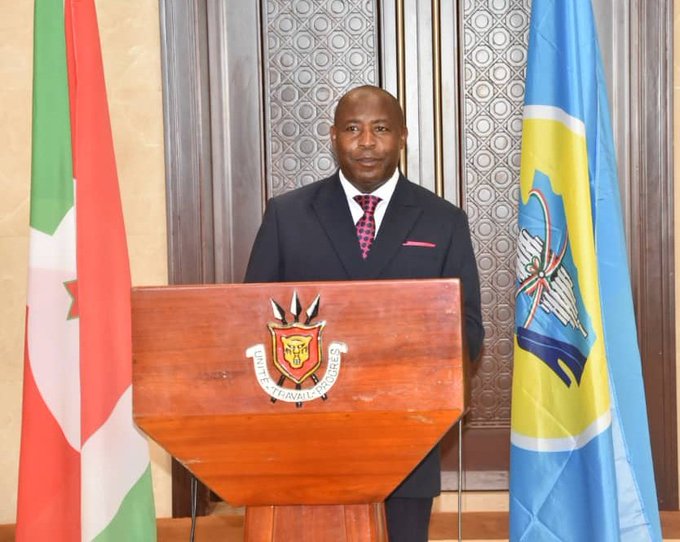 Ndayishimiye also said that the government has decided to lower the price of soap by 50%, to make it easier for the citizen to get it, adding that the other part is the government that will pay for it.
"In the capital cities of the provinces, the government is going to reduce the price of water until we see that the Corona disaster is no longer visible in the country.
"In all provinces of Burundi, a coronavirus testing team will be set up, and we will conduct a campaign to test all citizens everywhere upon suspicion that there is an outbreak of the virus," he said.
Burundi has so far confirmed 170 cases, out of which 115 have recovered and one death but Burundi has been criticised for its handling of the pandemic.
In May, President Nkurunziza's government expelled World Health Organisation (WHO) team in the country after officials criticised the government for poorly handling the virus and failing to put in place measures to contain the oubreak.
Urges refugees to return
The Burundian leader suggested that for the sake of peace, his government will reach out to the to the bereaved groups following the 'distress' the country went through but fell short of mentioning the 2015 political stand off which plunged the country into a political crisis and post-election conflict.
More than 300, 000 people fled the country, at least 60, 000 remain in camps in Rwanda while over 160, 000 are in Tanzania. Uganda and DR Congo also host over 90, 000 combined.
Ndayishimiye said that they are all welcome to return, including 'those who fear to return because of what they did'.
"We know that there are those who are afraid to return because of fear of what they did or what their friends did. Even those we wish them to return," he said, adding a cynical proverb that suggests that a baby who soils a shawl that a parent uses to carry him or her is forgiven but when a grown child does so, they are cautioned never to do it again.
Despite the calls, Burundian refugees in Rwanda say they are not yet convinced that it is safe to return home, pointing out that the same system they fled from in 2015 remains at the helm, only with a different leader.
Emmanuel Nkengurutse, a former lawmaker and lawyer, who fled the country in 2015, told KT Press that Ndayishimiye's government is made up of the same individuals and generals who terrorised and killed people, especially protesters in 2015.
Nkengurutse described the new government as a mere change of guard, minus President Nkurunziza who was buried on Friday in a state funeral.
The Government said the former leader who died aged 55 succumbed to a cardiac arrest but various reports pointed to COVID-19.