The days spent in the Covid- 19 lockdown were a nightmare that most people would not wish to experience again, but to others, it was an opportunity to explore talents.
Hon. Francoise Uwumukiza, Member of the East African Legislative Assembly from Rwanda has a living testimony.
When Covid-19 lockdown was declared in her home country in March 2020, Hon. Uwumukiza started thinking about the possible ways to share information about the Government programs, how the community implements them, and a contribution that would be needed to increase citizen ownership of the programs.
"As a leader, I took my valuable time and reflected on how I could share some messages from what we learn during important meetings that we attend; believe me, there are opportunities that we are given as leaders that allow us to know several information before our fellow Rwandans; it's our responsibility to share the information with them, be it through books, songs and even poems," she said.
In this context, Hon. Uwumukiza grabbed a pen and a paper and wrote the first song.
"I composed the text and my husband and children joined me, we sang," Hon. Uwumukiza said.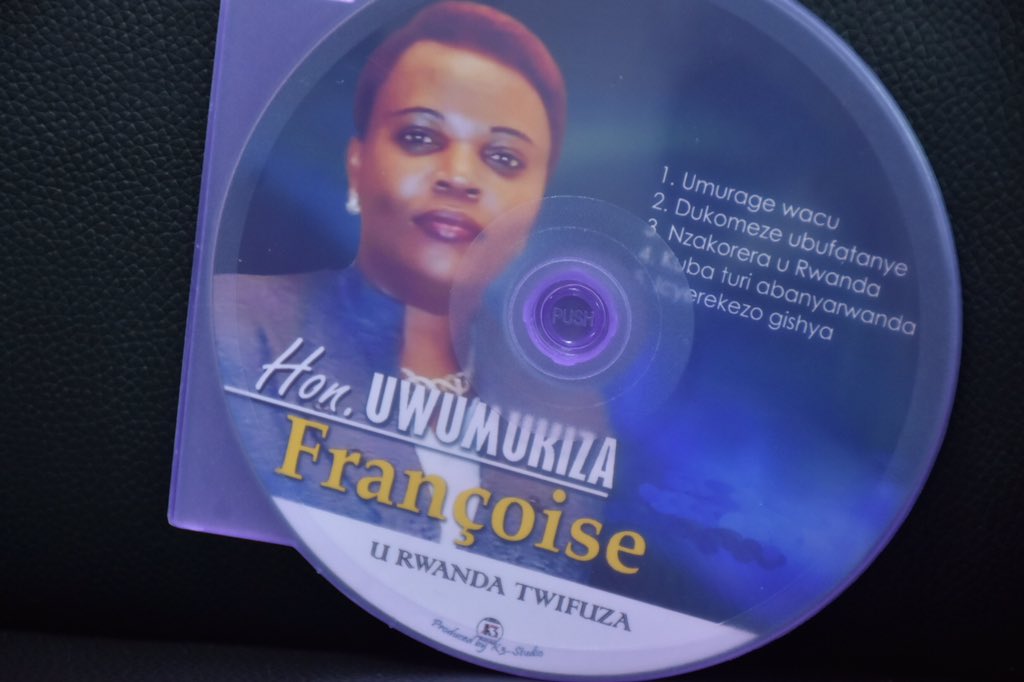 When our multimedia journalist visited Hon. Uwumukiza at her home last week, she first talked about a five-song album that she dedicated to the Government and for this fact, submitted to the Ministry of Local Government (MINALOC) which is able to spread the messages.
The First song is Umurage Wacu where she praises good leadership in Rwanda, which is a legacy from the country's forefathers. She thus proceeds to explain the characteristics of this leadership including: giving citizens a clear vision and a promise/assurance of a better future, to mention quite a few. She calls upon compatriots to safeguard that good leadership.
"The song seeks to thank the great leadership of Rwanda which restored the values our country inherited from our ancestors before being trashed by colonialism. One such value is patriotism which I call upon Rwandans to safeguard," Hon. Uwumukiza said.
In another song on this list  Kuba Turi Abanyarwanda,  the artist praises Rwanda as a beautiful country, peaceful, with equal rights of citizens, thus the call to avoid rumors that seek to tarnish the good image of the community at large and the leaders in particular.
The three other songs also treat several topics, like the one "Dukomeze Ubufatanye" literally "Let's Join Hands" where she encourages the citizen to keep fighting against COVID-19, by complyomg with mitigation measures while "Icyerekezo Gishya" is about the country's Vision 2050.
"We have clear targets and strengths to reach them and the planification is straight forward," she sings.
In the song, Nzakorera u Rwanda, Hon. Uwumukiza brings a greater package of Government programs that call for Rwandan values. The programs include community work-umuganda, Vision 2020 Ubudehe, one cow per family – Girinka program, protectors of friendship pact commonly known as Abarinzi b'igihango, among others.
"Before outing every song, we would always have rehearsals at home and it was beautiful," Uwumukiza said.
After the first song, Hon. Uwumukiza understood that it works, and ever since, she continued and has now registered 17 songs under her name. Apart from the five songs dedicated to Government programs, ten other songs were also donated for private authorship.
Another one will go to the Ministry of Gender and Family Promotion to also contribute to its agenda.
"I did not author these songs because I am a member of parliament; I would do what I did if I was in a different position," she said.
Hon. Uwumukiza's outing songs is a dream come true; her love of music started at a tender age in a Catholic choir dubbed 'Emmaus' located in Rwamagana district, Eastern Province.
Hon. Uwumukiza did not bring anything to the public before consulting the gurus in the career where she is only a debutant.
The first to meet was a seasonal female singer, known for a beautiful voice, melody, and most especially, consistency, all enshrined in the country's values.
"I went to see Ms. Maria Yohana from her home and presented to her my project; she really contributed a lot to this project because she showed me the dos and don'ts, then tipped me on the choice of the producer," she said.
Hon. Uwumukiza is thankful to every person who contributed to the success of her project and is open to more advice for future works.