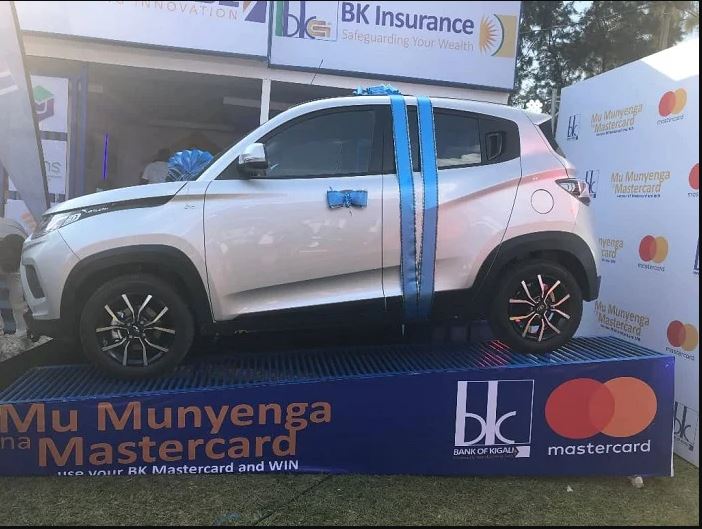 On December 14th 2020, Bank of Kigali launched its end-of-year promotion titled "Mu Munyenga na Mastercard".
The campaign which will end on January 31st 2020, will reward customers of the bank with weekly prizes of cashback and shopping vouchers, monthly prizes of laptops and motorbikes, and at the end of the campaign give out a brand new car.
The promotion is open to any existing and new Bank of Kigali customer who is a Mastercard Debit or Credit card owner.
Talking about the promotion, Thierry Nshuti, Head of Marketing at Bank of Kigali said that the promotion aims at giving their customers a reason to smile in a year that has been overshadowed by the COVID-19 pandemic.
"Customers are eligible to win any of these prizes if they acquire a Mastercard from BK and spend at least Frw 25,000 in a single transaction with their Mastercard either through POS or online payments. Anyone can instantly get a BK Mastercard once they open a Bank of Kigali account from any of our branches located countrywide," Thierry Nshuti said. 
Starting December 14th 2020, everyone who qualifies will automatically be entered into a weekly raffle where they could win cashback on their cards and shopping vouchers from Simba or Sawa City.
They will also be eligible for the monthly prizes in the form of motorbikes & laptops. The grand prize, which will be given away at the end of the promotion, is a new Mahindra KUV 100 NXT Car. The grand prize winner will be announced after the promotion ends on January 31st, 2021.