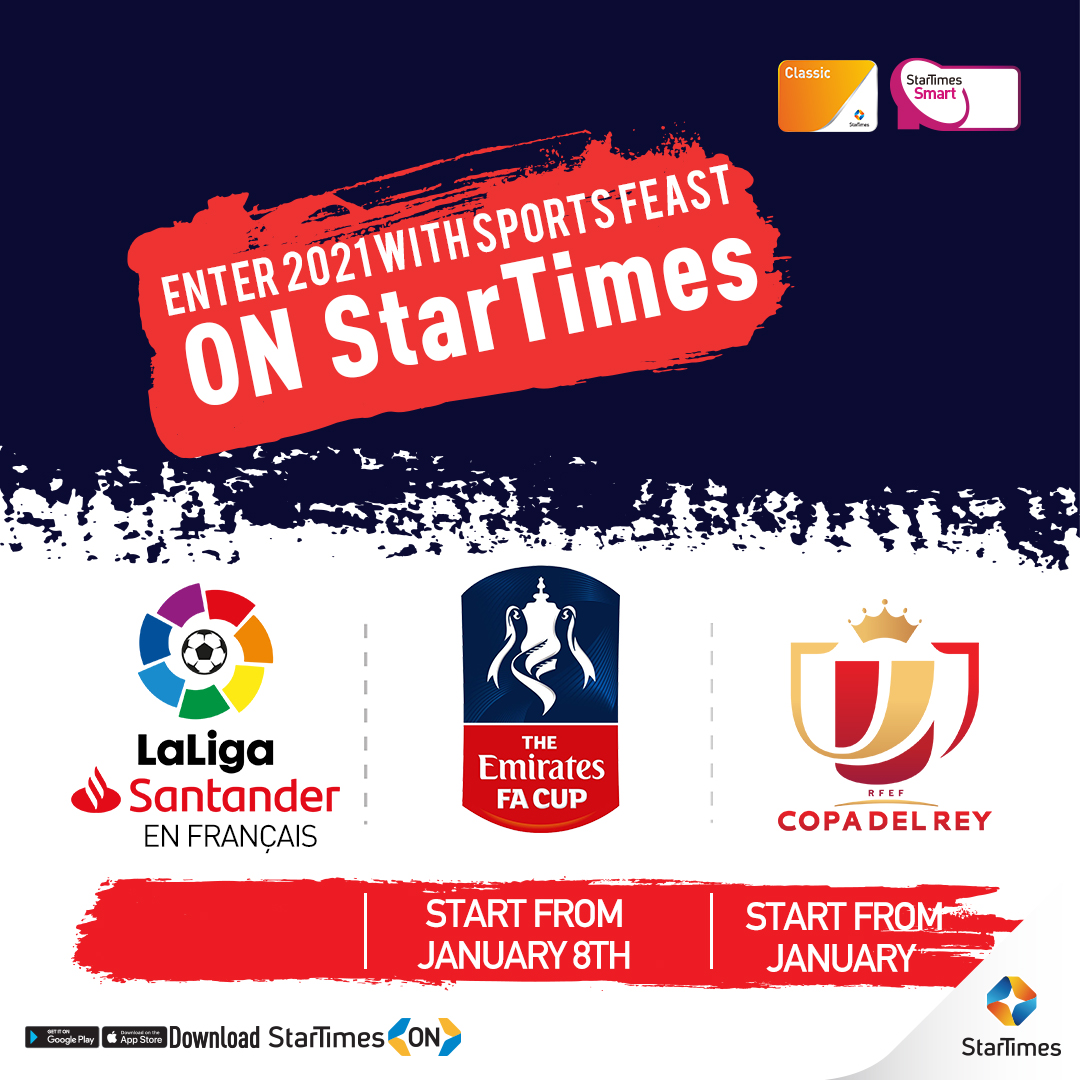 Christmas is around the corner, New Year is following and many sports events entered their winter break. But not all of them! StarTimes offers you a real sports feast to end 2020 with passion and start 2021 with excitement.
Spanish football league LaLiga will hold four match days between 19 December and January 4, i.e. 40 live matches in two weeks' time on ST Sports Premium! Real Sociedad, Atletico Madrid and Real Madrid are on top of the table with 26 points, which club will start 2021 as LaLiga's leader? Will Messi be able to give Barcelona enough victories to join the leading group? A lot is at stake for LaLiga's clubs. While Dutch Erdivisen and Turkish Super Lig matches will be going on on ESPN.
And 2021 will get a start on a strong note with the Emirates FA Cup return. On 8 January, Liverpool will open the year against Aston Villa live and in HD on ST World Football. One week later, fans will get more Spanish excitement with Copa del Rey round of 32.
Basketball fans will enjoy the NBA new season that starts on 22 December thanks to ESPN on StarTimes. We can expect a great show. 2020 MVP Giannis Antetokounmpo just signed a $228.2 million record deal with the Milwaukee Bucks and is more than ever aiming the title. Los Angeles Lakers have one of the greatest offseasons for a defending champion. Led by a superstar duo, LeBron James, the 2020 Finals MVP, and Anthony Davis, the team's other All-NBA star, the Lakers have an 18th title in mind.
And to reward its subscribers, StarTimes launched a "1 to 3" project giving each pay-TV subscriber 3 VIP membership on the StarTimes ON streaming app for free!  Then, all family members are able to watch their favourite content simultaneously on various devices. This handy application can provide the users with 150+ live TV channels and 20,000hrs+ programs.
According to the "Recharge and get upgraded" policy, Nova and Basic/Smart bouquet Subscribers who recharge for two months will enjoy 2 months of the higher bouquet for free. And Super/Classic package subscribers will get 10 extra days for free when they recharge for two months.
StarTimes
StarTimes is the leading digital TV operator in Africa, serving 13 million DVB subscribers and 20 million OTT users in 30+ countries. StarTimes owns a 600+ channels' content platform combining African local channels (75%) and international channels (25%, including Chinese channels 1.5%). The company's vision is "To ensure that every African family can access, afford, watch and share the beauty of digital TV".