The post-harvest losses can be minimized by physically preventing the entry of insects and rodents, and maintaining the environmental conditions that avoid the growth of microorganisms that attack harvests.
 Most importantly, the lost is avoided by establishing safe storage facilities that store crops for a long period to wait for better market prices.
While several Rwandan farmers still lose about 30% of production at harvest season, local farmers in Nyarubaka sector, Kamonyi district, Southern province have got a new storage facility worth Rwf16million from the Global Civic Sharing (GCS), a South Korean non-governmental organization in cooperation with Korea International Cooperation Agency(KOICA).
The storage facility launched on 25th November 2020 will benefit Nyarubaka sector community at large starting from two cooperatives including Nyarubaka farmer's cooperative (KOPUINYA) located in Gatagara cell and Kambyeyi farmers' cooperative(KOABINYA) in Kambyeyi cell, both in Nyarubaka sector.
"Storage facilities are much important in farming, most especially during harvest season. We have been losing crops at harvest and selling them at lower prices to traders because of lacking storage facilities. Traders take advantage of buying crops during harvest at a cheap price and sell them extensively during scarcity,"Jackson Kubwimana, president of KOPUINYA said.
Kubwimana added: "We have 173 cooperative members who are encouraged to store their crops in this facility. The amount of their crops will be recorded and kept safe. We would not wish to see a cooperative member failing to get seeds during the planting season or buying seeds expensively."
He said that cooperative members lose somet 20% of the crops during harvest season or sell the same amount of crops cheaply to traders fearing to make losses due to lack of storage.
The new storage facility aims at poverty alleviation, increasing rural income, and contributing to the overall economic development of Rwanda through preventing post-harvest losses.
According to GCS, the facility has a capacity to store up to 180 tons of crops.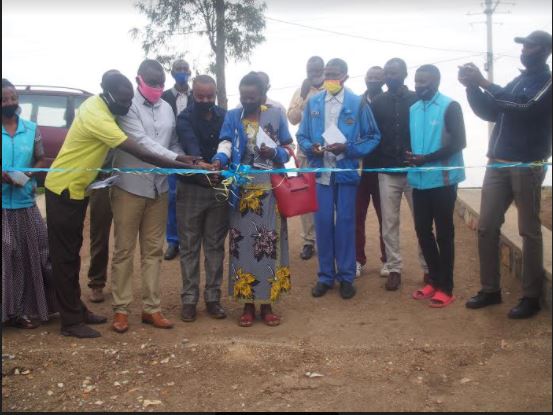 The storage facility has an office for the management committee and a meeting room. 
"The post-harvest losses have been a problem in society, so the ideas of preventing these losses should be well understood by farmers. Storing crops is one way of saving for the future, which helps farmers to develop economically.  We decided to build a storage facility for cereals because they are the widely cultivated crops in Nyarubaka,"Aimable Twagirayezu – GCS Project Manager said.
He added that the storage facility was built in a large plot, which allows extension possibility.
"We hope to see the storage facility productive and in good shape. There should not be further losses at harvest or selling crops cheaply because of fearing losses resulting from spoiled crops," Twagirayezu said.