Prof Alexandre Lyambabaje, the newly appointed Vice-Chancellor of the University of Rwanda has taken over from Dr. Papias Malimba Musafiri who was the acting vice-chancellor for four months.
He is expected to, among others, finish ongoing major pending Infrastructure Development Projects (IDPs) and to improve the quality of education during his five-year tenure.
Among the pending IDPs include the school of mining and geology, UR headquarters in Kigali city, and the establishment of four open distance and electronic learning centers. The open distance and electronic learning centers will be constructed in districts of Huye, Nyagatare and Musanze. Another centre will be built in Kigali.
Worth $40million, this particular project was funded by the Export-Import Bank of Korea and is expected to be completed by end of 2021.
Other pending projects are the construction of Regional Center Of Excellency for biomedical engineering and Electronic health worth $19million funded by the African Development Bank in Kigali city.
Dr. Malimba said that the centre will be used for design concepts to medicine and biology for healthcare purposes for example, diagnostic or therapeutic.
"The new Vice-chancellor is not starting from scratch, he is experienced in academia and we expect many achievements because of his expertise. However, he is finding challenges, but he can overcome them," Dr. Valentine Uwamariya, the minister of education said.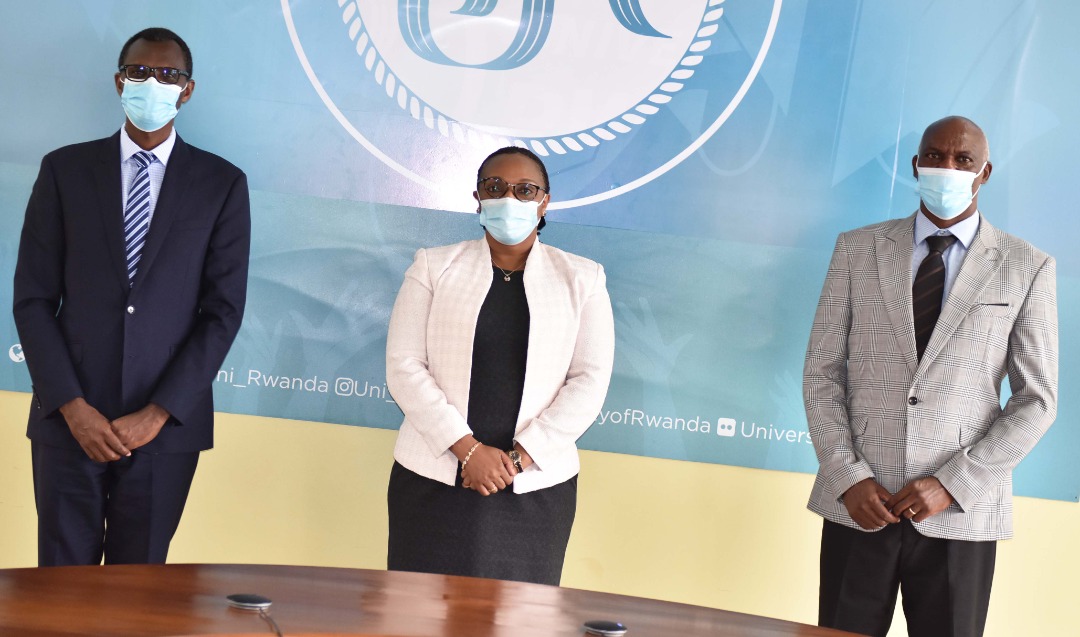 Dr. Uwamariya said that the ministry of education will always be available to give necessary support to the new Vice-chancellor for him to achieve the goals.
The new Vice-chancellor is also expected to initiate and complete construction of the Center of Excellency for vaccines, immunization, and healthy supply worth Euro10million funded by KfW Bankengruppe, a German state-owned development bank, based in Frankfurt city.
This Center to be built in UR – College of Medicine and Health Sciences – Kigali, is expected to be completed in the next two years.
It is expected to build the capacity and understanding of vaccines by students, vaccine storages, but also has long plans for vaccine manufacturing in the country.
Prof Lyambabaje is also expected to conclude the construction of a veterinary complex worth Rwf7billion, funded by the government of Rwanda located in Nyagatare district, Eastern province.
The complex to be completed by next year will be used in conducting veterinary research and creating veterinary medicines for various animals in the country, but also the region.
 "Achieving goals is possible with most importantly putting student's success first. They are supposed to get essentials for them to excel.  However, there are certain things we also ask them including working hard," Prof Lyambabaje said.
He further said that one of the important things is to always make sure that services provided at UR are appreciated by the public, specifically local and international students.
"The satisfaction survey should be one of the indicators of UR performance. When you give a service ask yourself whether the receiver is happy. This will always be a good indicator," Prof Lyambabaje said.
He further said that if someone serves and he/she takes long or does not get the feedback, something is wrong.
Challenges Ahead
 As the new Vice-chancellor assumes office, the outgoing acting vice-chancellor, Dr. Malimba also said that the UR has found difficulties in fully implementing the blended model of learning (online) with both lecturers and students delaying to adjust.
"Some teachers are delaying to adjust to the online learning, some want to teach the way they were taught," Dr. Malimba said.
Dr. Malimba said that the increasing population of students and employees is also challenging but manageable. "For example, UR currently has a population of 27.000 students in 13 campuses and about 1900 employees," he said.
Dr. Malimba noted that the operational costs for the university are also high because of the lecturers' movements across campuses. Without mentioning the transport costs, Dr. Malimba said that there needs a solution.
The other challenges cited are audit issues and inadequate teaching laboratories, given the fact that 75% of students are pursuing science courses.
On 15 May 2020 submitting to both chambers of Parliament the audit report of the year 2019, Obadiah Biraro the Auditor General (AG) said that Rwanda Energy Group (REG) and the University of Rwanda (UR) have resisted understanding their legal obligation of providing financial audits. 
Biraro said that the UR couldn't provide financial proof of $110,000 which allegedly was used to pay for 11 staff members to do their master's programs in computer sciences.
Responding to the audit challenge, Prof Lyambabaje said that the first thing to be done during his tenure is training the UR auditors and make sure that they comply.
"It is important to train both auditors and people to be audited, after the training, they can decide to comply with audit needs or the management decides otherwise." Prof Lyambabaje said.
For the last five years, UR has moved towards achieving the academic goals including the  Eastern and Southern Africa Higher Education Centers of Excellence Project (ACE II) which seeks to deliver quality, market-relevant post-graduate education in Eastern and Southern Africa. The project was launched on 24 January 2016.
Other achievements are the establishment of African Centre of Excellence in Energy for Sustainable Development (ACEESD), the African Centre of Excellence in Internet of Things (ACEIoT), African Center of Excellence for Teaching and Learning Mathematics and Science (ACEITLMS), and African Centre of Excellence for Data Sciences (ACE-DS), among others.