President Paul Kagame says it is high time Africa started building strategic partnerships that would help the continent manufacture her own vaccines rather than depend on external goodwill for present and future pandemics.
The Head of State made the observation during the African Union (AU) and Africa Centre for Disease Control (Africa CDC) virtual conference on how Africa can manufacture her own vaccines in the wake of the continent lagging behind in the COVID-19 vaccine roll out.
President Kagame joined fellow leaders including President Felix Antoine Tshisekedi of Democratic Republic of Congo (DRC), who is also the AU chair, President Cyril Ramaphosa of South Africa and the AU Commission Chairperson Moussa Faki Mahamat, among others, in the continental discussion.
"Vaccine equity cannot be Guaranteed by Goodwill alone as we have seen many examples to convince all of us,"
"Africa needs to expand production capacity for vaccines and other essential medical products," President Kagame said, reiterating what his South African counterpart had said.
"In line with our agenda of increasing domestic Health financing, it is important for Africa to forge strategic public-private Partnerships for vaccine manufacturing on our continent," he said.
President Kagame said that in the past few weeks he had the opportunity to initiate contacts with different manufacturers of vaccines, specifically focusing on the Messenger RNA technique used by Moderna and Pfizer and others to see how Africa can borrow from the techniques to manufacture her own vaccines.
"The whole idea is how we can also have this type of capability on our continent, which really complements other ways like the adenovirus method vaccines used by Johnson & Johnson, AstraZeneca, and also South Africa, in Aspen, they have that capability," he said.
He pointed out that the future is about the messenger RNA which can be easily replicated on the continent to complement what already exists.
President Kagame said Africa can overcome "being really very sorry for ourselves", which is the case today, and move from what the continent knows has not worked for it well, to something to something that can really work, especially through building partnerships with existing industries, which can invest on the continent.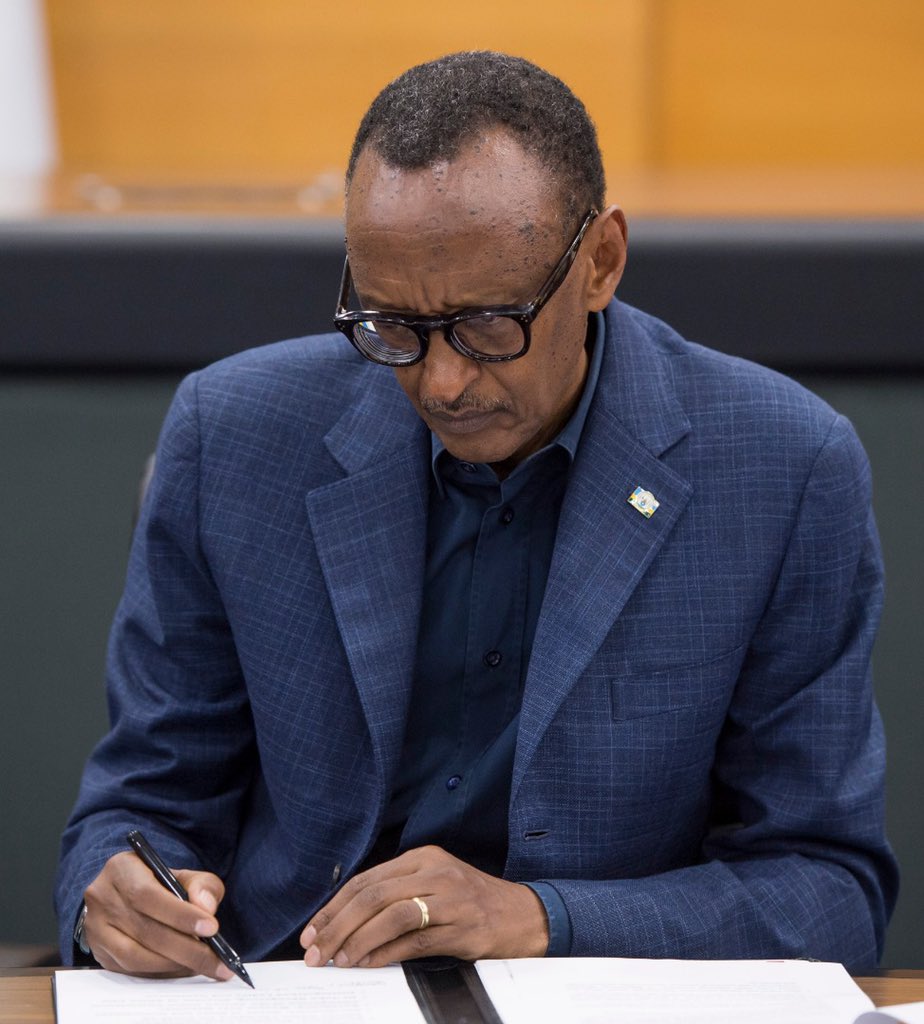 "The African Continental Free Trade Area makes these Investments even more attractive. The African Medicines Agency Treaty is also a critical part of the institutional framework and I urge African member states to ratify this as many as we can have ratified as soon as possible," President Kagame urged.
He welcomed the naming of a special envoy for the African Medicines Agency, Dr. Michel Sidibe, by the AU Chairperson, which is a step in the right direction.
The Malian Minister of Health and former head of United Nations AIDS agency will lead efforts to see that the continent can at least produce 60 percent of its vaccines locally in 20 years' time.
President Kagame said production goes hand-in-hand with increased investments in domestic Health Systems as well as building an efficient and autonomous African CDC, which he thinks is happening now.
He said Rwanda is ready to play its role in this effort together with other member states and partners.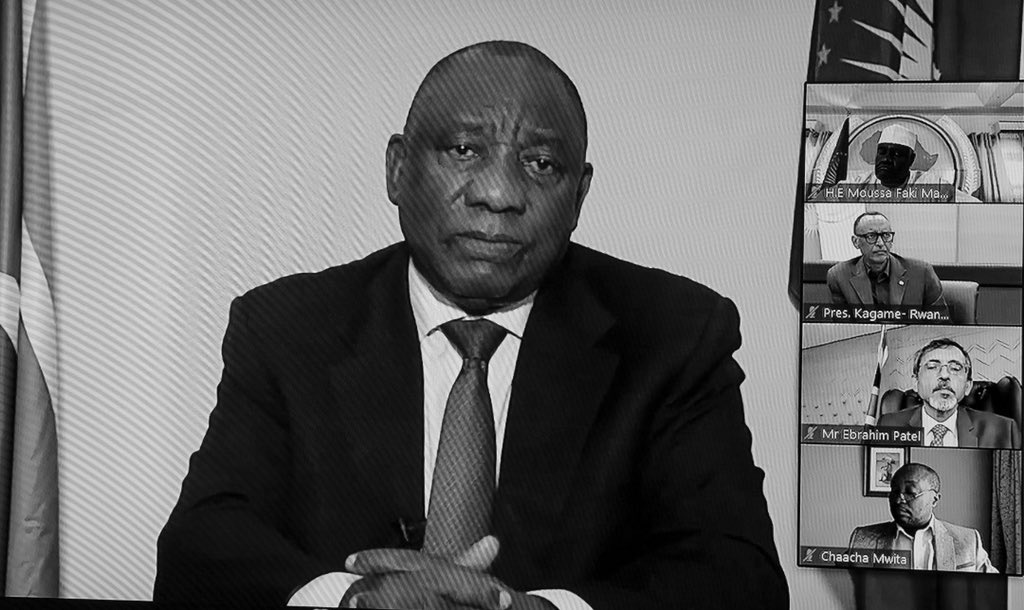 President Ramaphosa said that the global disparities in wealth and capability to develop, produce and have access to vaccines is hampering efforts by middle- and low-income countries to make vaccines available to their populations.
"The challenge that many African countries face is that the supply of vaccines is currently too slow to meet our needs. Our immediate task therefore is to secure sufficient vaccine doses for African countries through the African Vaccine Acquisition Task Team, which has made valuable progress through its engagements with manufacturers,"
"This effort is supported by other initiatives to manufacture vaccines on the continent, where possible, under license and in collaboration with current manufacturers," he said.
He pointed out that the Aspen facility in South Africa, will make some 220 million doses available following AVATT's agreement with Johnson & Johnson.
He said that throughout this pandemic, Africa has demonstrated that it has extensive and substantial capabilities, resources and skills to address the challenges given rise to by the pandemic.
"Africa's response has shown the depth of scientific expertise on the continent and has provided an opportunity for unprecedented scientific collaboration,"
"Through initiatives like the Africa Medical Supplies Platform, the continent has pioneered new ways of ensuring access to vital Personal protective equipment as well as diagnostics and therapeutics," the South African leader said, adding that through continental institutions, Africa was able to mobilise substantial resources to support the health response to this pandemic.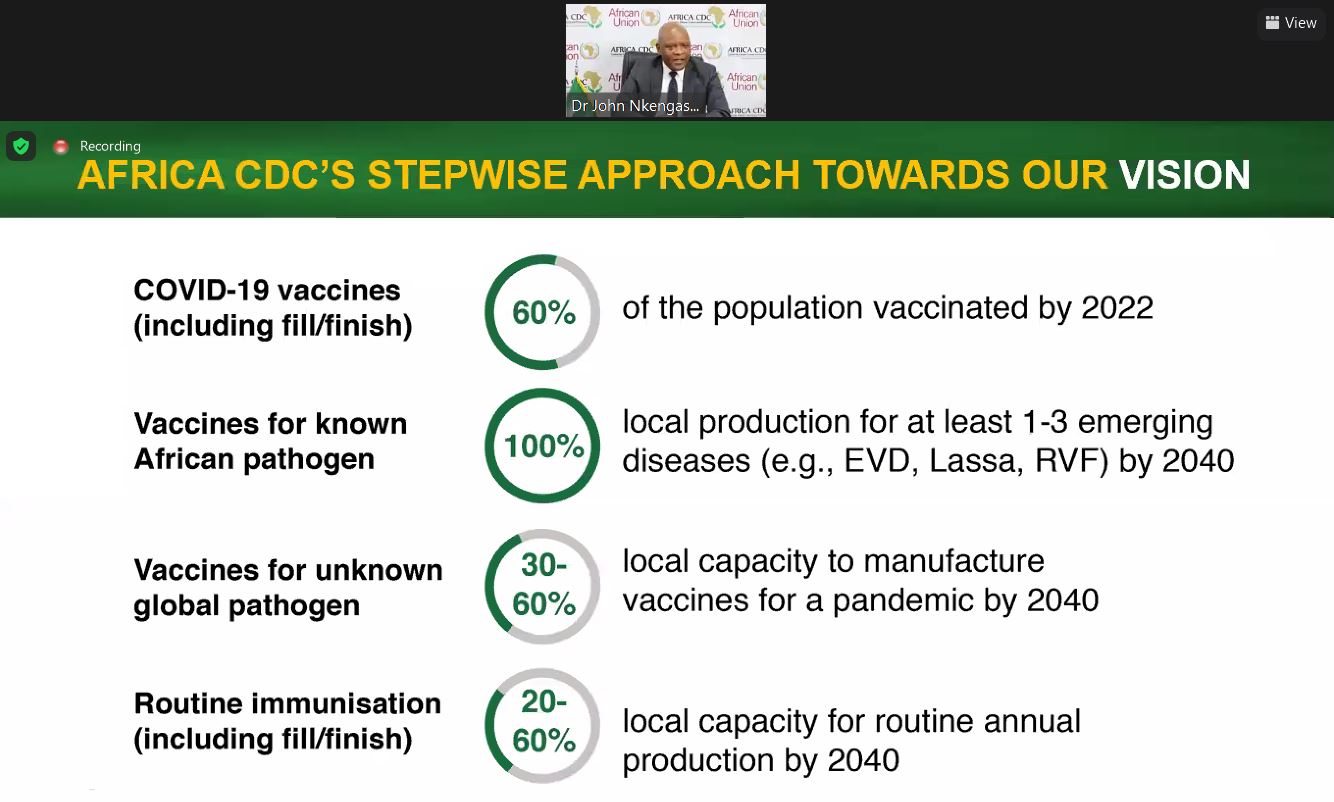 The head of the Africa CDC Dr. John Nkengasong said that the target is to ensure that Africa produces 60 percent of her own vaccines through this plan while Dr. Vera Songwe of the Economic Commission for Africa (ECA) said Africa venturing into producing own vaccine and medical supplies would create more than 6 million jobs and bolster the AfCFTA.