China and Rwanda have signed an agreement that will enable both countries to eliminate double taxation with respect to tax on income and prevention of tax evasion and avoidance (DTAA).
This agreement signed in Kigali December 7, 2021 will play an instrumental role in promoting bilateral trade and investment between both countries, by removing burdens of double taxation on investors from both countries.
"This agreement marks an important milestone in our quest to position Rwanda as a financial hub. Rwanda is in process of increasing its DTAA network to attract investment to Rwanda and from Rwanda to the region and beyond," Rwanda's Minister of Finance and Economic Planning, Uzziel Ndagijimana said.
The Chinese Ambassador to Rwanda, Rao Hongwei said that by signing the agreement and its affiliated protocol, this will effectively reduce the tax burden of taxpayers investing in either country and further facilitate bilateral economic and trade cooperation and personnel exchange.
"It will also make a good beginning of the countries' future cooperation in different fields including improving the capability of tax administration, strengthening the prevention system of tax evasion and avoidance, safeguarding bilateral tax interests and the international tax order," Hongewi, said.
Rwanda and China have half a century long-standing relationship with Rwanda (50 Years) that extends across multiple disciplines, which was celebrated last month.
The DTAA signing also marks another important step towards further strengthening this relationship to better support the expansion of Chinese businesses through Kigali International Financial Centre (KIFC).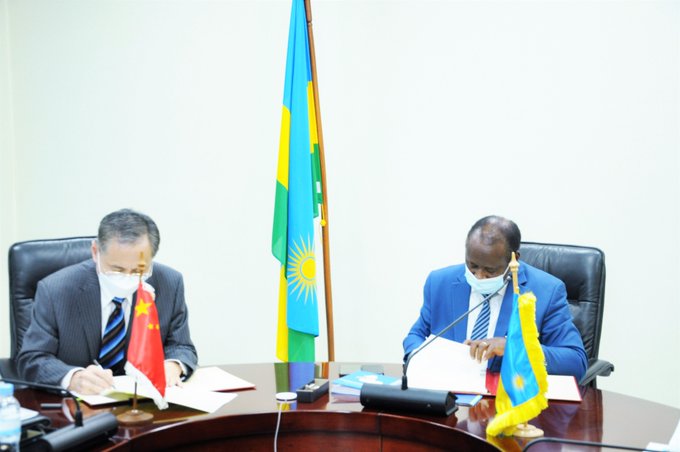 Key factors that led Rwanda to conclude the DTAA with the People's Republic of China include but not limited to, large numbers of investors coming from China, the robust cross border trade, growing appetite for Rwandans to invest in China, sound tax system and good economic relationship between the two countries.
Currently, more than twelve (12) DTAAs have been signed and several others are under negotiation. The Government's target is to conclude more DTAAs in FY2021/22 in a bid to widen the DTAA network and improve the ease of doing business in Rwanda. The number is expected to increase to 40 DTAAs in a row.
The existing DTAAs already in place have showed a big impact in terms of boosting the inflow of investment and trade from treaty partners.
There is a pattern in terms of investor's origins and   countries that Rwanda has already secured a DTAA with. For instance, there has been a rise in numbers of investors coming from Turkey, Qatar, UAE, Mauritius, Morocco, South Africa, and Singapore which already have DTTA agreement with Rwanda.