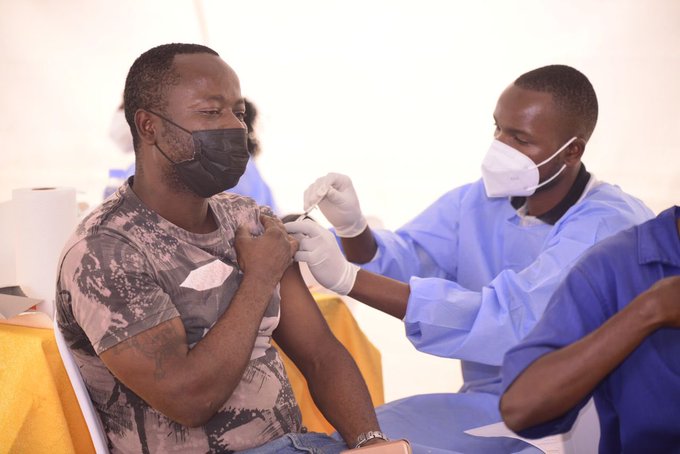 Amidst skyrocketing numbers of the new cases, Rwanda has set new measures to prevent further spread of COVID-19 which makes the full vaccination against the pandemic indispensable.
According to the statement from the Prime Minister's office, public transport operators carrying unvaccinated people will be 'punished.' The new restrictions on public transport and other sectors will apply from Monday, January 10 2022.
The new tightening measures released on Friday 7, follows rising Covid-19 infections with Omicron, now becoming the common variant in the country. These new restrictions will be reviewed in the next two weeks, according to the statement.
"The public transport operators; drivers, motorcyclists and cyclists are requested to carry only vaccinated people, those who will not adhere to these directives will be punished," the communique reads in part.
For all the travelers arriving at the Kigali International airport, they will be under a mandatory quarantine of 24 hours in the authorized hotels on their own bills. The travelers from the airport will be asked to test for Covid-19(PCR) immediately on arrival. All the travelers will be required to conduct another test after three days in quarantine, also on their bills.
Schools to reopen
According to the statement, the schools will reopen for the second term, as scheduled by the academic calendar on Monday 10.
"The Ministry of Education will give more directives and Covid-19 preventive measures on their reopening," the Statement from the Prime Minister's office reads.
For all religious, civil wedding and other social events attendees, they are supposed to be vaccinated. Apart from Kigali city, all of these events are supposed to be attended by 50% of the venue capacity. In Kigali city, all the church events are supposed to be attended by 30% of the church's capacity.
All the wedding receptions have been temporarily suspended. Meanwhile, all the civil and church wedding events should not exceed 40 attendees, in the country.
All the parties and festivities, night clubs, live bands, and concerts have been temporarily suspended. Only the authorized concerts by Rwanda Development Board (RDB) will be allowed to occur.
However, Restaurants are allowed to continue working, allowing 50% of the capacity. But all the clients must be vaccinated. All the bars are supposed to close at 8:00PM.
Yesterday only, the country reported 1, 219 new COVID-19 cases out of 20,485 tests.
So far, 7,745,325 people have been vaccinated with first dose while 5,582, 750 received the second dose and 273, 515 the booster shot.