The 20th extra-ordinary heads of state summit of the East African Community(EAC) on DR Congo security situation has been concluded in Republic of Burundi with a call to parties involved in the conflict to cease fire and prioritize political dialogue.
At the summit which was attended by all Heads of State of the regional bloc except South Sudanese Salva Kir who sent a ministerial delegation, issued a communique with twelve articles, all around regional efforts to restore peace and stability in Eastern DRC.
Heads of State directed that political process involving all stakeholders be strengthened.
Furthermore, they issued a provision that directs, "immediate ceasefire by all parties, withdrawal of all foreign armed groups.
Foreign armed groups may include the self proclaimed Democratic Force for Liberation of Rwanda(FDLR),a  terrorist group made of Rwandans who fled the country after perpetrating the 1994 Genocide against Tutsi.
Rwanda maintains that FDLR is fighting alongside DR Congo armed government army (FARDC) in a battle against the M23 rebel group which is seeking to end atrocities against the Kinyarwanda speaking congolese community.
Also alleged to have joined FARDC lately, are mercenaries from Russia.
The Chiefs of Defence Staff of EAC will meet within one week time to set a new timeline for the withdrawal, and recommend appropriate deployment matrix.
The heads of state directed that violation will be reported to the chairperson of the summit for "immediate consultation to the members of the summit".
However, they reiterated that this whole process should be accompanied by dialogue.
The summit requested all troops contributing countries to deploy to DRC, and called the latter to "immediately" facilitate the deployment of  troops from South Sudan and Uganda to the East African Regional Force.
The Heads of State invoked their  summit of Sharm El Sheikh, Egypt on DRC's peace process and in this context, congratulated different actors who have been contributing to efforts to restore peace in Eastern DRC.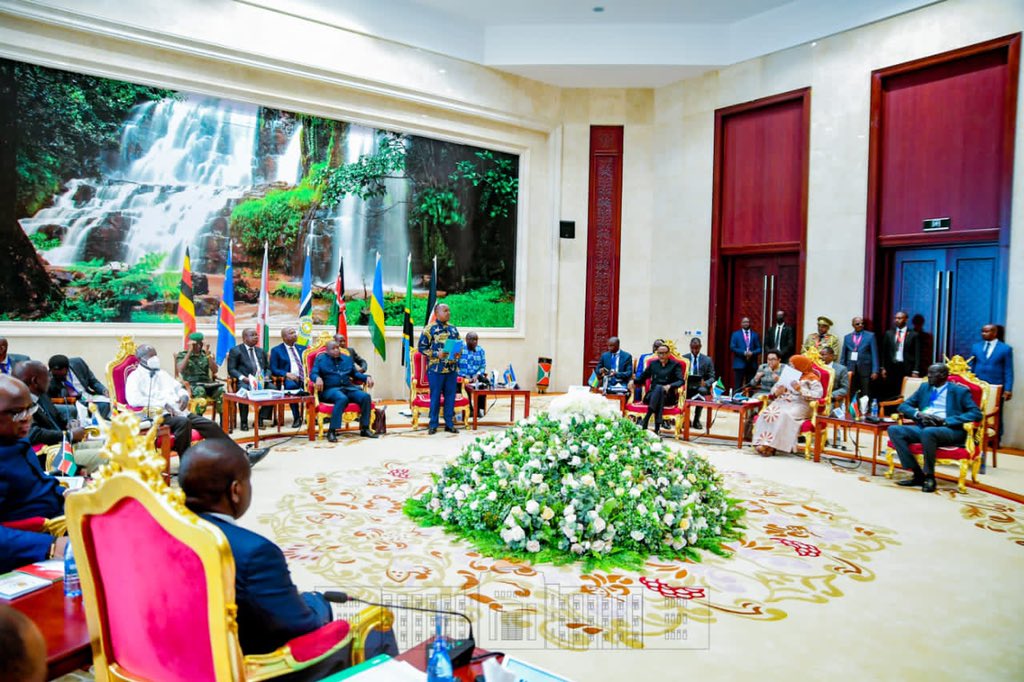 Those include the facilitator of Kenya led peace process, African Union Peace and Security Council, the international community which contributed financial and political support.
Senegal and Angola were also recognised for supporting the political process financially.
The Republic of Kenya and Tanzania respectively were applauded for contributing to the EAC peace facility fund, together with Rwanda and Uganda who made their pledge to contribute to the same.
Heads of State reiterated their call to parties in DRC conflict to respect and implement resolutions in previous meetings of heads of state, including instruments on restoration of peace and security in Eastern DRC.
All parties were called upon to de-escalate tensions and to use regional and continental and international mechanisms to resolve any disputes in the implementation of peace in Eastern DRC.
Local armed groups in Eastern DRC were directed to embrace dialogue and lay down arms and to join political process as path towards unconditional disarmament and creation of an enabling environment "for participation in upcoming democratic process."
The upcoming 'democratic process' may be insinuating the elections in DRC due this year.