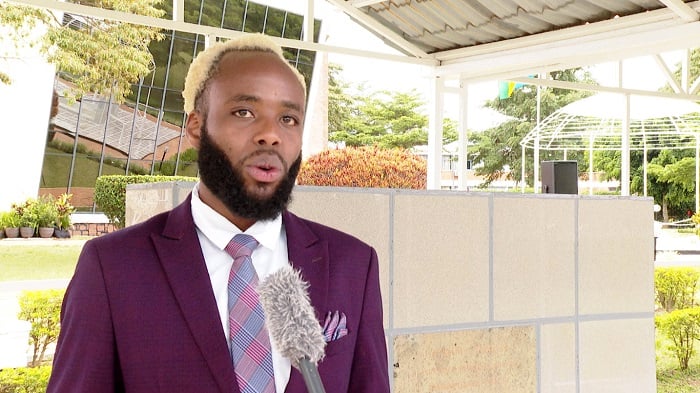 One of the sons of late former Prime Minister and national hero, Agathe Uwilingiyimana, has spoken out for out after visiting his country of birth for the first time in nearly three decades.
Theophile Umuhire, who leaves in Europe along with his siblings traveled to Rwanda to pay tribute to her mother, who was killed in April 1994, at the beginning of the 1994 Genocide against the  Tutsi, for standing up against its planning and ethnic divisions.
Uwilingiyimana, a prominent politician who was killed during the Genocide against Tutsi for denouncing the Genocidal government atrocities, leaving behind five children. They narrowly escaped the killings with facilitation from United Nations peacekeepers and fled to Western countries where they have been living
The last born in the family of Uwilingiyimana and Ignace Barahira, Umuhire in his early thirties said he was 4 years old in 1994.
He said he is proud of what his mother did in life, which is serving as an example to many, young and old.
"My rmessage to the youth is that they should always remember that Rwanda exists today because of the heroes who sacrificed a lot, including their lives, and started the country to get to where it is now," Umuhire said.
He says that he can't compare the first Rwanda he left when he was four years old with the one he found now because he was too young, but he can remember at least the original smell of food, trees and the air of Rwanda and that he sees that there is security and prosperity in Rwanda in general.
Umuhire is the fifth born (last born) of the five children in the family of four boys and one girl in the family. His sister Marie Christine Umuhoza was also in Rwanda for Heroes Day 2018.
In Rwanda, the Heroes Day was celebrated across the country for the 29th time, and officiated by President Paul Kagame and First Lady Jeannette Kagame by laying a wreath at the National Heroes Mausoleum.
This year's Hero's Day was marked under the theme "Our Heroism, Our Dignity," the annual celebration honours national heroes as a source of inspiration for Rwandans to excel in all their undertakings.
Some of the national heroes including Maj. Gen Fred Gisa Rwigema, who is in the Imanzi category, recognised for leading the Rwanda Patriotic Front (RPF- Inkotanyi) liberation struggle in 1990 and was killed on the frontline, along with the 'unknown soldier'.
Others who belong to the 'Imena' category, include King Mutara II Rudahigwa, former Prime Minister Agathe Uwilingiyimana, Michel Rwagasana, Felicite Niyitegeka and Nyange students, most of them recognized for standing up against ethnic divisions and other injustice/abuse of ruling power.