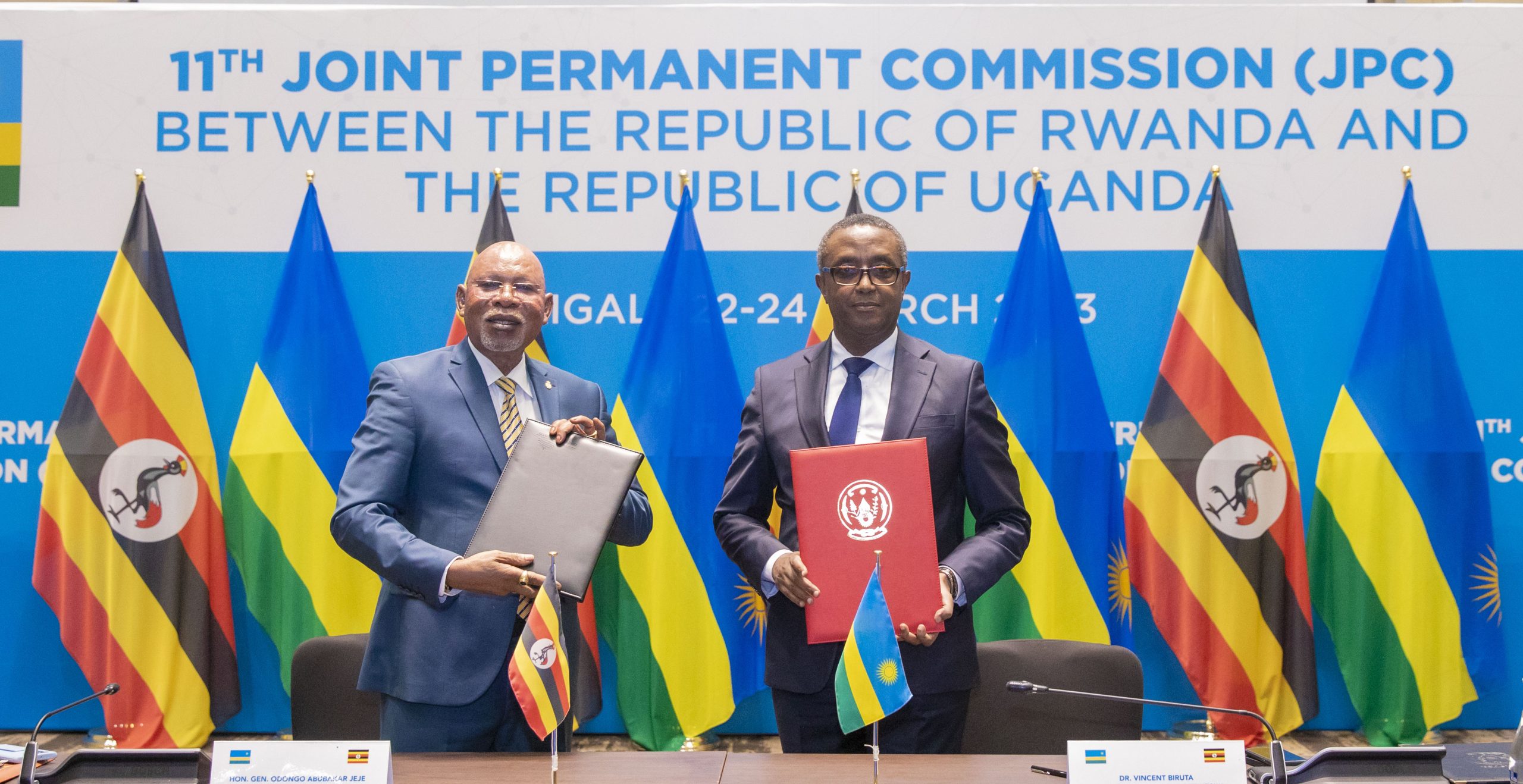 Since its opening in the early noughties, the Kigali Convention Centre (KCC) has hosted a number of important, national and international conferences and events. Few will arguably be more important than the recently completed 11th Joint Commission (JCP), between Rwanda and Uganda.
To look at the Memoranda of Understanding (MoUs), signed at the 11th JCP, and the issues to be resolved, is to look at time lost, in implementing agreements on collaborative development programmes and projects, between Rwanda and Uganda, of which both nations have much need. It is to wonder how two nations, that are in every way, natural allies, managed to drift apart, facing each other in rancour.
But it is also instructive to witness how differences, to which people had been attached seemingly for dear life, all melt away, when there is a will to resolve them. It is as though they had not existed, and there is an embarrassment in even mentioning them.
The feeling of ease that the large Uganda and Rwanda delegations seemed to feel around each other, was almost palpable. In heartfelt words, several times, the Uganda minister of foreign affairs, General Jeje Odongo Abubakhar, mentioned the warmth of the hospitality from his Rwandan counterparts. His Rwandan counterpart, the ever composed Vincent Biruta, talked of the "excellent bilateral relations" between the two countries.
"This important meeting marks another milestone in the ongoing process to revitilise the longstanding and excellent bilateral relations between our two countries," said Vincent Biruta, as he opened the discussions that would culminate in the signing of MoUs, in four key areas.
The four MoUs, in political consultation, immigration, mutual legal assistance, and judicial cooperation, would have seemed a bridge too far, only a couple of years ago, when relations were strained to breaking point.
"We are brothers and sisters. Indeed, there have been some difficulties" said Odongo Abubakhar, in response, "but with consensus reached by our leaders, progress has been made in normalising relations. I am confident that through joint efforts, our excellent relations will continue to flourish in the years ahead."
The "some difficulties" at which both ministers hinted, with such diplomatic understatement, referred to tensions between the two neighbours, which led to the Rwanda-Uganda border restricting through traffic, for the best part of three years.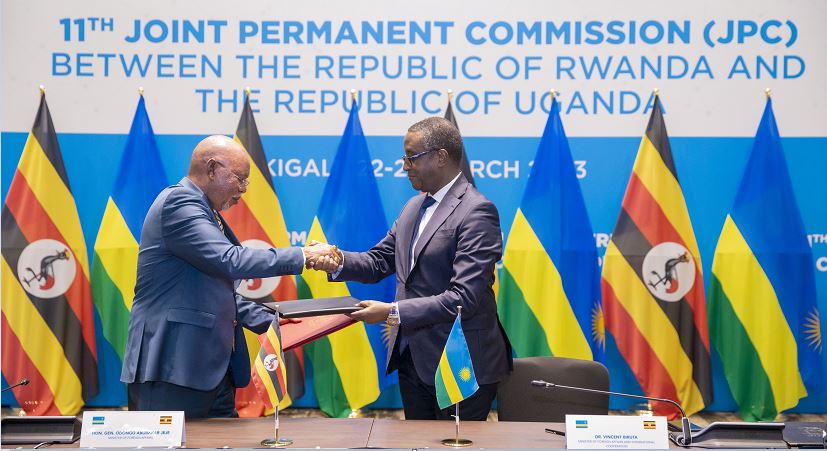 Rwanda complained about Uganda hosting and encouraging anti Rwanda elements, including the "Rwanda National Congress" (RNC), a designated terrorist organisation. Related to this support, was the wholesale rounding up of ordinary Rwandans, who were then accused of being Rwandan spies, and thrown into ungazetted detention centres.
Almost all of them were ordinary labourers who lived along both countries' frontier, and were accustomed to working on either side of the border. They were men, women, and even children. The majority of them would be eventually released, and dumped near the Rwanda border in the dead of night.
They would then stagger into Rwanda, to be rescued by their country's immigration service. Many complained of having been severely tortured, with some losing their lives as a result of the ill treatment.
Rwanda issued a travel notice, warning people not to travel to Uganda, making it clear that once there, there would be nothing Rwanda could do to protect them. It became almost routine, for Rwandans to be dumped at the country's border, in the night, by Uganda's security forces.
Rwanda border security would pick up the often traumatised, bedraggled victims, and take them straight to receive medical attention. With these showing no sign of being resolved, the main trading border post of Gatuna, or Katuna as it is called on the Ugandan side, was all but closed, although it remained open to some traffic.
Rwanda argued that it would be absurd to insist on free movement of trade, if you could not have safe, free movement of people, as stipulated within the East African Community agreements.
The thaw in relations began last year, when the special adviser to Uganda's President, Yoweri Museveni, General Muhozi Kainerugaba, who also happens to be the president's son, made a number of visits to Rwanda, where he was received by President Kagame of Rwanda.
Now, the JCP is to look at how the agreed broad decisions to remove the causes of the conflict, will be implemented. Their task will be as detailed as it is far reaching.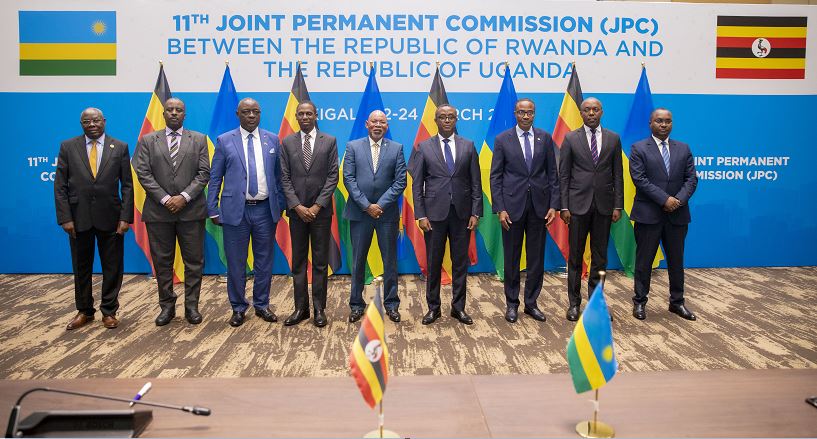 As well as the mundane technicalities of removing trade barriers, like any unnecessary verification of goods between the two countries, charges on vehicles crossing the respective borders, instituting reciprocal arrangements for taxation, there will be agreement around sensitive areas, like intelligence sharing and military cooperation.
There will be regular meetings between both countries' heads of military and intelligence, as well as police, correctional and immigration services.
In local government, the MoUs signed when the JCP last met, and had been all but mothballed, will be reactivated, as will be those signed on "Economic and Social issues", including the One Stop Border Posts between the two countries (OSBPs).
There is in short few areas where cross border cooperation is not envisaged, and harmonisation encouraged.
Discussions around the Northern Corridor Integrated Projects (NCIPs), which had stalled, are to be revived. These will include looking at the feasibility of the Standard Gauge Railway, connecting the two countries, and to the rest of the East African Community member states.
It would not be overstating it to suggest that the 11th JCP meeting, promises nothing short of a new dawn for relations between Rwanda and Uganda. Many issues remain unresolved, but these are almost overshadowed by the willingness to confront them.
It is also inevitable that improved relations between two nations of the Great Lakes region, will resonate within the other nations, and the workings of the regional mechanisms.