President Paul Kagame has said that Rwandans can forgive but they will never forget the fact that the world turned its back on them at a time they needed help most -when the 1994 Genocide against the Tutsi was unfolding.
Speaking at the beginning of the 29th commemoration of the 1994 Genocide against the Tutsi, at Kigali Genocide Memorial, the Head of State reiterated that the country's tragic past has taught Rwandans that they can only count on themselves and reject any attempt by anybody to dictate to them how they can lead their lives.
Referring to an earlier heart-breaking testimony by a genocide survivor, Eric Mwizerwa, President Kagame said that those who played a role in causing so much pain, similar to what Mwizerwa went through, can only run but they can't hide.
"It is very difficult to find what to say after the testimony we heard from Eric because what he told us says it all," he said.
He reiterated that the earlier speech by the Minister of Unity and Civic Engagement, Dr. Jean Damascene Bizimana, giving a historical background of how the genocide was planned together with Mwizerwa's testimony, affirmed what has always been said.
"The truth of the matter is what has always been said; you can run but can't hide. There is no hiding place for you from these very facts of our history," President Kagame said.
He particularly cited those who have time 'to say whatever they want to say', in a veiled reference to Rwanda's critics.
President Kagame said that while Rwandans have chosen to forge ahead without letting the past hold them back, they cannot forget the fact that the world abandoned them.
"Today. We gather to honour the continued sacrifice or survivors, and remember all of those we lost during the Genocide against the Tutsi, which really means that people were just being targeted and killed for who they were,"
"Nobody, whether it is here or anywhere in this world chooses what to be in that sense. Nobody chose to be what tribe, race or ethnic group. There are many things we choose to be, you can choose your region, etc but you don't choose to be the person to be targeted," he said.
He pointed out that even those who targeted them didn't choose to be that particularly tribe they are.
Nobody can decide for us
Based on the earlier testimony by Mwizerwa, President Kagame said that it is very clear that the wounds are still deep but Rwandans have refused to be defied by their tragic history.
"People have managed to turn the page and move forward from grieving, from crying. People have decided to live on," he said, adding that Rwandans decided to forgive but they can't forget.
"Imagine a person like Eric, with what he went through, being able to find it in himself to forgive. It is amazing. Some of those who try to distort the facts of our history, it is just because they cannot be ashamed, but we have our lives to live, all of us" President Kagame said.
He pointed out that nobody will ever decide for Rwandans how to live their lives because they have incredible strength coming from their own history, which tells them that they should never allow anybody to dictate how they live their lives.
"We are polite people, we are humble people, we know where we've come from, we know who we are, we listen but at the end of the day, I want to assure you, that for as long as some of us are still here, what I am saying is just what is going to happen,"
"That we shall live our lives in the best way we can, just like other people elsewhere in the world," he said, adding that they have no right to dictate to Rwandans how they can live their lives and it will not be accepted.
President Kagame said that Rwanda has transformed itself, with Rwandans choosing to make unity and being together the foundation of everything they are building.
"From the beginning we understood the need to come together and preserve the spirit of oneness, to give us hope for a better future," he said. 
Violence, hate speech still prevalent
As Rwanda marks 29 years after the 1994 Genocide against the Tutsi, President Kagame said that Rwandans cannot ignore the fact that violence and hate speech still persist, not far from Rwanda.
Without mentioning the Democratic Republic of Congo (DRC), where Rwandophones are being targeted, President Kagame said that the indifference that happened when Rwandans were being killed nearly three decades ago, still exists even today.
"Much as it does so, you can also see the same indifference today, as we saw in 1994," he pointed out, reiterating his call to the world to tackle genocide denial and revisionism, which continue to exist even today.
"Genocide denial is a dangerous and deliberate attempt to block the truth. We must fight the revisionist ideologies because they are easily passed on from generation to generation. We must fight denial because that is how history repeats itself," the Head of State said.
No more divisions
President Kagame said that young Rwandans are privileged to have a country to call home and which embraces everyone, without any discrimination.
"We need to encourage young Rwandans to learn about our past, so that they can lead with historical clarity but also with a sense of responsibility and accountability. That is the essence of 'Kwibuka Twiyubaka'.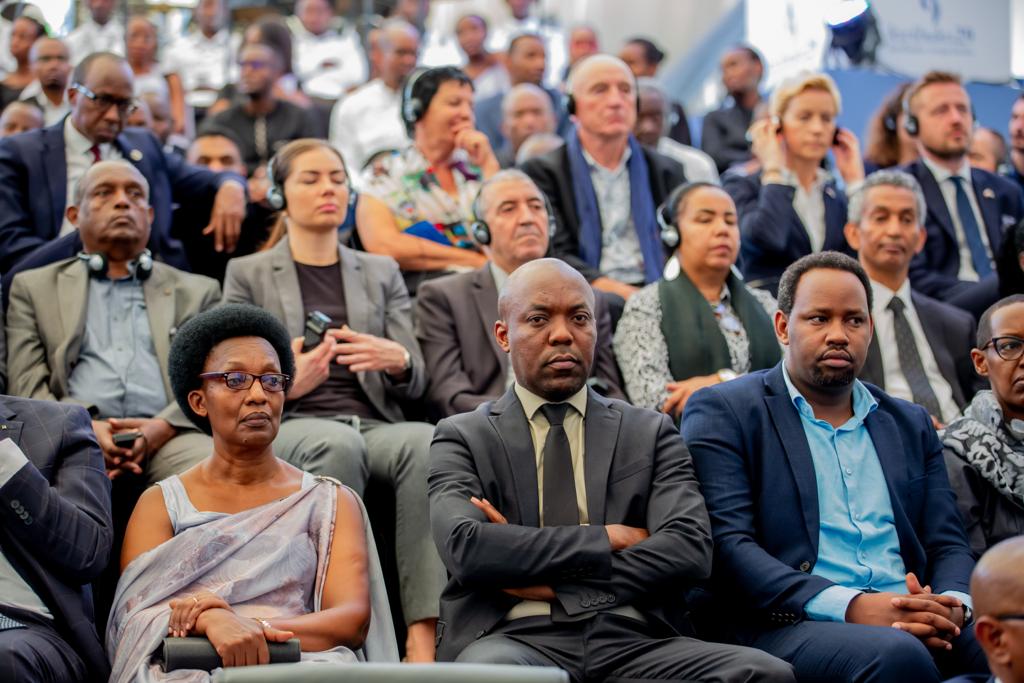 "Rwandans will not accept any attempt to divide us. We had enough of it -more than enough," he said, adding that it will never succeed again in Rwanda ever.
He said that the stance Rwanda has taken underscores the need for Rwandans to find solutions amongst themselves, no matter how unconventional the methods they use are, but they must remain in charge of their destiny.
He reiterated that it is a lesson Rwandans learnt 29 years ago, when the world abandoned them, at the time they needed help.
"You remember, at the time of need, when we needed every help we could get, and everybody, the world, turned their back on us. That's part of the historical facts. The world turned its back on us,"
"So that is simple. The message is 'you are on your own'. So, we should learn to be on our own and I think we have learned enough. If they help, we appreciate, if they don't, we don't have to perish all of us, just because somebody didn't show up to help," President Kagame said.
Turning challenges into opportunities
President Kagame said the most important lesson Rwanda learned was to transform challenges into opportunities and also use little resources to achieve a lot.
"There is nothing Rwandans cannot overcome through unity hard work and perseverance,"
"We will forever be very grateful to those friends and partners who stood by our side and some continue to do so, in the search for justice as well as in development," President Kagame said.