Innocent Gatanazi, 62 from Kabeza Village of Musovu cell in Juru Sector-Bugesera was sentenced to 15 years for committing genocide crimes during the 1994 genocide against Tutsi, and he does not regret having gone to jail because he "deserved it."
While in prison, Gatanazi confessed his crimes and the community justice-Gacaca reduced his sentence to 12 years which included a community service (TIG) sentence of 4 years.
After serving the jail term, he started the community work, which would later be reduced to two years, because he manifested good conduct throught.
When he returned to the community, the process of reintegration was not a walk over and his heart was restless until he joined the Societal Healing programme which has Community-Based Sociotherapy groups- "Mvura Nkuvure" (literally – Heal me to Heal yourself) to start a path of reconciliation and getting to terms with his past.
"I never rested in my heart. Every time I was in the community and walked by the people, they looked at me. This got me scared and thought they are seeing the killer in me," Gatanazi said.
"I was not free; I was a prisoner outside prison, my heart was restless until I joined the Mvura Nkuvure group where I was able to find forgiveness," he said.
In the group, Gatanazi met with genocide survivors including Francoise Mukaremera whose child he had killed. At one of the meetings, Gatanazi got the courage to appologize.
"I have forgiven many and there is no reason why I cannot forgive you. I have forgiven you so you can rest in your heart," Mukaremera assured him.
 Gatanazi  says that the forgiveness was a miracle since it enabled him to live in harmony with Mukaremera and with a restful heart in the community.
On her side, Mukaremera, 51 had never thought of forgiving anyone; she rather had sworn to revenge anyone who was responsible of his family's massacre.
She lived a lonely, hateful, and resentful life until she heard of Mvura Nkumvure and later joined the program where she sat face-to-face with her perpetrators including Gatanazi.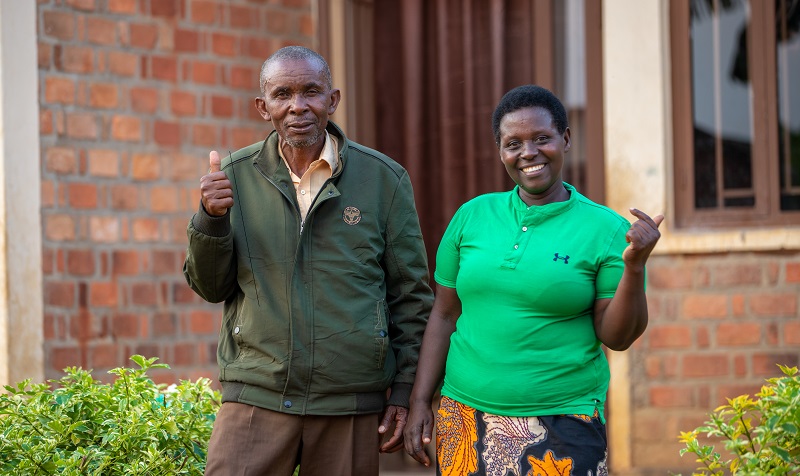 Mukaremera says that the first two meetings were fruitless but at the third one, she started feeling the urge to break the swollen wounds in her heart.
"The first thing I let out was the fact that I was raped by the same people who helped me escape. The second thing was about that man (Gatanazi) who killed my family- which I knew later," Mukaremera said.
This helped her to heal slowly and the meetings continued until she was able to totally release the pain and forgive her perpetrators.
"I had never forgiven others nor myself but when he asked me for forgiveness, I did so willingly because of the healing I had found in me even when I didn't know how this mercy came about," Mukaremera said.
Though both Mukaremera and Gatanazi suffered from the same pain of their past, today they are a living example of reconciliation among genocide survivors and perpetrators, thanks to the Mvura Nkumvure program run by Interpeace Rwanda.
This program started as an experiment in Bugesera District in 2020 and has been extended in other five districts (Nyamagabe, Nyabihu, Musanze, Ngoma and Nyagatare) reaching over 7,300 Rwandans who were reconciled in these groups.
To attain unity and reconciliation and build the Rwandan community, Frank Kayitare, the Interpeace Country Representative says that the program has helped many and has benefits, thus a need to expand to reach over 20,000 in the next three years.
Community based group therapy programs could contribute to the current achievement of over 96% reconciliation among Rwandans.