President Paul Kagame on Friday promised disaster-affected residents of Western Province that the government will do whatever it takes to ensure that they go back to their homes safely.
The Head of State visited Rubavu District where he checked out different locations affected by deadly floods and landslides earlier this month and met with citizens who have been temporarily relocated to an evacuation site at College Inyemeramihigo in Mahoko.
President Kagame toured different sites, including households, schools and infrastructure in Rugerero sector, which were damaged by floods after River Sebeya burst its banks following heavy rains on May 2 to 3.
On a rainy Friday afternoon, the Head of State interacted with primary school pupils at Orphanage St Noel de Nyundo and visited Pfunda Tea Factory, which remains closed due to the damage resulting from the disaster.
At Inyemeramihigo evacuation site, where some of the residents of the district affected by the disaster are camped, President Kagame expressed his condolences to the people of Rubavu who lost their loved ones and their properties.
"I came here with other government officials to check on you and also to encourage you to continue being strong as you have been. We also know that this calamity affected you in different ways, you lost your property and loved ones,"
"I came here to visit you and tell you that we have you in our thoughts. We are worried just as you are, and we are doing whatever we can, in our means, to ensure that we support you in these difficult times," President Kagame said.
"We will ensure that those who can go back home do so as soon as possible but most importantly, we are doing our best to ensure that you have the basic needs that you need before going back to your homes or resume your activities," he added.
He said he visited the area to give affected residents assurances that the government is working around to provide them with relief support, within its available means and also ensure that they go back to their normal lives as soon as possible.
"Whatever we can do, within our means, we will do it, especially for the children who don't have what to eat, their parents and others. These basic needs will be availed in the shortest time possible," President Kagame said.
After visiting schools, factories and infrastructure damaged by the heavy rains, President Kagame said that the disaster was unavoidable as nobody has control of nature's wrath but what can be done to ensure that people get out of the mess caused by the rains and floods will be done.
To deal with the perennial flooding of River Sebeya, President Kagame told residents of Rubavu that the government will assess the situation and come up with a long-term solution, but pointed out that it will start with relocating people living closer to the waterbody to safer zones.
The 110km river which crisscrosses the Western Province district and empties into L. Kivu is known for perennially bursting its banks during the rainy season, causing floods which displace many people and damage farms and property.
Rain continued to pound the ground as President Kagame met residents of Rubavu, who he gave an opportunity to address their issues to him directly.
Feza Nteziryayo, a resident of Rubavu, who lost his wife during the floods and survived with a six-months old baby, said that he was lucky to escape and thanked President Kagame for the intervention of the government.
"We've seen places where disasters happen and leaders don't intervene or care. However, our government did its best to take care of us. Our leaders were involved and showed that they care," he said.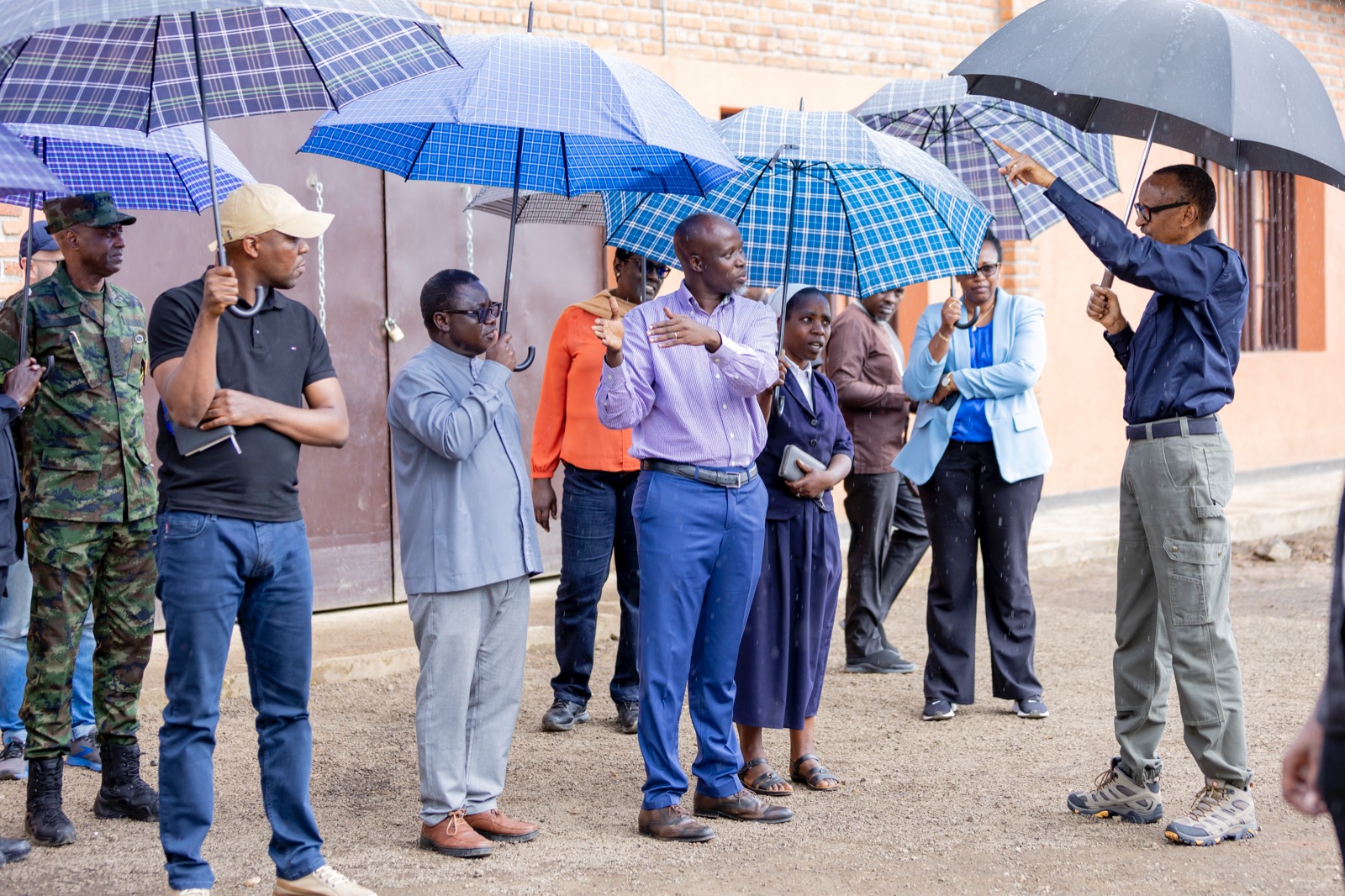 "Since I have a little baby, I could not go to the camp. The mayor and other leaders helped me to get a place to sleep. They bring me food; I go to the site to get milk for the baby. All is well and we are counting on your support too,"
Esperance Mukanshogoza narrated her story of survival, after she woke up at 2:30 to find her house submerged in water.
"I woke up in the middle of the night to find the doorway submerged in water. I was alone in the house. I screamed for help, my neighbours heard me and came to my rescue,"
"I struggled to get out of the water. I fell down and hurt my back. I also hit my toe on something and it got split but luckily, I was able to survive and come out alive. Today I eat and sleep," Mukanshogoza said, thanking President Kagame for the intervention.
President Kagame asked her if she got the necessary treatment and she answered in affirmative, adding that she is certain that she will soon get permanent shelter, and the Head of State promised her that it will be done.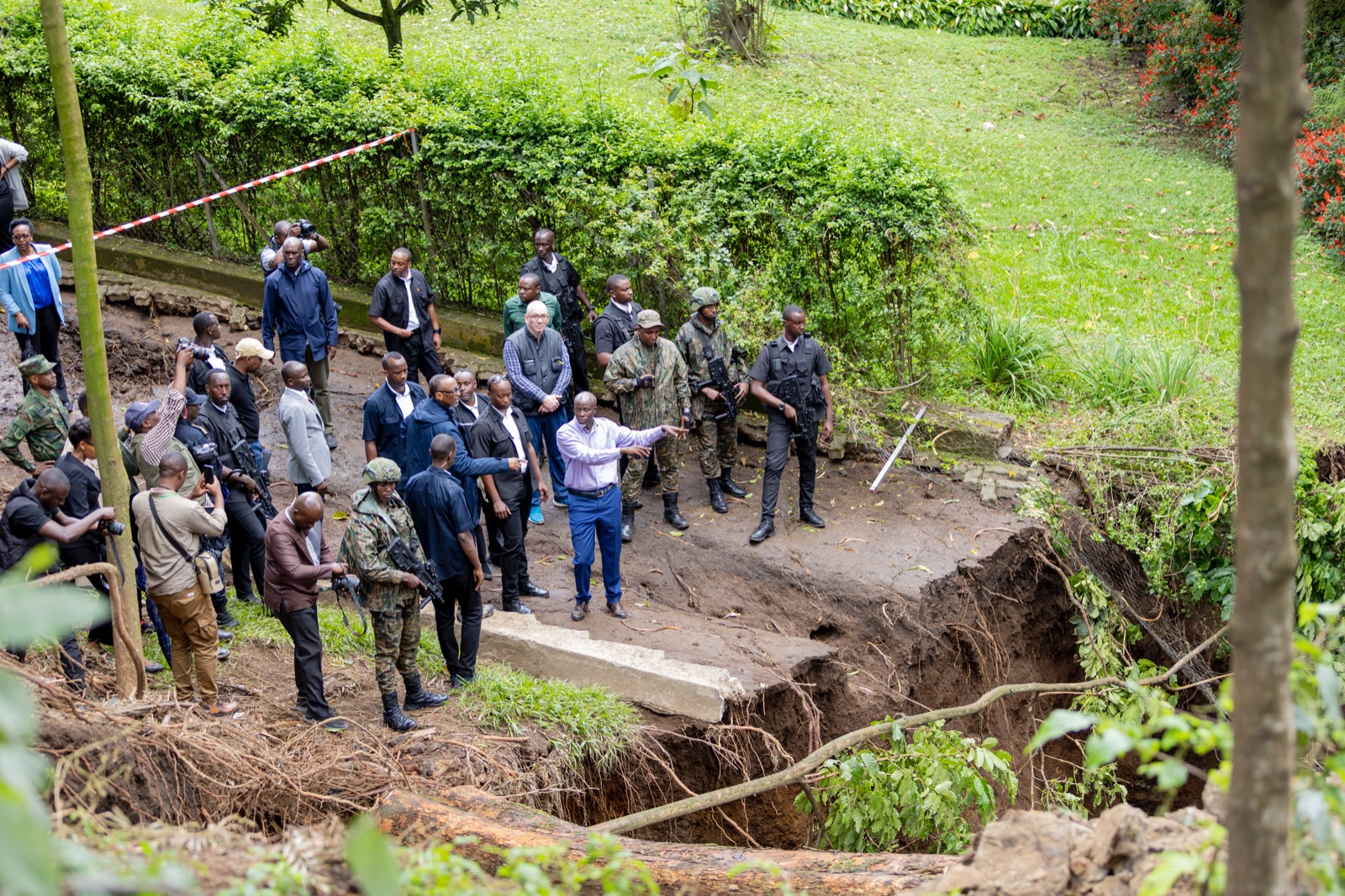 So far, according to the Ministry in charge of Emergency Management (MINEMA), 131 people were killed by the devastating weather, 26 of them in Rubavu district, while 9,231 people have been displaced by the disaster.
Some 5, 598 houses were destroyed, 14 roads damaged, 12 power plants and eight Water treatment plants were also affected.