It was that of the month again, Umuganda (community service), and if you grumbled a little about the inconvenience to your weekend, then do spare a thought for President Kagame, whose Umuganda was more demanding than most.The President's day began with planting trees, in Nyandungu ecological park, in Kanombe.
If you imagine that this was the usual dignitaries in suits and shiny shoes, holding even shinier shovels, to move a bit of dirt on a sapling, leaving the actual planting to others, you would be mistaken, this after all, is Umuganda.
The president had to bend his six foot plus frame, and put his back into giving his sapling the best possible chance of withstanding any winds that might come, to grow into a sturdy tree. He was joined by several members of the BAL (Africa Basket League) organisation, who are in Kigali for this year's basketball competition, one of the few occasions when he is not the tallest man in the group.
Umuganda is now in its fifteenth year, and was well explained by the President, as he welcomed the guests to Rwanda and thanked them for taking part.
"We welcome our guests, our friends, our family, to our country…we have been doing today's actions for the past fifteen years, what we call Umuganda, community coming together, doing things of common interest…cleaning up of the environment, planting trees…later on, maintenance of what we have built…we help people who have different problems, we build homes, schools, if not to completion, we contribute a big part to all that…"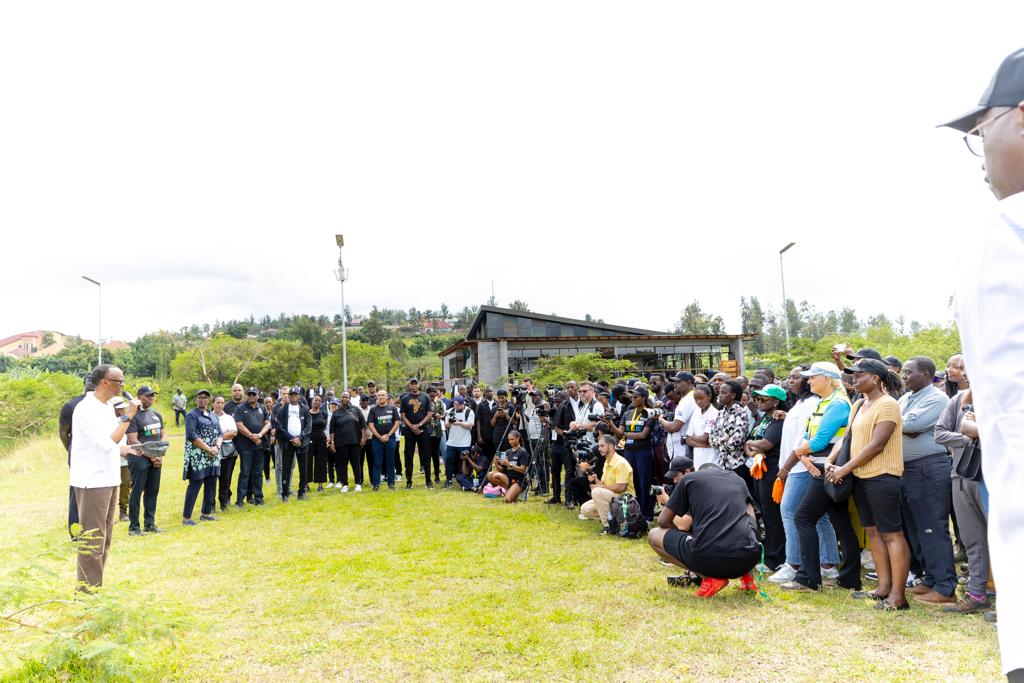 "We are grateful that our guests here found time to join us and be part of what we are doing here today, it is an inspiration for us that we are joined by others from so far away…To others who might not be here today, I always want us to remind ourselves that when we have built something, it is equally important to look after it."
"The maintenance part is as important as having started building it in the first place. So, the message is loud and clear, to the rest of our people, we need to more, we need to do better at everything, including keeping in good shape what build."
And with that, after teasing his fellow planters to remember to put their names on their saplings, so they can come back and see how they were growing, he was off to the next appointment, which was less strenuous, and judging by the smile that never left his face when he got there, more fun.
On arrival, two young people in sports attire, were holding a ribbon taut, ready for a ribbon cutting ceremony for the newly completed Kimironko sports and community space. Now we realise why he had donned sports attire for tree planting. He had in mind the next appointment.
With the sports minister in attendance, the President, first lady, and BAL President Amadou Gallo Fall, cut the ribbon, and the announcer declared the new centre open.
Photographs, then everyone joined the wheel chair athletes for some drills. The first lady showed the way, her ball in basket, she was not going to miss, high fives all round. Her husband's turn, how would he do? There is a basketball court at the Presidential residence, and by the looks of it, he makes good use of it, so, no bragging rights for the first lady, not on this occasion anyway.
A break from the fun, for some serious words. The informality suited Kagame, whose speeches even on more formal occasions, tend to be more conversations with his audience. The thanks to all who are involved in the promotion of sport in Rwanda, was clearly more than a formality, they were heartfelt.
"I begin by thanking most sincerely, Amadou, BAL, and the partners…NBA (National Basket Association), many friends who are here, from different countries, associations, we wish to thank you for your presence, for your contributions, and being part of the movement to advance our continent of Africa, through sporting activities like this one…"
The new Kimironko community space had many parents, including the government, the first lady's foundation, Imbuto Foundation which supports young people's development, and BAL. The President wanted to acknowledge them all, with special mentions of among others, Masai Ujiri, who has been a tireless promoter of BAL.
"I specifically want to thank BAL, Amadou, Imbuto Foundation, the minister of sport, for being very central to enabling our country, our very young people, through this facility…the benefits speak for themselves. They give our young people a future they would not have had if it wasn't for these kinds of efforts…"
Then of course, as he invariably does, he addressed the young people directly.
"For the young people you should not waste any opportunity like this one. Once the opportunity is there, just do as best you can…you would not even have known the talent you have within you, if it wasn't for this kind of opportunity…so, there is no time to waste. You need to think about your future in many ways, and here is just one channel of expressing yourself, and building that future you deserve to have."
Listen to President Kagame in almost any setting, and what comes through in nearly all his remarks, is not just the importance of solving issues, but looking at the causes, the foundation of those issues. It is therefore no accident that in a space of an hour or so, he repeats the importance of not building what is needed, but maintaining it. Underlying the emphasis on maintenance, is the awareness of the waste of limited resources, through lack of proper maintenance. As at Nyandungu, he again underlined the importance of looking after what has been built.
"Once you have this kind of facility, the maintenance of it, keeping it in good shape, is very important, so that you continue to build on what it presents and realising the meaning of it. So, I want to once again, recommit ourselves as a government, as a country, that we will always do our best in whatever limited ways and means we have…"
I just want to tell our friends and partners, that any contribution like this, any support, is going to have the good returns that they expect. We are happy that we can give you that satisfaction, that you are doing a good job with us, that has meaning to our people…I cannot thank you enough, those who are here, and those who have contributed to this."
What encouragement and reassurance, it must give anyone involved in these projects, to hear the head of state give a promise that all efforts will be bear fruit.
In what had been along, day, he had planted trees, cut ribbons, and his reward at the end of a busy Umuganda, would be to sit back, and watch a final of BAL competition, now taking place.