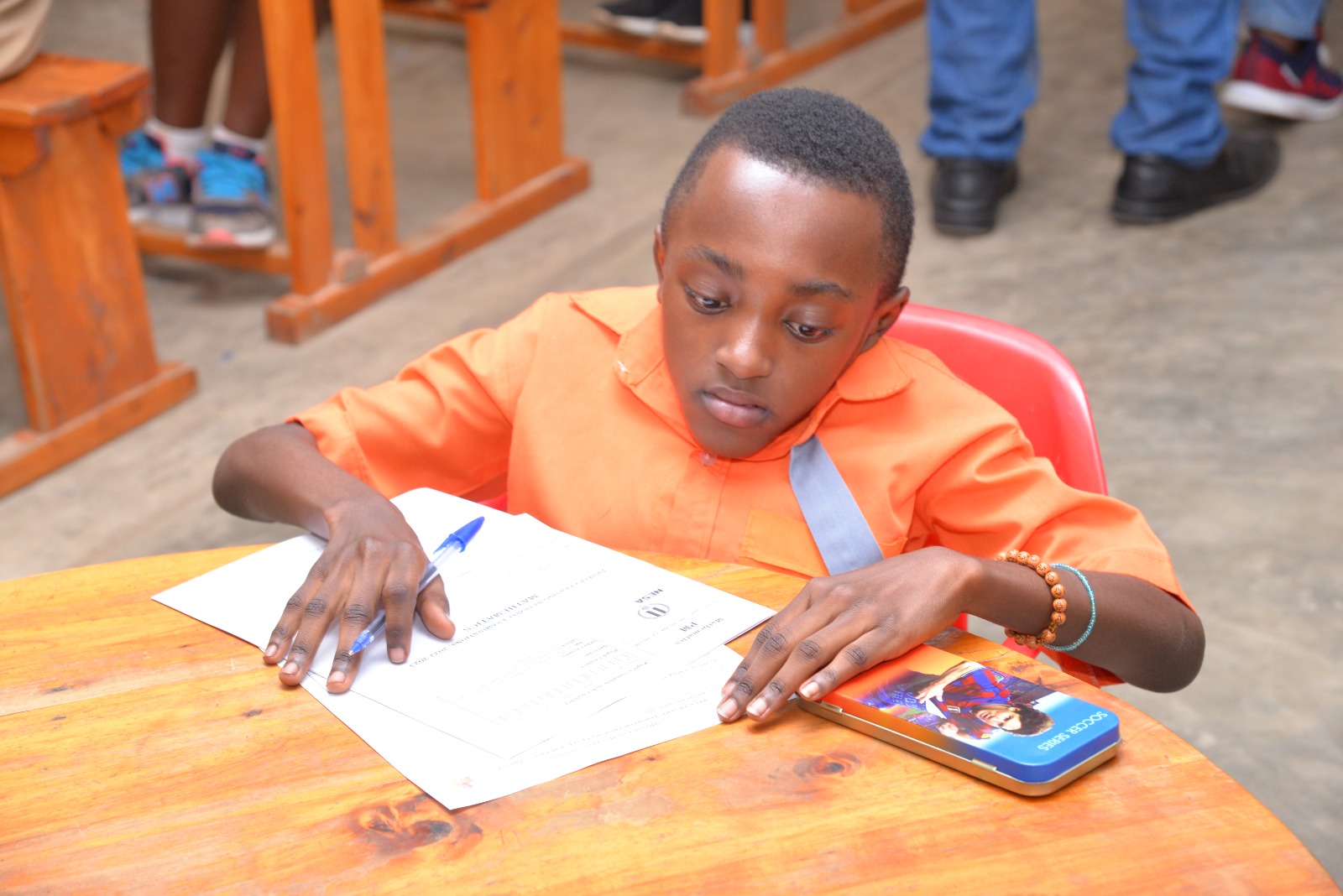 The 2023 National Primary Leaving Examinations (PLE) kicked off this Monday with disabled children getting special treatment to compete equally in their final exams that are set on a competency-based curriculum.
State Minister for Primary and Secondary Education, Gaspard Twagirayezu officially launched the exams by inspecting two centers in Kigali and handed over the examination papers to the sitting candidates among the 1,099 centers where the exercise will be conducted for the next three days.
Anne Akayezu, 12 years, a candidate from Muhororo Angels School in Kinyinya Sector, Gasabo district is one of the 561 children with a physical disability who will sit for the final exams among a total of 202,967 candidates (including 111,900 girls) this year from 3,644 schools.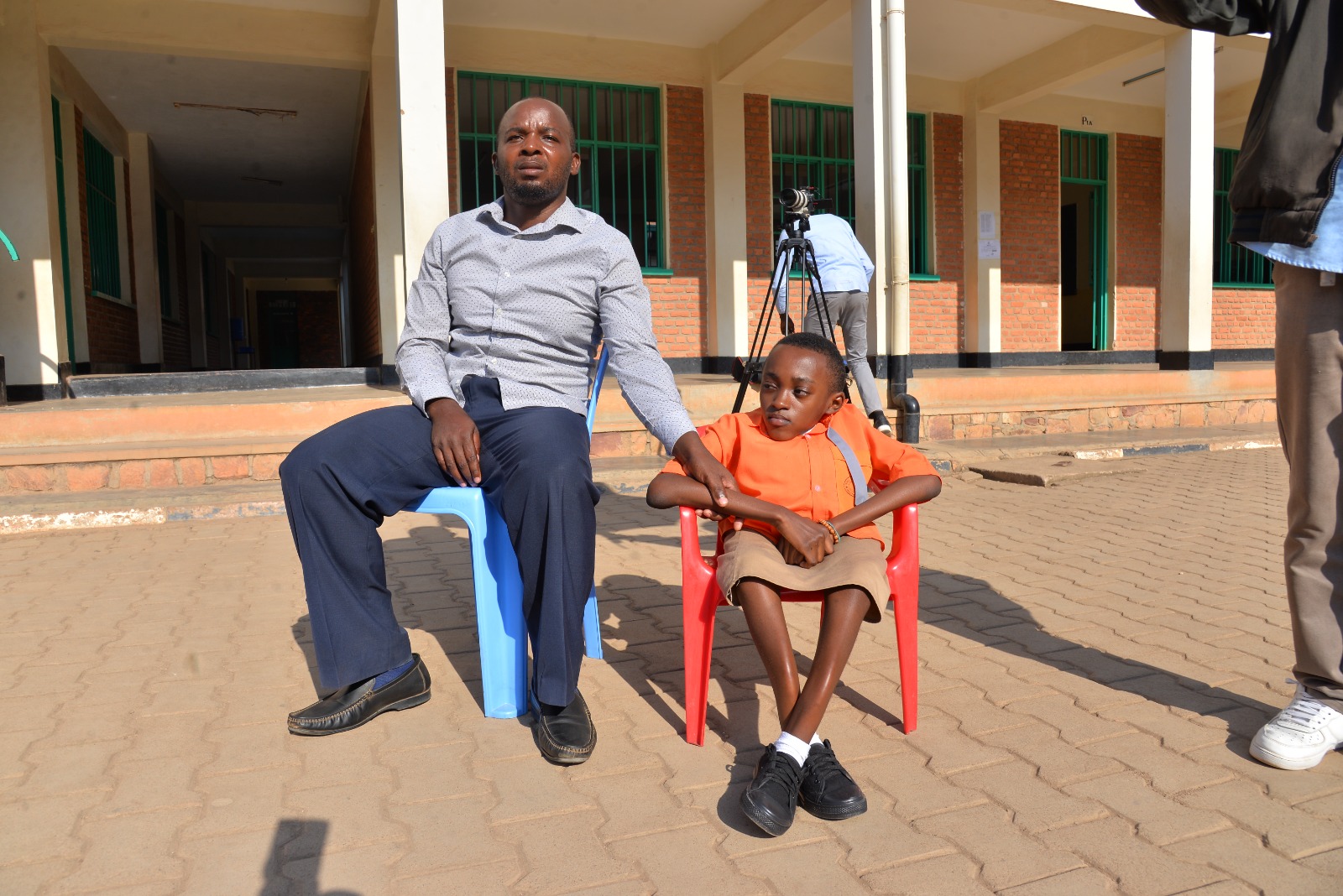 At the St. Dominic Primary School exam center where Akayezu will take her exams among 260 candidates, she sat down on a special plastic chair to attend a special briefing which was officiated by the Ministry of Education, National Examination and School Inspection Authority (NESA) and local education leaders and teachers.
From the sideline of the parade, where other candidates sang morale songs and showed how prepared they were for the exams, Akayezu held a smile on her face to enjoy the sessions before heading to her special desk placed in the front row of the examination room.
"I am confident, excited and I am enjoying the moment. I have prepared for this exam and I am ready to score high," Akayezu said.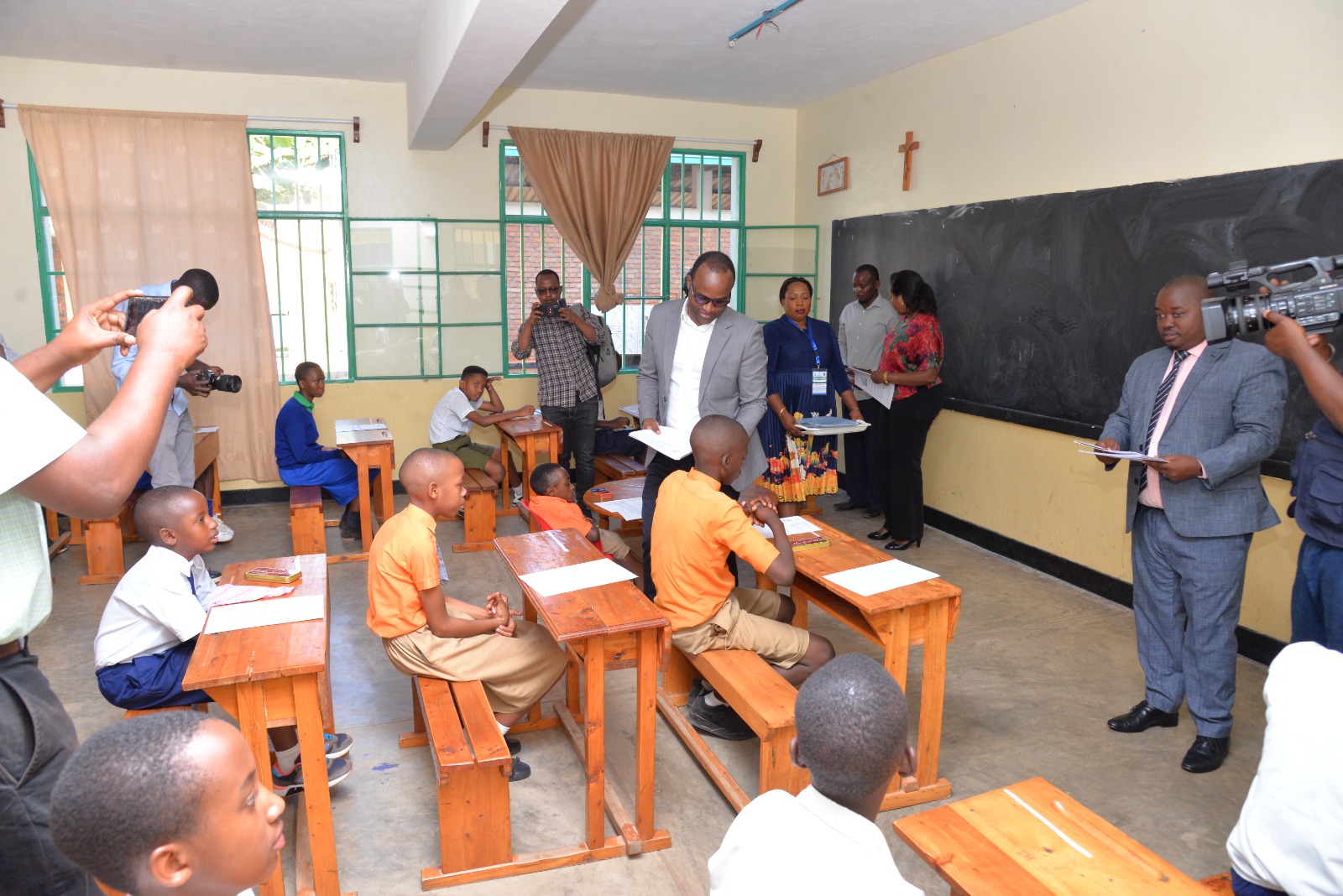 Akayezu was aided by her teacher and fellow students to be on time and at the same pace as others before the exams kicked off.
Her Head Teacher, Froduard Dufitemungu says that Akayezu has been among the top ten students at Muhororo Angels school and is confident she will shine in Mathematics and English among her best subjects.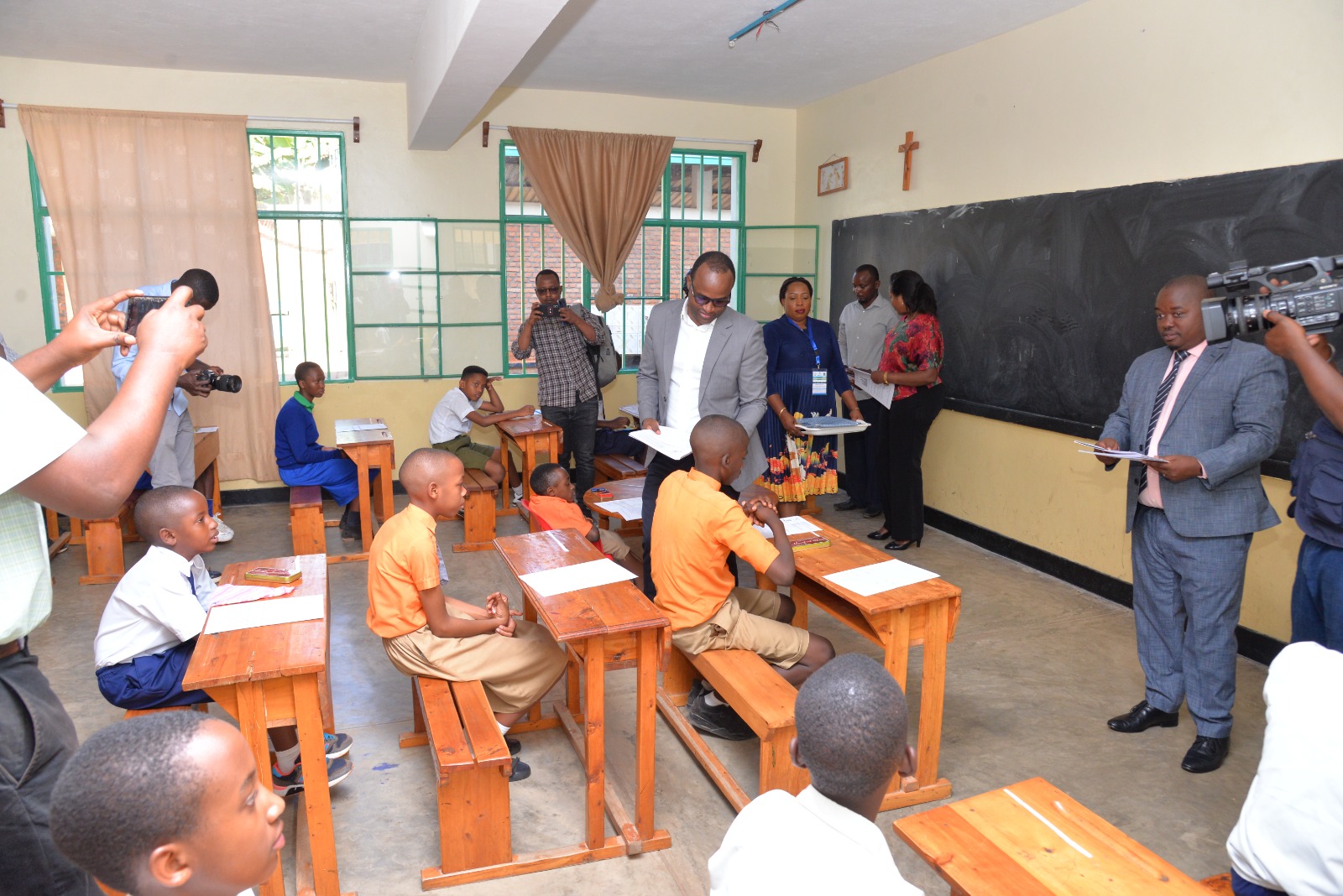 "She is a good student and determined despite her disability. If she passes, she wishes to be admitted at a nearby secondary school (FAWE girls) so that she can be closer to home and family support," Dufitemungu sajd.
Minister of State Twagirayezu said that this year all children completing their primary education have been taken care of and their challenges considered to enable them to succeed in the competence-based exams.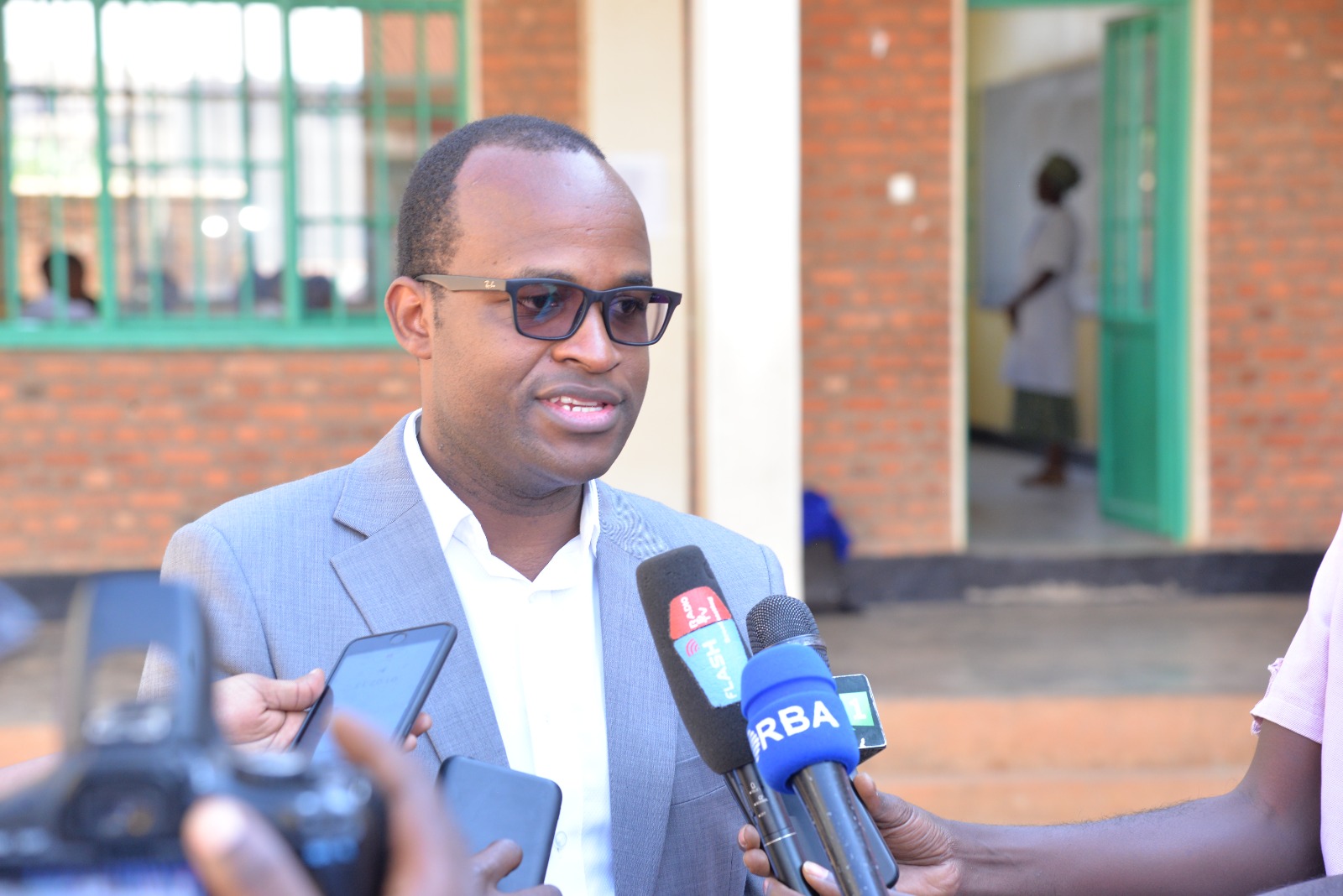 "This year we know all the children and their disabilities. We have set out different directives to support children in different ways but specifically add more time for exams, offer aided exams formats and we are closely following up on each case," Twagirayezu said.
Dr. Bernard Bahati, the Director of General of NESA said that children with disabilities will be added one hour on top of the standard exam timeline as a consideration of feedback from organizations that advocate for the rights of disabled persons.
"Even if a child has a physical disability, speech or visual impairments they will do their exams just like others and this is the guideline that all examiners are to follow this year to provide the right exam aides per case," Dr. Bahati stated.