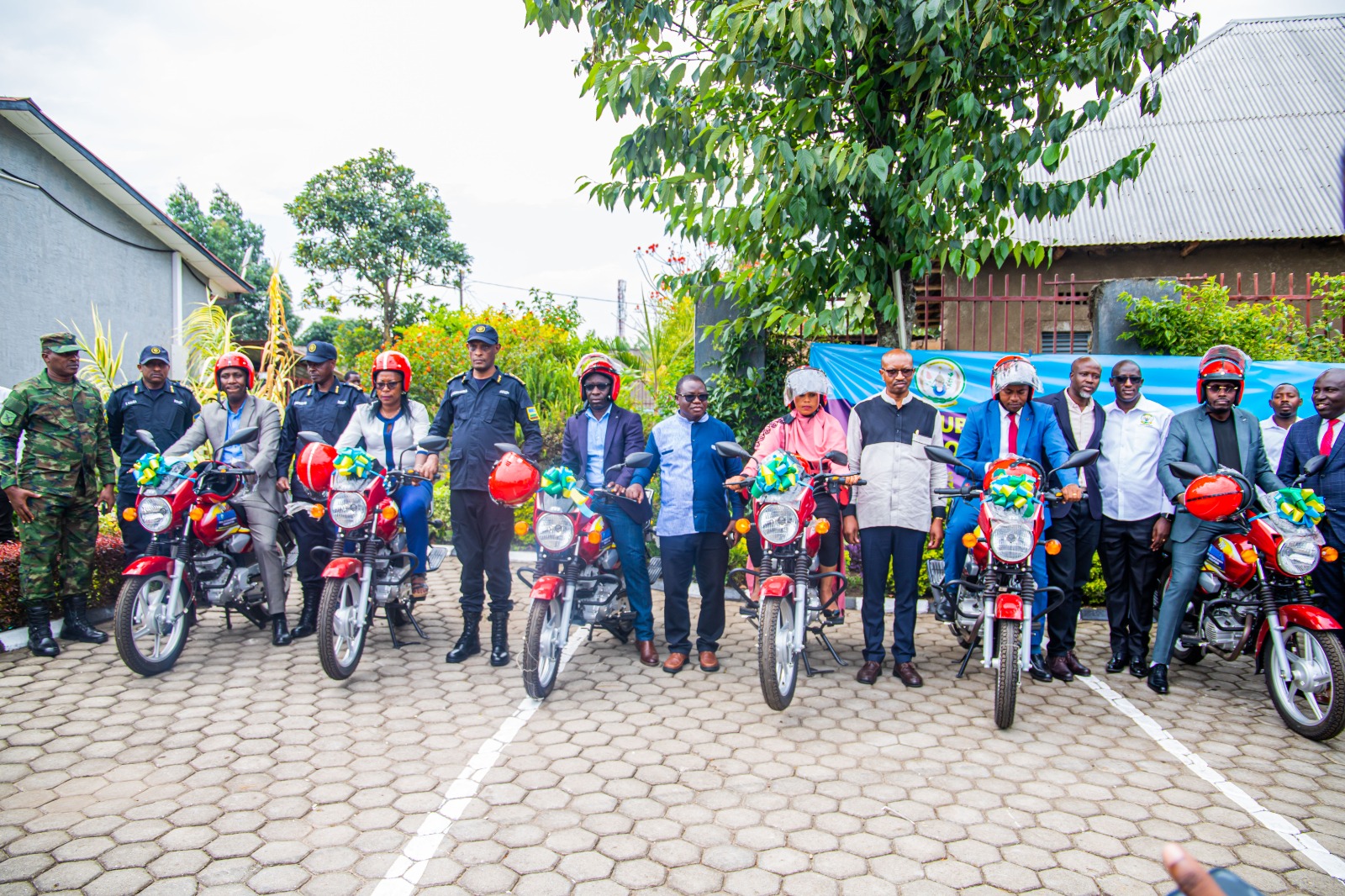 The annual security and hygiene campaign concluded this Friday, July 7, as Rwanda National Police (RNP) and partners awarded best performing districts, sectors and cells across the country, to a tune of Rwf 202 million.
Unlike before, when the campaign was only held in City of Kigali under the auspice "keep Kigali clean, green and safe"; this time around, it brought a new particular aspect of fighting stunting and extended to all 416 sectors of Rwanda to instill a responsive culture of human security, which combines hygiene, sanitation, community policing, promoting healthy eating especially among children to fight stunting, and fighting alcohol consumption among children.
Five sectors–one in each province–which emerged the overall performers, were given a pick-up vehicle worth Rwf 26 million, each.
Other 25 sectors received a motorcycle, each, while 30 cells, one from every district, received Rwf 1 million.
Best performing districts received a trophy and certificate. They are Gasabo, Ngoma; Gakenke, Rusizi and Muhanga.
The best overall sectors, which received a vehicle, are Kinyinya in Gasabo District, Karangazi in Nyagatare District, Bukure in Gicumbi District, Rubavu in Rubavu District, and Runda in Kamonyi District.
The Minister of Health, Dr. Sabin Nsanzimana, while addressing hundreds of residents of Gasabo District in Kinyinya sector, said that this campaign plays an important role in fighting all forms of malnutrition and diseases resulting from lack of hygiene.
"To improve the wellbeing of Rwandans and their security, we have to address challenges related to diseases caused by poor hygiene and sanitation, including stunting.
We call upon other public and private institutions to work with Rwanda National Police in these human security activities to collectively improve the lives of Rwandans," Dr. Nsanzimana said.
He added: "Sanitation and hygiene activities play an important role in maintaining the safety of the people in terms of health security because diseases caused by poor hygiene such as chorela and others, when they attack a certain part of the population, it mean they are not safe."
The minister also tackled on the prevalent issue of excessive alcohol consumption, which is harmful to people's health and expecting mothers in particular.
He warned against serving alcoholic beverages to minors, which is punishable by law.
Inspector General of Police (IGP) Felix Namuhoranye thanked all partners in this campaign, particularly the National Child Development Agency (NCDA).
"The competitive security and hygiene campaign started in City of Kigali but because of its impact, it was rolled out across the country to fight stunting, make hygiene and sanitation a culture and to strengthen community policing in preventing crimes," IGP Namuhoranye said.
He urged the winners to use the vehicles and motorcycles effectively to further enhance cooperation in maintaining the good culture of cleanliness and safety.
Security, IGP Namuhoranye added, is a yardstick for progress. "Without security there is no progress. Let's be an eye for each other, prevent crime from happening and share information in real time."
He further urged the youth not to be consumed by alcoholism and other malpractices but rather focus on activities that improve their lives.
The closing of the security and hygiene campaign coincided with the end of the community policing football tournament in City of Kigali.
Nyarugenge youth volunteers won the tournament, Gasabo taxi-moto operators and Traffic Police came second and third, respectively.
In Rubavu District, the Minister of Interior, Alfred Gasana, urged local leaders and residents to sustain what has been achieved as their collective primary responsibility.
"Where you see that there is something that needs to be added to successfully achieve the main goal of this campaign, play your part, especially what is within your capabilities. Relevant institutions and the government is always ready to support you where needed," Minister Gasana said.
The Minister of Gender and Family Promotion, Jeannette Bayisenge, while addressing residents of Nyagatare District, urged them to maintain the spirit.
"Your efforts will not only earn you rewards, but you will all continue to contribute to the promotion of safety, sanitation and hygiene and the fight against malnutrition, and obesity," Minister Bayisenge said.
The closing of the health and security campaign in the Southern Province was held in Kamonyi District where the Minister of Environment, Dr. Jeanne d'Arc Mujawamariya told residents carry on with the campaign to fight stunting, promote hygiene and sanitation, and to work with security organs in crime prevention.
In Gicumbi District, the Minister of Local Government, Jean Claude Musabyimana echoed the same message and urged residents to be central in health and security matters.