The President of Republic of Congo Denis Sassou Nguesso who is in Rwanda for three-day state visit since July 21 has saluted Rwanda and Africa's resilience and contribution in developing the world.
Eventhough Africa continues to lag behind and to enjoy little or no recognition of its place in creating a wealthy humanity, Nguesso elaborated on arenas where the continent can improve to catch up.
During an address at Rwanda Parliament both chambers in the evening of July 21, the President said that the continent "needs a new way of shaping the fate of our economies."
This include countries' synergy to develop the continent's industry, thus contributing to the global production industry.
Nguesso is very keen to the notion of African unity. He recalls that when they came together a couple of decades ago, African countries were able to obtain independence towards the colonisers and to win the Apartheid, thus starting development path.
Unity, he said, was high on agenda in Durban-South Africa in 2002 during the creation of African Union which was built on basis of the Organisation de l'Unité Africaine(OUA). This was on top of the need to establish political and economic integration for development.
"For sound development opportunities, the political will is necessary. African challenges can only be faced only in globalised manner," he said.
An example that would lead to that change of status quo is the African Continental Free Trade Area(AfCFTA) which is expected to lead Africa to unity, freedom and prosperity.
To everyone from the West who think that Africa has been and deserves to be a continent whose fate is to lag behind, President Nguesso said they have no idea what they are talking about.
"We should frankly remind them that it is the power of African slaves which laid the foundation for the development of the West," he said.
"We should never shy away, even when it's about the mastering of new technologies. As we all know, the development of Africa pass through the transformation on ground of our natural resources. The ancient history, the contemporary history and news out there tells this better" he said.
"Our riches, great resources of our development should not be exploited at miserable price or without consideration."
Nguesso mentioned several natural resources where Africa is champion, including forests, minerals and concluded his list on the rivers which hold potentials to provide Africa with hydroelectricity plants that can serve the continent and makes it the biggest exporter of electricity.
Case was Inga hydropower plant on River Congo with 40,000 Megawatt.
"Developing Africa is within reach," he said.
To make this happen however, Nguesso finds it important for Africa to consolidate peace.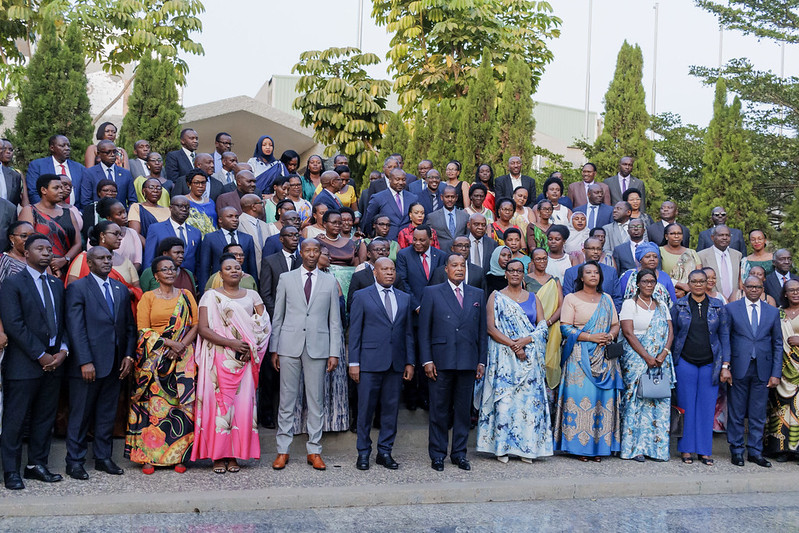 "Violence must stop and peace should dwell in Africa. There is no recovery nor development without peace," he said.
"We should work towards good neighbourhood for efficacy and irreversible integration of African people, an option that defies borders, brings people together and enables solidarity and complementarity."
The guest reminded to the parliament, that Rwanda showed the way to go in 2016 when president exhibited the African passport during the 27th summit of the African Union general assembly, and this "was to show the path to follow."
He said that this was a historical moment when the continent pledged to allow free movement.
The president also dwelled on the past cursing of Africa, which started since time immemorial, that there was nothing good/new coming from the continent.
He said time has come for the world now to see that so many new things are coming from Africa.
"Something new is coming and will be more than two billion young people well nourished, benefiting health services, qualified and competent human resources and modern infrastructure," he said.
"The new thing coming from Africa is going to be, the individual and collective delight to be a continent of peace, free from recurrent tragedies.
In the evening, President Nguesso attended a gala dinner by the host President Paul Kagame at Kigali Convention Centre. At this occasion, President Kagame decorated the Congolese leader with a medal of honour-Agaciro, "for his outstanding leadership and for his efforts towards making Africa a strong continent."