President Paul Kagame has said that the report of the UN Group of experts on the Democratic Republic of Congo(DRC) is simply a sanitisation of some parties and their involvement in the Eastern part of the country's unrest.
The report, among others, blames the unrest in DRC on Rwanda, a case the government of Rwanda finds just misleading and only an intention of some people who want to write their own narrative, different from what is on ground.
During an interview at Rwanda Television on Liberation Day, July 4, the president elaborated on the biases in the report.
First of all, his take is that, those reports that have been there for nearly 30 years now, are only confusing for anyone who has been in the region.
He said the report does not resolve any problem since it does not present facts on the situation, but they are intended to sanitise the involvement of many perpetrators. In the process, he said money is thrown in by countries that seek to manage other countries, without minding peace of the region.
The report, among others ignore the problem of influx of Congolese refugees who regularly flee persecution and hate speech from their country.
"The other is actually a complete distortion that they create; if you look at the report, there is highlighting some aspects of the problems here. They always say: M23, M23. M23 has become everybody's problem and an international issue," Kagame said.
"I think M23 affects Europe, affects America, affects Africa… and they speak in whispers when they talk about FDLR, and when they talk about over one hundred and twenty armed groups in Eastern Congo."
The president said that DRC and its partners want to ignore the existence of the so called Democratic Forces for Liberation of Rwanda(FDLR) which has now been integrated in the Congolese government forces-FARDC.
"When you ask them, you mean these people never existed? They say: yeah, they existed but you see…then you ask them: where are they now, where have they gone? They say: you know most of these people went home and are no longer here…"
When they say they went back home on the other hand, said the president, they are not talking about those who remained and are now causing problems to Rwanda, like you know the case, from 2019.
Meanwhile, the issue of DRC also involves the UN troops who also fail to hide their bias on FARDC and their integration of armed groups into the regular army.
"I would expect a report like that, which really clarifies who is who, and what they are doing and where they are coming from, without exception, and then guide us to the possible action that should be taken in pacifying the Eastern Congo because pacifying the Eastern Congo is not just pacifying that country, but it is also pacifying the neighbouring Countries-Uganda, Rwanda and Burundi and maybe others beyond geographical parts," Kagame said.
The president even questioned the name "Group of experts" who conduct a one sided report.
"Do you know that they have never been here to interview people who have been fleeing from Congo to Rwanda and maybe to Uganda and other places, but mainly here where I am very conversant with? They have never done that. Why? Why do you think any expert who is supposed to be taken seriously in the report would have done that?"
In the president's viewpoint, it shows something maybe, keen to bias or something of the sort."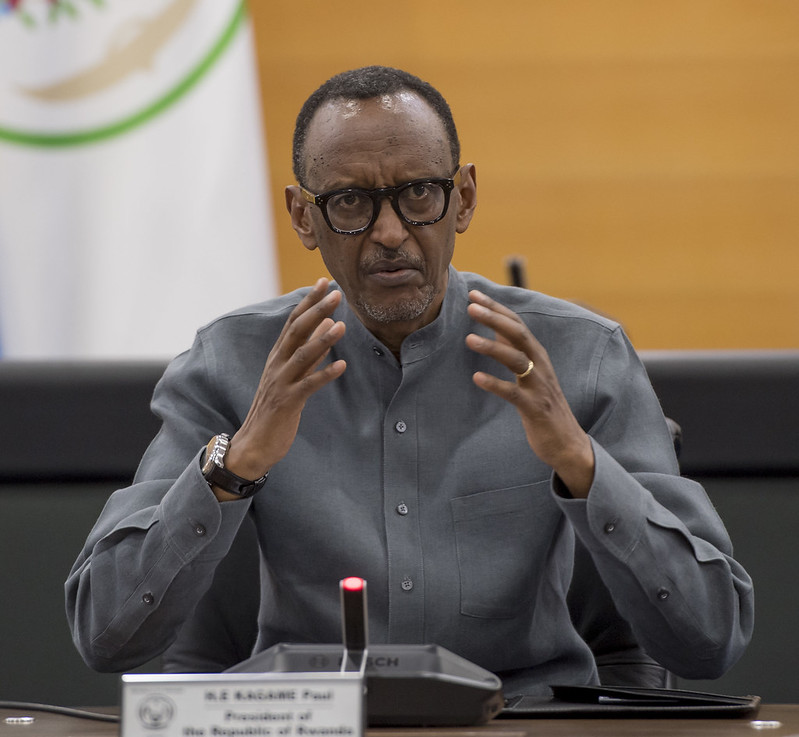 To be straight to the point, the president said that some people are trying to write their own narratives through this report.
"The group of experts maintains a narrative that was set long ago, close to 30 years ago, around the story of Genocide.  They want the Genocide to be seen more in their own view than the reality of what happened here," he said.
"That's what I meant when I was talking about sanitisation of some parties and their involvement. It's a narrative that goes on for a long time. The victim turns into a perpetrator."
The president said that in this narrative's perspective, "Rwanda which you know where we are coming from is made a kind of perpetrator or responsible for the chaos in the region and in Eastern Congo."
The president said, that the report portrays Rwanda as a country which is most interested in DRC's minerals exploitation, rather than having a concern of dismantling FDLR. They also present M23 as Rwand proxies, rather than militants of their national rights.
"Some even go as far as saying that Rwanda wants to cut some part of Congo and annex it and make it ours. They create all sorts of theories and stories," Kagame said.
The president understands that, even if the report of the group of experts does not say that, "but it provides the ground on which people can grow these seeds of confusion and division and hatred."
"So, in our case, we always have to be very careful as we have been and continue to be so that we don't get lost into this mess and forget our priorities to keep Rwanda, Rwandans and anyone who live here wherever they come from secure irrespective of wrangles that are around us."