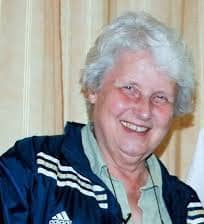 The Maranyundo Girls School staff, parents and students are bereaved following the passing of Sister Ann Fox, the co-founder of the school.
Ann Fox died at King Faisal Hospital-Kigali, according to the school leadership who informed parents this morning.
"Greetings, one of the people who had a role in the establishment and supporting this school, Sister Ann Fox passed on last night at King Faisal Hospital where she was admitted. May God receive her and reward her for the good deeds in our school," reads a message from the school.
Nyangenzi Bonane, the President of Parents-Teachers' Association at Maranyundo Girls School eulogized Ann Fox whose contribution to Rwanda's education is priceless.
"It's hard to bear as parents. She was a parent indeed, with unlimited, unconditional love, especially to Rwandan children while co-founding Maranyundo Girls' School. She was relentless in finding support to the school," he said.
"She achieved a lot together with the partners under Maranyundi Initiative. They are very much concerned in seeing our children do good."
Among the achievements of Ann and partners, is to have managed to find computers for every students in Senior Six, to help them do research.
"They give them the computers to support their research and afterwards, they take them home. The program started from Senior Six, and now the program proceeds to Senior four," he said.
During COVID-19 challenges, the school was exceptionally supportive to the children, according to Nyangezi. The school provided meal for the students who were not able to afford one.
The school bought mobile phones to those students, to allow them proceed with online course review during the lock down so that they are not left behind.
"They take our children like their own," he said.
Meanwhile, the school built teachers' hostels inside the campus to make sure that everyone finds comfort and is motivated to offer their best to students.
The partners also work hard to give the students tips to scholarship opportunities in the world class universities.