Hopefully, genetically modified crops will need less land to provide a higher yield. This might boost global output, provide a way of self-sufficiency for developing nations including Rwanda, and lessen hunger throughout the world.
The genetically modified organisms or GMO foods, are expected to generate more yields that have been hindered by climate changes and diseases.
The awaited mass food production to combat hunger follows a United Nations report that indicated that 735 million people are affected by hunger across the world, especially developing countries.
The same report says between 2019 and 2022, 122 million new hunger cases were recorded, the trend that would reportedly affect United Nations targets to eradicate hunger in the world by 2030.
However, food science experts say if the world uses genetically modified crops in cultivation, over eight billion people living on the planet earth will have enough food.
Experts also noted that genetically modified crops are resistant to diseases, droughts, heavy rains and support environmental protection.  For example, cassava mosaic disease which caused losses to farmers in Ruhango district, southern province would not affect crops if they were GMO.
Alexis Rutiganda, one of the victims, said that he got a loan worth Rwf19million and invested it in cassava production, but did not see yields, after cassava mosaic diseases destroyed all the cassava tubers in 2013.
"I got a loan of Rwf 19 million from BRD, I planted cassava, and it was all destroyed by cassava mosaic disease, it was a huge loss," Rutiganda said.
According to the UN Food and Agriculture Organisation (FAO), genetically modified crops are those that have had gene(s) from the same or unrelated organisms added using genetic engineering techniques.
"There is hunger and mainly caused by an increase in human population which doesn't go hand in hand with application of technology in agriculture, which would increase food production. Hunger is also caused by global climate change," Pacifique Nshimiyimana, food science expert and biotechnologist who works with the Alliance for Science Rwanda affirmed.
The genetically modified crops were also formed in the way farmers can add vitamins that can fight malnutrition cases, which is also a major problem in the world.
Nsabimana, another cassava farmer pointed out that cassava mosaic disease has hindered cassava cultivation and caused hunger in the country. "We want concerned authorities to give us good and high productive seeds, that's when we can have good results. They should give us seeds that are resistant to diseases and climate change," he said.
Kinazi cassava processing plant located in the Southern Province, produces below capacity, also citing similar challenge, of cassava tubers affected by cassava mosaic disease. The factory produces 40 tonnes daily, instead of 120 tonnes, fully capacity per day.
"We export 65% of cassava flour to the foreign markets, that is a small export. We must increase the factory production, for us to export much on the international market," Jerome Bizimana, Manager of Kinazi cassava factory said.
With the implementation of a new draught law governing biosafety, the government has made a step towards regulating genetically modified organisms.
According to the Rwanda Environment Management Authority (REMA), the bill, which was passed by the Cabinet on July 13, 2023 aims to address potential concerns related to GMOs, safeguard biodiversity, and maintain the integrity of the environment.
"GMO are a solution; they produce a lot of yields and on a small land. This is obviously a solution to hunger, as the global population continues to rise. If they are used in other countries, why can't they be used in Rwanda?  The crops we are trying are promising, the bill will be passed and they will be distributed to citizens," Dr. Ildephonse Musafiri, Minister of Agriculture and Animal Resources said in recent interviews with journalists.
Individuals or organisations intending to engage in activities involving the use, handling, commercialization, import, or export of Living Modified Organisms (LMOs), also known as GMOs, would need to obtain permission from the appropriate authority under the proposed biosafety bill.
Before approving such actions, this requirement guarantees that complete risk assessments and effective risk management plans are carried out.
By naming the institute in charge of the environment as the competent body charged with coordinating enforcement, the bill will create institutional structures for the law's implementation.
Dr Jeanne d'Arc Mujawamariya, Minister of Environment said that the Government supports usage of GMOs, after it has been tested and analysed to be free of human life risks and environmental conservation. Giving the example of the cassava, she pointed out that the new cassava seeds have high production and are free from environmental hazards.
Some local researchers say GMO foods are just as wholesome and secure to consume as their non-GMO equivalents. They say several GMO plants have undergone modifications to increase their nutritional worth.
Dr Athanase Nduwumuremyi, a researcher in Rwanda Agriculture and Animal Resources Development Board (RAB), and Director of Open Forum on Agricultural Biotechnology in Africa, OFAB Rwanda Chapter, states that genetically modified foods meet health standards.
"These crops have no health issues. They meet health required standards from International health standards organisations, and can be trusted. However, in Rwanda they should also go through standard analysis procedures by concerned authorities; REMA, RICA, Rwanda FDA, among others" Dr. Nduwumuremyi said.
Robert Goldberg, an American researcher on plants said millions of DNA for crops have been studied, with results indicating free from health risks, once consumed by humans.
"Millions of genetically modified crops have been consumed by people, they are tested, analysed, they are free from risks. They have been consumed many years ago," Goldberg said.
In Rwanda, Dr Nduwumremyi said the GMO trials started with cassava which is currently being affected by cassava mosaic disease, or cassava rot, but also got permission to carry out the same research on Irish potatoes.
In other countries, GMOs are used, with figures indicating that most of the agricultural products are genetically modified.
For example, in the USA 97% of maize and soybeans are GMOs. In Argentina and Brazil, GMOs maize and soybeans are over 90% and are exported globally.
Other countries that use GMOs include China, Bangladeshi, and the Philippines. These countries use GMOs in cultivation of vitamin A rich rice dubbed 'Golden Rice'.
On the African continent, some of the countries that use GMOs in agriculture include; Ethiopia, Egypt, Sudan, Kenya, South Africa, Burkina Faso, Ghana, and Nigeria.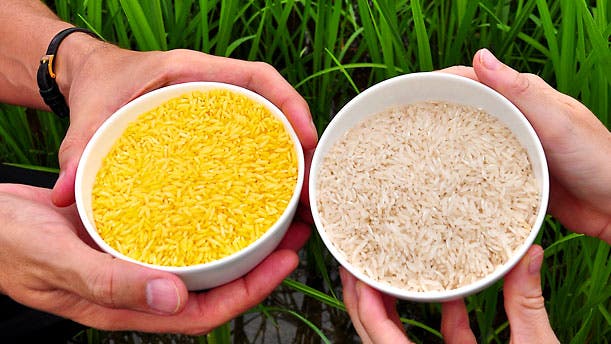 So far, GMOs are used in various crops for example, maize, rice, pawpaw wheat cotton etc.
About 130 countries started signing the Cartagena Protocol on 29 March 2000, for GMOs usage with each country required to have biosafety law, the step which Rwanda is currently implementing before genetically modified crops implementation.