Twelve (12) new ambassadors and high commissioners on Tuesday afternoon, presented their credentials to President Paul Kagame and committed to strengthening bilateral ties between their nations and Rwanda, as well as supporting the nation's development goals.
They include Ronald Micallef, High Commissioner of Malta with residence in Addis Ababa, Mesfin Gebremariam Shawo, Ambassador of Ethiopia, Mohamed Mellah, Ambassador of Algeria, Jeong Woo-Jin, ambassador of South Korea, Heike Uta Dettmann, ambassador of Germany, Naeem Ullah Khan, High Commissioner of Pakistan, Einat Weiss, ambassador of Israel, Soumaïla Savané, ambassador of Guinea and Ebrahim Mahmood Ahmed Abdullah, ambassador of Bahrain with residence in Tunis, Tunisia.
Others are Mathews Jere, High Commissioner of Zambia with residence in Dar es Salaam, Mlondi Solomon Dlamini, High Commissioner of Eswatini with residence in Maputo, and Majid Saffar Ambassador of Iran with residence in Kampala.
At Urugwiro Village, they had brief talks with President Kagame, and updated the local media on their ambitions for Rwanda at Kigali Convention Center.
"We want to connect Rwanda tea exports directly to the Pakistan market. My country imports 70% of the Rwanda tea, we have a huge market for tea but it goes through other channels, but we want to make it more direct for Pakistan traders to access the tea. We also to expand our cooperation in other areas like the health sector, we have to learn from Rwanda," Amb. Khan said.
"We are a tea drinking nation; we need your tea and we can also give you cotton because Pakistan has high textiles industries. We also have surgical operating equipment that we can export to hospitals in Rwanda. We are looking for more areas and improvement of corporations," Amb. Khan added.
Since July 1962, Rwanda and Pakistan have had diplomatic relations. While Pakistan has a permanent High Commission in Kigali since March 2021, Rwanda is represented in Pakistan through its embassy in Beijing, China.
Both nations work together in a number of sectors, including trade, investment, defense, and health.
For Rwanda and Korea, the cooperation mostly focuses on rural development, agriculture, information and communications technology, and education and capacity building.
Through its headquarters in Kigali, the Korean International Cooperation Agency (KOICA) implements development cooperation with Korea. The primary projects for KOICA in Rwanda over the next four years are in the areas of agriculture, TVET, as well as tax administration and policy.
The Rwanda Development Board recorded nine (9) investments from Korean companies in Rwanda during the years of 2012 and 2020.
"I have been attracted by the Rwandan people, Korea was a recipient country but we didn't want to, so we worked hard. Rwanda has become an example of cooperation; very transparent, visionary leadership. So, as an ambassador I will be supportive to Rwanda's journey of growth," Amb. Woo-jin said.
Rwanda relations With Iran
In 2018, friendly ties between Rwanda and Iran were at their best with both countries calling for expansion of mutual ties in a wide gamut of fields including medicine and agriculture.
Today, Majid Saffar, new Ambassador of Iran to Rwanda said that further corporations are targeted during his tenure in the country, including human rights improvements, and knowledge-based technologies.
"They are different aspects and possibilities for cooperation in Rwanda, I have talked to President Kagame and said we can establish economic cooperation, also in areas of human rights. Rwanda is trying to have a good share of peace and security in the region, we hope we can also contribute to this area of cooperation," Amb. Saffar added.
Rwanda imports a variety of goods from Iran, but the most common ones include oils, pottery and distillation products, cereals and flours, sugar, salt, machinery, clothing, carpets, and electrical and electronic equipment.
According to the COMTRADE database on global commerce maintained by the United Nations, the imports totalled $537,800 in 2021.
Malta, the bridge between Rwanda and Europe
Among the ambassadors who presented credentials to President Kagame was Ronald Micallef, High Commissioner of Malta to Rwanda, who committed to connecting Rwanda to Europe.
"We are the smallest member of the European Union. Despite being small, we have a big presence. We are also members of the UN security council. Rwanda is among countries we chose to work with," Micallef said.
This year, three agreements were signed, aiming to improve and solidify the relationship between Rwanda and Malta. Air Services Agreement, Cooperation for Diplomat Training Agreement, and a Tourism Sector Agreement were among the agreements.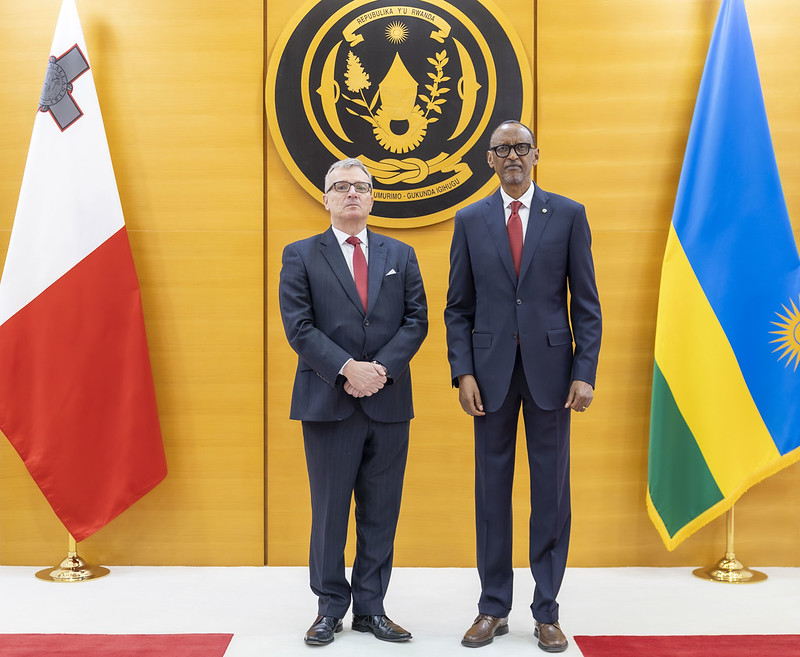 Ronald Micallef, High Commissioner of Malta