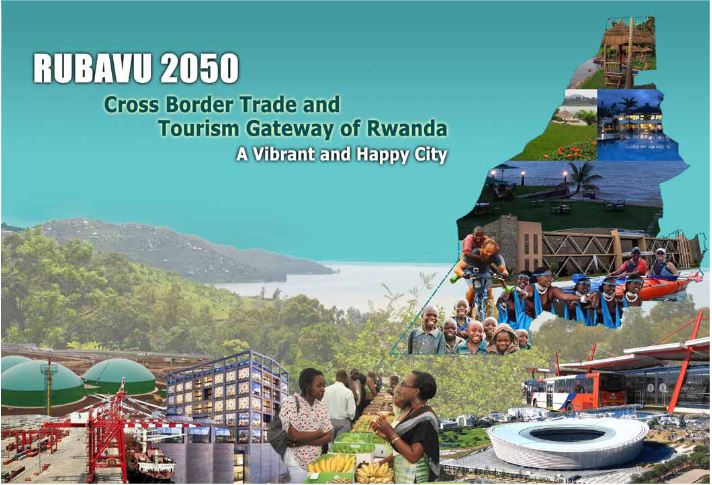 From the Rwanda's Vision of becoming a middle income economy by 2035 and a developed country by 2050, planners are working around the clock to put in place mechanisms and strategies that will drive the country to its ambitious targets.
One such key enabler of this milestone is the National Land Use Development Master Plan(NLUDMP) and more specifically its detailed plan, the District Land Use Plan (DLUP) which simply means, the sustainable and rational land use plan.
At the beginning of the DLUP design, it is important for the National Land Authority(NLA) to establish the common denominator of the district's life/identity so as to put every district in its real context of the vision, and this applied to Rubavu district.
Rubavu district is one of 8 districts having a secondary City along with Musanze, Rusizi, Huye, Nyagatare, Karongi, Kayonza and Kirehe.
It is known by its hilly landscape and touristic city of leisure at the border with DRC. Rubavu is one of priority districts to having an integrative plan for the entire district considering all land user' sectors of development.
According to Alexis Rutagengwa, Head of Land Use Management and Mapping Department at NLA, so far NLA in collaboration with respective districts, RHA and relevant stakeholders has finilized 13 district land use plans for Muhanga, Huye, Gisagara, Gicumbi, Nyagatare, Rubavu, Musanze, Kirehe, Ngoma, Rwamagana, Rulindo, Gakenke and Nyaruguru, yet the target is to have all district land use plans by 2024.
According to Christophe Uwijuru Michel, the Environment Planning Specialist at the National Land Authority(NLA) who is the who is the team leader for Rubavu District land use master plan elaboration, the district set a vision of becoming an agriculture hub (most specifically a vegetable hub) Lakeshore tourism and cross border trade for sustainable green district by 2050.
Rubavu district includes a secondary city under the same name which covers either partly or entirely five sectors: Rubavu, Gisenyi, Nyamyumba, Kanama and Rugerero.
In vision 2050, the city will be supported by a rurban city of Kabumba in Bugeshi and Mudende sectors, also meant to be developed with a taxi park, a furniture workshop, commercial buildings and a high density residential neighbourhood.
This is on top of 82 village settlements including three that already stand out like Busasamana, Cyanzarwe and Kanzenze.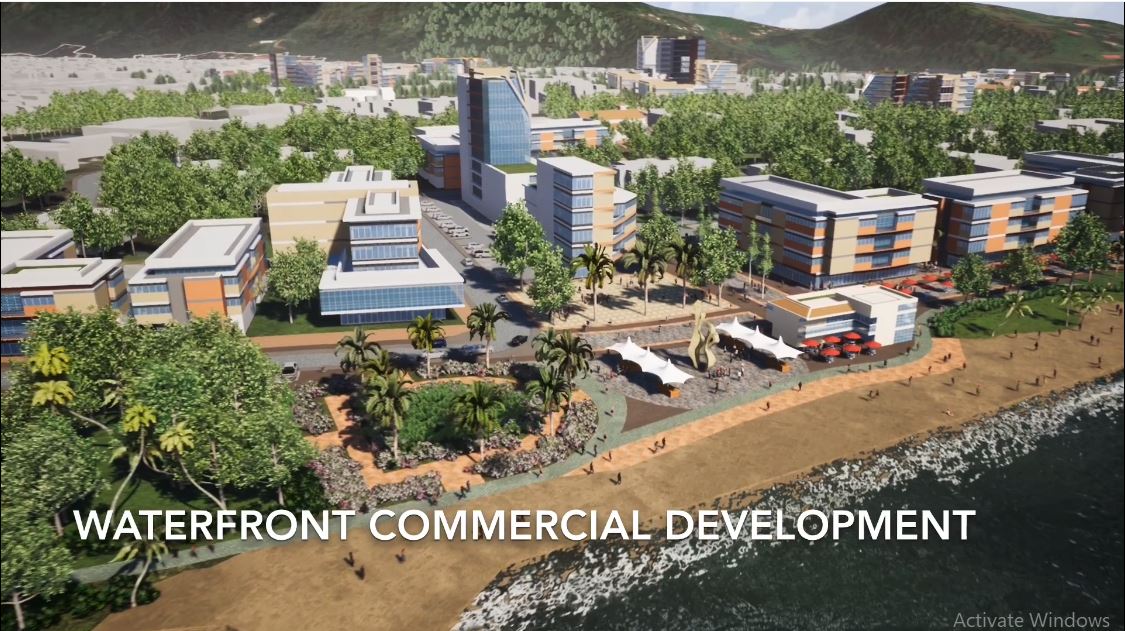 The housing in Rubavu secondary city will have to comply with the green component regulations, not only in commercial buildings, but also in high density residential houses, like the apartments in R3 and R4 category.
"Green does not mean the just trees, but it's a wide range of things; for example, the natural light and air in a house, and construction materials that are obtained without deforestation," said Uwijuru.
Making Sense of Rubavu Vision 2050
Rubavu district in the Western Province on the border with Goma, is known for one of Rwanda's fertile volcanic soil.
The district grows banana, irish potatoes, and most importantly vegetables, to an extent that during the high season, greens are obtained at giveaway price and in most cases, perish due to lack of markets and poor post-harvest handling.
"First of all, we mapped the agricultural land where, even settlements would vacate for land consolidation. Then we planned for an industrial park that will be dominated by agro processing activities, thus need for investment in value addition that would protect vegetables," said Uwijuru.
"Rubavu needs collection centres, cold rooms, a very easy and effective way to consolidate the production, selling and processing points."
Meanwhile, a road network that will enable the value chain to take place from farm to processing and selling points was planned.
"All those networks will serve as the enablers of investment projects in the domain of agriculture," he said.
"Planning is all about looking at the uniqueness in the area, do a proper planning accordingly."
In the area of cross border trade, the industrial park will help to serve the neighboring Democratic Republic of Congo (DRC) and it will be supported by several warehouses that are planned to be constructed.
Parking slots were also planned to serve the trucks that will feed the warehouses from either the industrial park and the imports from across the East African region, pending  re-export to DRC.
According to Uwijuru, a road network of heavy duty is planned to connect the industrial park, the warehouses, the parking and the border. It will be outside the residential settlements, a move that intends to avoid recurrent accidents in Rubavu secondary city.
Around the Rubavu cross border market, the NLA planned several warehouses that will enable more trade activities.
Also coming with vision 2050 is the Kabuhanga cross border market. This border is currently not active, but planners believe that the opening of this border will bring far more good than harm to the country.
"It will reduce illegal cross border activities and fraud," said Uwijuru.
Owing to the fact that Rubavu is a district on the lake, the vision 2050 planned for a water port to connect several districts and Rwanda to DRC.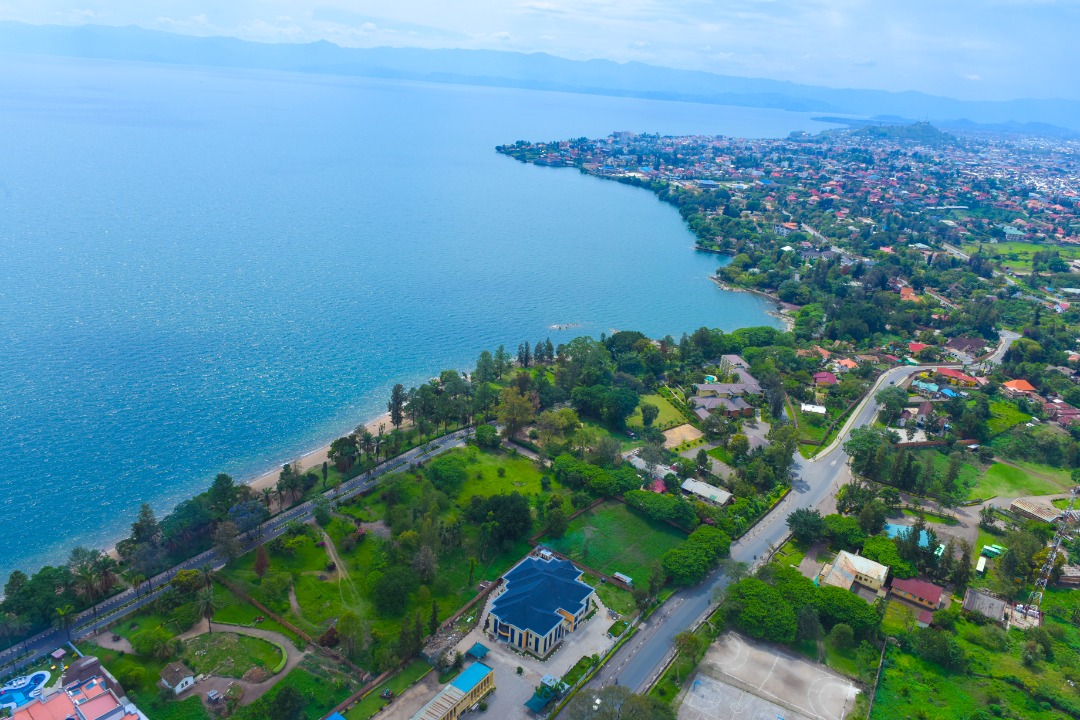 Initially, a port near the Rwanda's first brewery factory-Bralirwa was using their port to ferry their drinks to clients across the areas on the lake.
However, the water port in the vision is expected to include a wide range of commodities and to include a tax administration system to earn revenues to the country.
"The water port is at finishing phase and we are already connecting it to other infrastructure-the border, the industrial park and the truck parking," he said.
Zip lining, Rubavu Arena: Making the stay at Lake Kivu remarkable
Tourism in Rubavu will essentially be attached to Rwanda's biggest lake – Kivu. According to Uwijuru, the lakeshore will include several entertainment projects. And those include ziplining sport connecting Mount Rubavu down to the lake.
"The sport will consist of hiking mount Rubavu which overlooks the secondary city, then ziplining down into the lake two swim and thereafter come to relax on the beach," Uwijuru said.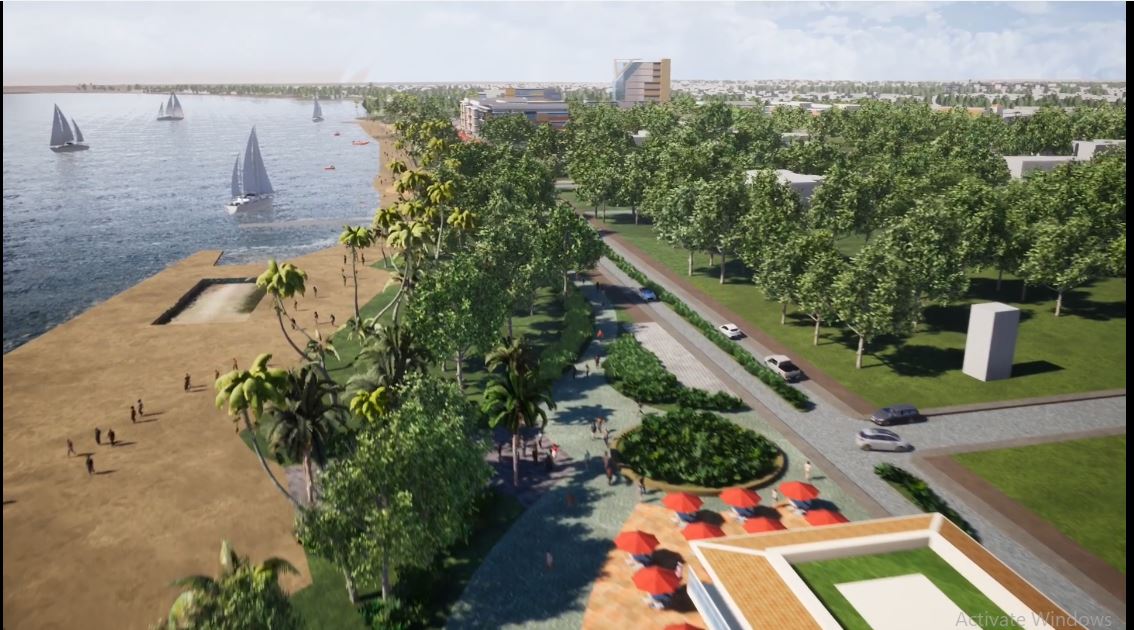 In Rubavu, a multipurpose building for conference, exhibitions and entertainment to mention a few, will be built in Rubavu, under the name Rubavu Arena.
"RDB brought up this idea considering the fact that all international meetings and entertainment events take place in Kigali as if the capital city is the only thing to see in Rwanda," said Uwijuru defending the rationale of Rubavu Arena.
Rubavu Arena will be built in a plot adjacent to Rubavu district headquarters and Serena Hotel. According to Uwijuru, it will include a big parking space and a car free street which would allow for entertainment.
Two important hotels will also be built in Rubavu, including a casino to complete the to-do list in Rubavu.
Fighting Disasters in Rubavu District
The vision 2050 for Rubavu, is also to make the area a sustainable, green district.  The area is known for being vulnerable to earthquakes, floods and landslide. The latest case saw the district loose nearly 30 people to flooding and landslide, May 2023.
The exercise included mapping the area that is vulnerable to the earthquake, between 60-250 meters.
"Within 60 meters, there will only be allowed light infrastructure/activities like gardens, tents, those that may not cause much damages or cause fatalities to an investor if ever an earthquake happens," said Uwijuru adding that there won't be a new building.
Beyond the 60 meters (30-30 from either zone), up to 250 meters, existing activities will continue, and new activities may actually be authorised, on different conditions.
As far as flooding is concerned, several dams were built and more were mapped and a buffer zone of river Sebeya whose flooding caused several fatalities, was extend from 10 meters to 50 meters.
"We shall use the buffer zone for recreational activities, forests, farming and sport facilities.
Rubavu will also have several green spaces, especially in the busy traffic Rubavu city and the Kabumba rurban.
According to Rutagengwa, the NLUDMP is an important tool that will help the country to manage the limited resources timelessly.
"The government of Rwanda is putting in place these master plans to create tools and strategies that can help Rwandans use our limited resources more efficiently and sustainably going forward towards achieving sustainable socio-economic development," he said.
The District land use master plans can be accessed by everyone via this geoportal link
Some photos on the vision of Rubavu Central Business District(CBD)