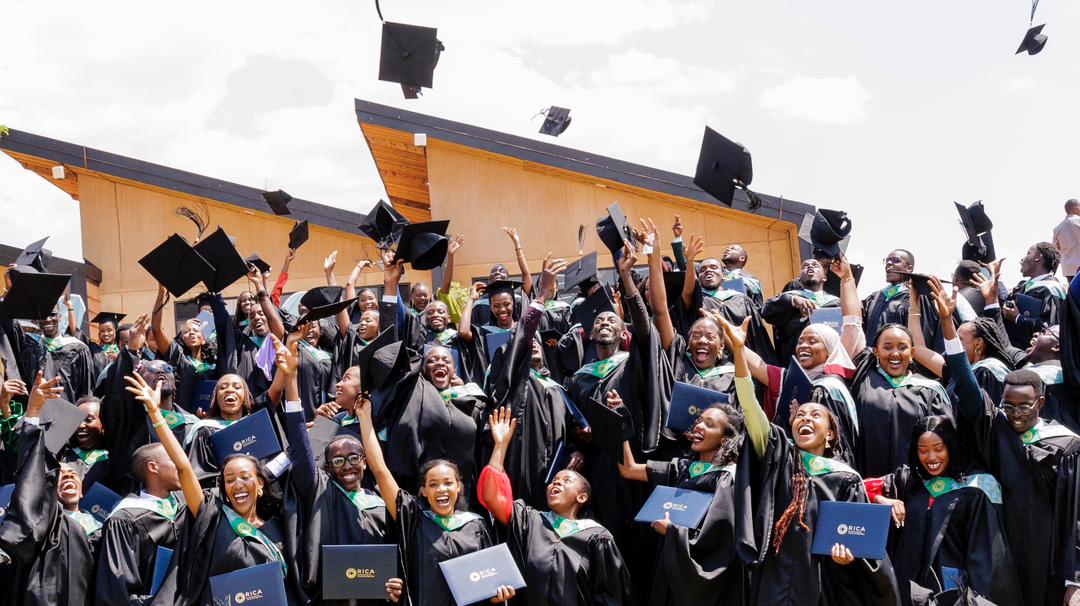 President Paul Kagame, today presided over the inaugural graduation ceremony of the Rwanda Institute for Agriculture Conservation(RICA) in Bugesera district, Eastern province.
At the event where 75 young men and women obtained their Bachelor degrees, the president was joined by Howard Buffett, the CEO of Howard G. Buffett Foundation and Chancellor of RICA.
The President said, that the event would not be, if RICA founders did not have trust in Rwanda and told graduates to be proud of their great achievements, and to "never stop dreaming big and believing in themselves."
"Graduates, as we celebrate this milestone, in your journey, we owe it to ourselves to recall the story of this world class institution," he said.
He therefore shared a couple of lessons that would help the graduates and those include; having a vision where he reminded the already delivering commitment of RICA to support smallholder agriculture.
He reminded that agriculture is a critical driver of Africa's growth, but the continent has not unlocked its full potential.
"Graduates, in this context, I challenge you to identify a problem, give it your full attention and make it your purpose to solve it," he said.
The president said that having a vision is different from giving up and persevering.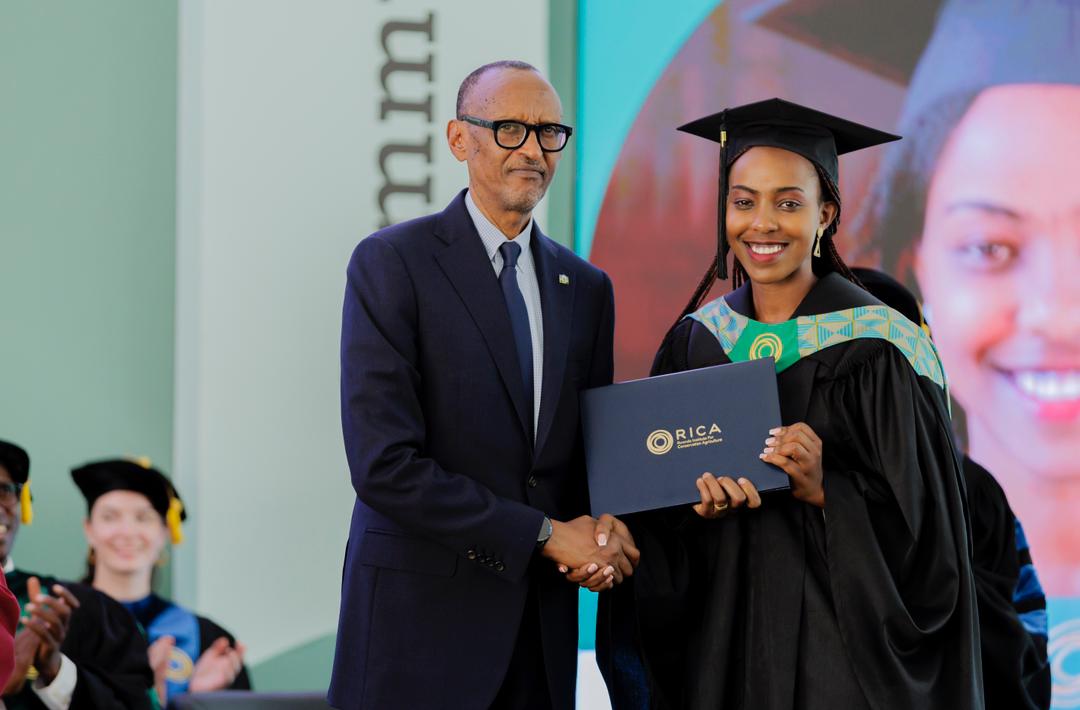 A second lesson from the president to the graduates, was that, "many will doubt you, but always do what you think is right."
"To be successful, you have to walk the path less traveled," the president said.
Kagame recalled the story from the launch of Nasho pivot irrigation in Kirehe district also by Howard G. Foundation where none would believe it.
"Today the system is improving farmers' productivity. At Nasho, students work closely with farmer communities and use this first hand information to perform their research," he said.
As third lesson, the president said, that nothing worth doing is achieved alone.
He said that RICA's partners, including the Rwanda government have contributed to build the institution into an international recognized institution that it is today.
"Surround yourselves with like-minded colleagues who motivate you to be your best," he said.
He encouraged them to be in touch with each other and with the institution, reminding that the lessons resonate well with the transformational journey of Rwanda.
"Because of our context, we had to do our things differently. Many friends like Howard Buffet bet on our success and invested in our vision of a better Rwanda. Howard, I think we have not disappointed you," Kagame said addressing to RICA's founder.
President Kagame thanked Buffett for supporting Rwanda's vision through RICA and told the graduates that the ball is in their court and they need to go out and bring positive change.
Speaking at the graduation, Howard Buffet said he was very grateful to all the people who allowed the university to be in place, and those include Rwanda's Ministers, staff, leaders and leadership at RICA, but on top is President Kagame.
"This institution would not be here today without his leadership," he said.
Buffet said that the institute was met with many challenges, but the most important thing is that they have finally succeeded.
Bueffett evoked a story of 20 years ago, where a successful investor chaired a board meeting and told him: "Howie! Give me one simple idea, not two, not three, just one idea that could be transformational for countries in Africa, for African continent."
As a response, Buffett said: "I didn't hesitate because I knew the answer. I said every country in Africa, has its own version of a land grant university, meaning the original colleges and universities established in United States and they transformed American agriculture, a hundred and seventy-five years ago to make it what it is today."
Such an institute, he said, would be devoted to practical training, to more sustainable solutions and operated in the context of appropriate agriculture for the specific country where it would be located. Very importantly it would be informed by and designed for local needs, local research and local extension.
The institute would train the next generation of leaders in agriculture to help countries to reach their highest and best potentials both and agriculture and across priorities.
"Ten years ago, we decided at the foundation that we were going to try and fund this idea. To do it, we had to find the right partner and it would be the understatement to say that we found the right partner in Rwanda. Rwanda was the only partner on the continent we could have selected," said Bueffett.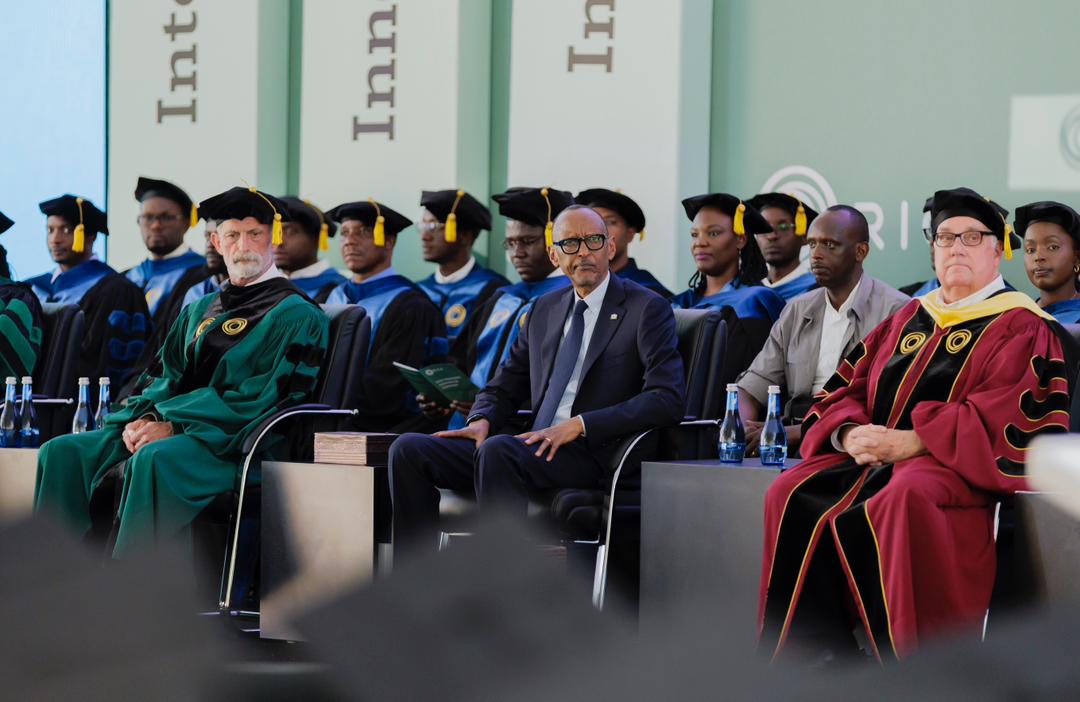 "I don't say this lightly because I have been to every country on this continent, I have been to a few conflict zones on this continent. We spent 20 years working in South, we had a Cheatah Reserve there, I have seen a lot of Africa…I told my daughter who is here today, I said when you come to Rwanda you are not going to see the real Africa, but you are going to see the future of Africa."
Buffett thanked the university of Nebrask-Lincoln for a significant and steadfast commitment that they made to not help get the university built but also to stay with the institution and to create the great curriculum that led to the graduation.
The most important, he said that the university of Nebraska understood that it was not about bringing their campus or the Western thinking to Rwanda.
"This is about bringing the concept that we know works to transform agriculture and make it what it needs to be for Rwanda, for Rwandans, in Rwanda and that's what we've done," he said.
Buffett also knows that despite efforts of each and everyone, even students who took the risk to come to school should be aknowledge, even though starting RICA itself was taking a risk.
He thanked parents who accepted to send their children and said they deserve gratitude and so do all officials of the district of Bugesera.
He shared a few thoughts where he told the students, that, education is very important, but not the only thing that will make them successful.
Some elements of human behaviour, he said, will determine how well they do through their life judgement, their ability to anticipate and their foresight and their strength to say no because sometimes they need to say no, the willingness to accept failure which can make them successful.
Buffett shared something important that he learnt from his father, that "it takes thirty years to build a reputation and five minutes to ruin it.
"Don't ruin your reputation through one mistake," he said.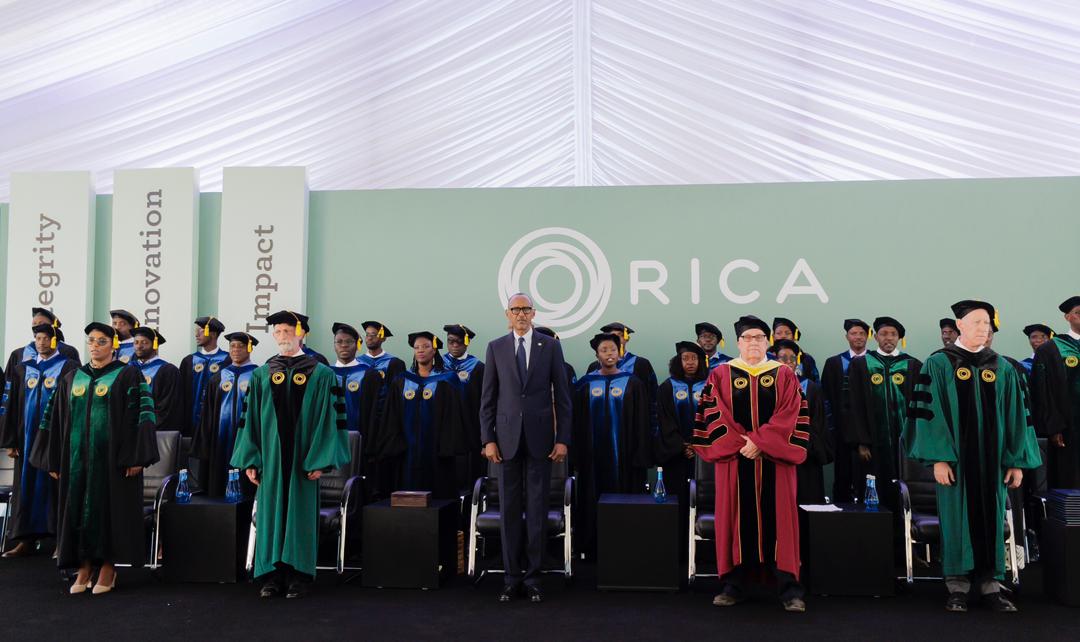 On behalf of the 2023 class Chichi Brave Ntaganira said: "As pioneer of this great institution, we embarked on a journey like no other, getting our hands dirty in the very first week of our arrival, waking up at dawn for daily chores, without any predecessors. Despite all that, we won several accolades mostly in the area of conservation agriculture."
"Even during the unprecedented COVID-19 pandemic, RICA found an innovative way to keep the programme uninterrupted, the campus bubble" Ntaganira said.
To the campus, he said, their valuable support proves that RICA is not just an institution but a nurturing community that fosters connections beyond the lecture hood. We are very grateful."
He expressed gratitude to President Paul Kagame and Howard G. Buffet Foundation for invaluable investments in RICA which goes beyond the classroom.
He said that 60% of the graduates are already self-employed in diverse components of agriculture sector.
He advised to his colleagues to put to god use the wide range of knowledge acquired at RICA.