Price hikes on Rwanda's local market continue to defy purchasing power and to make it difficult to several members of Rwandan community to afford basic needs.
Latest to cause a public outcry was the hike of fuel prices on October 3.
The government set the maximum retail price for Gasoline (Premium Motor Spirit) at Rwf1,822 a litre, from Rwf1,639, from the prices announced in August -an increase of Rwf183 per litre. This was the highest increase the country has ever experienced.
The retail price for Diesel (Automotive Gas Oil) was fixed to Rwf1,662 from a previous price of Rwf1,492, reflecting an increase of Rwf170 per litre consumed.
The hike only exacerbated the already skyrocketing prices of food commodities which is complicating the cost of living in Rwanda.
In an exclusive interview last week, the Minister of Trade and Industry Jean Chrysostome Ngabitsinze told KT Press that the hike has well documented reasons, some of which cannot be reversed because they are linked to change at global market.
Other factors however, are teaching lessons that would support efforts to reverse the trends.
First on his list was the devaluation of Rwandan currency due to the trade imbalance coupled with the increasing global economic crisis.
"You may recall that the central bank report estimated the Rwandan currency devaluation to 8.8 per cent in the last three months. This constitutes a very important factor," Minister Ngabitsinze said.
Also affecting the prices was the climate change which cost poor harvest in the latest season C, and even the previous one.
An agronomist by training, Ngabitsinze said that the production on Rwanda's staple food-irish potatoes was particularly low in the previous season given the reduction in farming input-fertilizers whose shipment delayed by transports barriers from the West.
"The fertilisers delayed, and when it came, the price was high. Some farmers reverted to vegetables instead of irish potatoes and this largely reduced the agricultural production," Ngabitsinze said.
"We get supply in fertilizers from the West, and with the war in Ukraine, the world is affected by shortage and so are we, because we are far away. Despite government subsidies, the gap is still huge."
The lasting solution to the issue of fertilisers, would be a local production. In this context, Rwanda is building a factory in Bugesera district, now at 60% of completion rate.
In front of these problems, efforts to find remedy lead to attempt to fix prices for essential food commodities.
According to Ngabitsinze, the price fixation affects rice on the farmer and factory ends, maize and Irish potatoes.
"It's not the best solution, but it's an attempt to protect both the consumer and the farmer. The idea is to have the person who bet in a given crop have return on investment, and the consumer, fair price. We only do it on harvest season," Ngabitsinze said adding that it avoids price speculations.
The prices are one season long.
Even during the period of fixation of prices, some traders never review prices downward, but Ngabitsinze understands that "it is human nature to seek to earn a lot from others."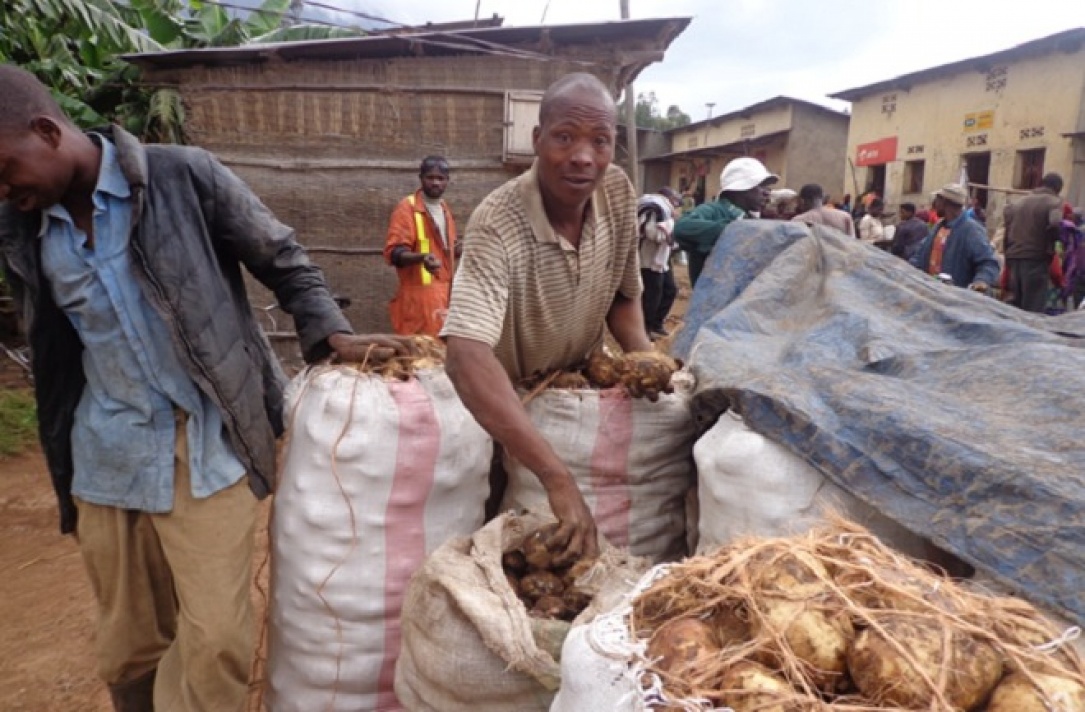 In front of the hiking of the price, Minister Ngabitsinze commented on the issues of post-harvest handling where in last seasons, farmers in Rubavu district decried loss of vegetables which did not find buyers.
Through the years, this issue was blamed on farmers who grow crops without having a market for them.
However, Ngabitsinzi admits that the government rather has to do more; providing value chain facilities while building cold rooms for example.
"We lacked coordination to have this issue solved. We should be knowing the cultivated land and establish way earlier what should happen after harvest," he said.
He said there is a new project from ministry of agriculture which is set to solve storage and post-harvest issues.
"This will help to have storage, not only of vegetables, but also other things like maize and others. It is not fair that we get harvest which is over within three months," he said.
The cost of export on food security 
Addressing an issue of extra exports where it is alleged that some animal products and food commodities like irish potatoes, milk, eggs and others are exported to an extent that they cause scarcity in the country, Minicom argues that there is always a balance in everything.
"On a regular basis, we follow the trends and know what goes out and what remains in the country. Indeed the issue happened recently on the irish potatoes where it was ending in the Democratic Republic of Congo. We agreed with traders how we could strike a balance," the Minister said.
"You cannot close against your neighbour completely, because you would also need them. Imagine if we close the irish potatoes to our regional market and in their turn they close oil against us."
Beyond food commodities, Rwanda boasts of local products that cut across several sectors of life. They come from the apparel industry, house and domestic equipment, agriculture value chain, to mention quite a few.
The challenge, as for the consumers, is that Made in Rwanda means "expensive", but for Ngabitsinze, that should not be an issue.
"We may need to be proud of Made in Rwanda, and to promote it. Maybe the challenge is that we produce on small scale which affects production cost. We are yet to understand that having a brand of made in Rwanda is greater than the product itself," he said adding that the most important is that everyone gets what they can afford.
Meanwhile, Ngabitsinze admits that the purchasing power is reducing, and people need to adjust every now and then.