You have not heard much about the 1994 Genocide against Tutsi until you visit Karambo cell of Gatenga sector in Kicukiro district to hear testimonies of the citizens who, in most cases, narrowly survived the tragedy.
The evil in Karambo, which was then Gikondo sector, now Gatenga sector would have started way earlier but intensified after October 1,1990 when the Rwanda Patriotic Front(RPA) Inkotanyi launched the liberation struggle by the Eastern Province.
A man whom they identify as Seraphin Twahirwa at that time was working as a mechanical-driver at the Ministry of Infrastructure. He is now battling a genocide trial in court of assize in Belgium.
An alleged nephew of the then President Juvénal Habyarimana, Twahirwa would have picked up a narrative of the then government according to which "the tutsi have attacked Rwanda, the enemy of Rwanda is the Tutsi."
He then started creating a clique for himself and the neighbours understood that he was up to something.
Slowly but surely, Twahirwa gained fame and he became the talk of the city and after Rwanda adopted the multi partyism regime in its constitution in 1991, he became a man of influence in the ruling party, the National Revolutionary and Democratic Movement (MRND in its French acronyms).
"He created an army for himself, to an extent that he would even give his gangs ranks. He imposed himself as President of Interahamwe militia and became more like the vice president of the country because he was much daring. He was brutal and had none to call a friend," said a witness.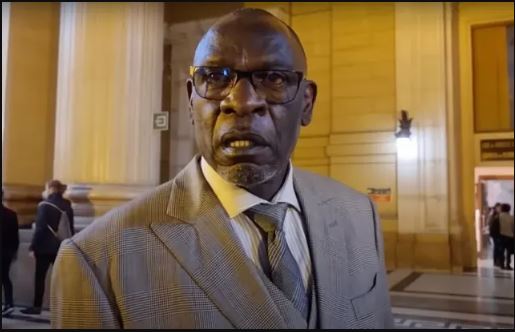 According to the witnesses, towards the Genocide Twahirwa started making a list of the Tutsi to be killed and hunted them. One of his victims included a driver of trans border truck John Nkurikiyinka in Kigali.
After he realised that the threat was too much, Nkurikiyinka relocated to Butare in the Southern Province and left a guard to his Kigali home.
"Twahirwa, upon realizing that his target had escaped, he killed the guard and burnt the house," said a witness. During the Genocide, Nkurikiyinka escaped to Burundi where he would die of a natural death, but his wife and children were killed during the Genocide.
"If you like, Twahirwa was the king of the evil, he was a monster. He once killed a woman who was pregnant with twins while saying: when you kill mice you don't spare pregnant ones as per the Kinyarwanda saying."
Another witness whose father was a famous retailer in Gikondo recalled how his family was attacked during the Genocide and she narrowly survived but the father did not escape.
"Interahamwe militia arrived at my home and I hid under the bed with my 6-month old child. However, my father accepted to go out hoping that he would be safe because he used to give them money," said the witness.
"They said they were coming for him and he proposed them Rwf 200,000 to let him go. After grabbing the money, they said: Noway! Twahirwa said you must die. And they shot him dead."
Kihebe, a self-denying recklessness man of Karambo
During the trial hearing in Brussels last week, the court of Assize asked Twahirwa the meaning of his nickname 'Kihebe' and he told them that he was a multipurpose man who was fit for all tasks when he was working at a garage, and this was the origin of the name.
The witnesses of Karambo however, suggest that although he was not especially physically strong, Twahirwa was a self-denying recklessness which earned him the nickname of Kihebe which loosely translates as fatalistic.
This was mainly influenced by the fact that he had confidence because, said a witness, he was related to the first family and owned a pistol and even a rifle which he used to kill the Tutsi before and during the Genocide.With this influence, Twahirwa is said to have been instrumental in recruiting young people, especially focusing "on casual workers and people who had nothing to lose in life for training of Inerahamwe in Gabiro camp, Eastern Province."
Those are the people he used to send on ground to pick the Tutsi and to kill them mercilessly.
Witnesses said, that he would use these groups, including adolescents to fight with other political parties where they would remove their flags and replace them with MRND flag after stiff fight.
"Twahirwa used to send his gangs to the Rwanda Parliament-current CND and watch the people who go to visit the RPA Inkotanyi soldiers. They would kill them on their way back. That's how he killed my husband Paul Bandag," said a witness.
Twahirwa "boasting of rapping the Tutsi"
In Court of Assize, judges will hear 12 testimonies of Genocide survivors who accuse Twahirwa to have raped them. Some of them already shared appalling testimonies.
But before arriving to people from other families, he had allegedly grabbed by force a girl from Secondary school whom he made illegal wife against her will.
Twahirwa, said a witness, killed his brother-in-law who had opposed this marriage.  The wife of Twahirwa who is currently in Nairobi-Kenya testified against her husband.
She said her husband used to come home boasting of being popular in raping Tutsi women.
In retaliation however, Twahirwa told the court that his wife "was not normal because I used to bring home children born out of the marriage and she would integrate them without asking."
Twahirwa brought the argument seeking to convince the court, that the testimony of his wife was not valid.
His wife however said in a recorded testimony, that Twahirwa "would boast of raping Tutsi women. He would say that he was champion."
In the laptop and other gadgets of Twahirwa, said the prosecution in Brussels, a lot of images of pornography and naked women were discovered.