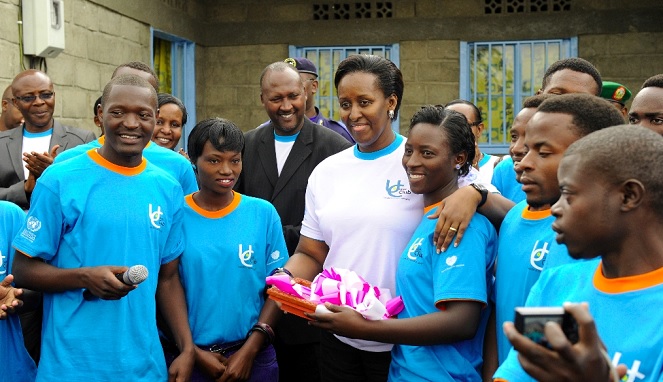 Jubilations filled Rwanda's 'Petit Stade Amahoro' in the capital Kigali on Sunday, July 5, as thousands of Rwandan girls, women and men gathered to celebrate 10 years anniversary of Imbuto Foundation, a charity organisation championed by Rwanda's First Lady Jeannette Kagame.
Emotions engulfed young girls, mostly orphans of the 1994 genocide against Tutsi, from across the country, who celebrated the 'unexpected' change in their lives.
"I never expected to graduate at the University and become an engineer today," Cecile Umurerwa, one of the beneficiaries of Imbuto Foundation told KT Pres.
In 2005, Imbuto Foundation was born. Formerly 'Protection and Care of Families Against HIV/AIDS (PACFA), the organisation changed to Imbuto, with a more pronounced vision of empowering and preparing young Rwandan girls for prosperous future.
Mrs. Jeannette Kagame's signature statement is usually that, "A seed well planted, watered, nurtured and given all the necessary support, successfully grows into a healthy plant- one that reaches high and stands tall."
One of Rwanda's devastation brought about by the 1994 genocide against Tutsi was the thousands of orphans and vulnerable children across the country.
According to the Director General of Imbuto Foundation, Radegonde Ndejuru, one of the objectives was to bring back hope for girls and women in the country as part of supporting the government to restore hope and dignity of all Rwandans.
The foundation has so far nurtured and supported over 4000 girls and boys with academic assistance and leadership skills.
Speaking at the ceremony, Mrs. Kagame said that, "We marvel at how the young girls we nurtured and supported have grown and become inspiring role models in their own right."
The First Lady, who was flanked by Tony Blair's wife, Cherie Blair, said that, "We are convinced that the best way to overcome the obstacles facing girls is to influence the home and school environments."
"We felt this approach would contribute to solving other challenges such as access retention and transition," she added.At the ceremony that was attended by government officials, development partners and members of civil society organisation, girls demonstrated appreciation to Imbuto Foundation and the First Lady for restoring their hope for the future.
"To us, you are a parent. You made us who we are today." said Ugirase Sybille, one of the beneficiaries.
"Imbuto Foundation showed me that with discipline and hard work, there is always a positive outcome," said Aurore Umutesi a beneficiary of Imbuto who currently serves a Lead Course Facilitator and Data Analytics Coordinator at Kepler, a nonprofit university program designed for the developing world, located in Kigali.
The event was characterized by different panelists who gave an inspiring and moving speeches to Rwandan girls.
Cherie Blair, who was a panelist, gave an emotional testimony of her struggle to success.
"I was not a natural First Lady of UK. I was born from a poor family in Liverpool. My father abandoned my mother when I was 8. At the same period, I was awarded the first prize in school. At the age of 14, I was such a confident girl…I told my classmates that I will once become the Prime Minister of UK," Mrs Blair, who holds a top class degree in law said amidst applause from the audience.
The former UK First Lady left a message to Rwandan girls; "Dream and achieve. But remember all this involves humility, hard work and commitment."
On the penal was also UNICEF country director, Noala Skinner, who reminded participants that, "Education for girls is right in principle and in practice. It has a great effect on the world."
Celebrations to mark 10 years of Imbuto Foundation's success involved a series of activities including a football match played yesterday between the organisation's partners and government officials.