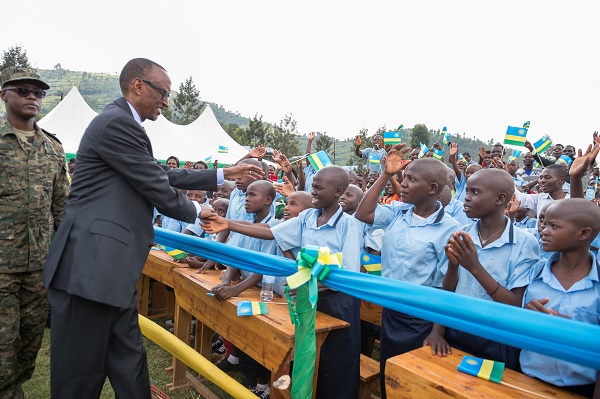 Rwanda's President Paul Kagame today arrived in Norwegian capital Oslo, to attend a global summit on education for development.
Kagame attends the summit on the invitation of Norwegian Prime Minister, Erna Solberg, whom they sit on the same Millennium Development Goals advocacy committee.
Kagame is expected to feature along with other global leaders to discuss and seek lasting political commitment to ensure access to education for all children.
The summit comes at a backdrop of millions of children around the world denied or have no access to education.
Speaking ahead of the summit, Norwegian Prime Minister said. "121 million children and youth across the World are out of school. They are denied their human rights to education."
She added that her government invited world leaders, education experts and the Private Sector "to mobilise strong and renewed political commitment to which all children who don't have access to education."
The 2015 report on Millennium Development Goals report is expected to be released during the summit.
Kagame, whose government has exhibited excellent results on ensuring education for all which is MDGs goal number two, is expected to speak as a 'shinning' star at the summit.
Statistics from 2013/14 Education For All (EFA) Global Monitoring report indicate that Rwanda cut down the percentage of school dropout children and those with no access to education from 18% in 2000 to 6% in 2013.
The East African nation has also experienced an exciting increase in access to education for girls compared to boys.
According to Ministry of education records, the percentage of girls in schools was above 50 per cent last year, with expected net enrollment to hit 98% next year, a move education experts could be a global achievement.
Statistics also show that the percentage of girls enrollment compared to their brothers increased. In 2000 boys' enrolment in school was 50.4% compared to 49.6% for girls. However, the rate exponentially turned around in 2012, with 49.3% (boys) compared to 50.7% for girls.
Meanwhile, President Kagame will tomorrow participate in a high level discussion dubbed 'Investment in Education' along with Anies Rasyid Baswedan, Indonesian minister for education and culture; former British Prime Minister Gordon Brown, who currently serve as the United Nations Special Envoy for Global Education.
Other panelists expected to feature along Kagame include Julia Gillard, Chair of the Global Partnership for Education, Dr. Mark Dybul, Director of the Global Fund to Fight against AIDS, Tuberculosis and Malaria, as well as Keith Hansen, World Bank's Vice President for Global Practices.