Rwanda on Wednesday auctioned its largest mining site sitting on 22,000 hectares at Gatumba sector in Ngororero district of Western Province.
Four companies have taken over a large portion of the mining site after winning a tender and have committed $ 37,843,791 worth of investment.
Their investment will go into exploration work, mining and mineral processing, job creation, contribution to the welfare of the neighboring community, and increasing the country's exports.
This deal, meant to increase productivity, is valid for 15 years. However, the new contractors have made commitments for only five years and will be renewed twice.
The mining site is subdivided into 17 small and big concession blocs. In this auction, six big mining concessions were auctioned with estimated sizes between 800 and 1600 hectares each.
The new owners of the auctioned concessions include; Ngororero Mining Company, Daba Supplies Ltd, SEAVCOM and  KNM Combines Ltd also the only international firm from India.
"The deal is timely…we lost the whole of last year without production," said Evode Imena, State Minister for Mining in Ministry of Natural Resources.
He said the previous contractor was suspended for continuously delivering far below expectations.
Imena told KT Press that contractors are expected to add 28% to mining production in the next two years. Last year Rwanda produced 9800 tons of  minerals. The new companies are expected to produce an additional 2400 tons in the next two years.
The new contractors expressed a general concern of price fluctuation that is currently between 20% and 50%.
However, Imena argued that price fluctuation is cyclic and advised the contractors to focus on maximum production.
"It happens every ten years and the current one is the worst. The breakthrough is to make sure you produce to the maximum and when fluctuation is over, you bridge the gap," he said.
Rwanda earned $ 210 million from minerals in 2014, but Imena said, "We were targeting an estimate $ 280 million this year, yet figures indicate we may not make it."
Rwanda is looking for more diversification of minerals, to deal with fluctuations.
Gatumba concession is the third oldest in Rwanda after Rutongo and Rwinkwavu in Northern and Eastern province respectively. Its exploitation started in 1920 by a Belgium company.
Of the new contractors; Ngororero Mining Company has injected $ 21.5 million  to exploit Nyamisa and Nyabisindu blocs.
Daba Supplies Ltd will exploit Ndago and Nyabitare blocks, while SEAVCOM will exploit Gasovu block.  KNM Combines Ltd has  sunk $ 4.6 million to exploit Bijyojyo bloc.
"We shall ensure environment and human resource safety, unlike in the past when we were just after money," Ruzindana Munana Jean Paul, the president of Ngororero Mining Company Ltd told KT Press.
The small scale commitment for the next five years is Rwf 6 billion, while for the six big scale commitment amounts to a total $ 37.8 million.
In  1985, when SOMIRWA was declared  bankrupt, all mining sites including Gatumba remained unexploited until 1989 when a state owned firm REDEMI took over.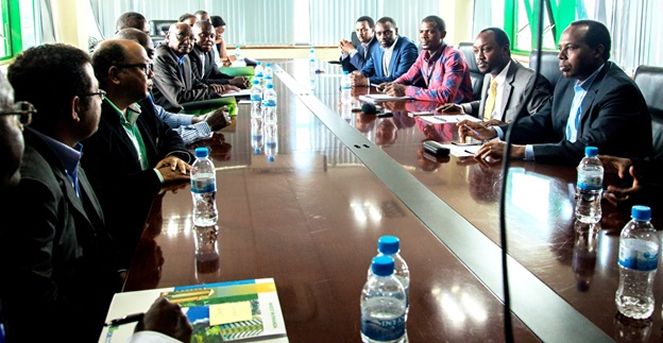 Meanwhile in  2006, when government privatised  the mining  sector, Gatumba mining site was  acquired by a private company, GMC (Gatumba  Mining Concessions) a joint venture between  the government and a consortium of private companies until May 2014 before leaving the mines  temporarily to artisan mining sub-contractors.