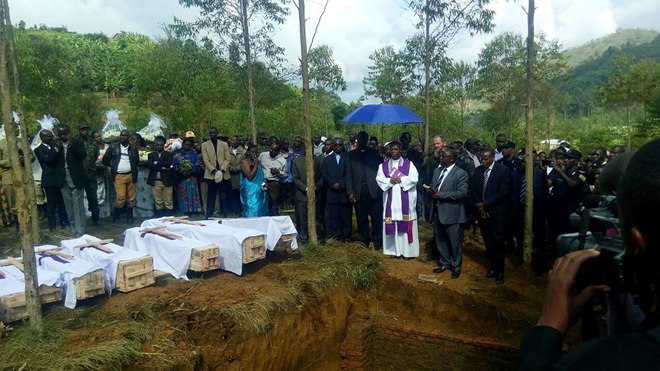 Jean Bosco Kamali, a trader who lives in Gakenke town had a great Saturday evening with his family of four.
When Kamali's wife who had gone to sell passion fruits arrived home, they got together for supper and then said their evening prayer before they went to bed.
It then started raining softly and then poured heavily.
A few minutes later, the couple heard voices of people screaming in the rain.
They then heard their children in the next room also screaming. Water had broken the walls and entered into the house.
"We woke all the children up, rushed them outside," he Kamali told KT Press today Monday evening. "Rain poured on us, and in a few minutes, an already fragile house was almost immersed before collapsing with our few belongings."
The sad Kamali added that, "Domestic animals had been swept away already."
And that was the beginning of the unforgettable rains in the villages of Gakenke district on Saturday night.
By Sunday morning, at least 30 people had been reported dead, with over 419 houses, crops and other gardens destroyed by landslides and floods. An emergency situation was declared.
Musanze-Gakenke-Kigali road was blocked, as mudslides covered up the area. "Vehicles could not move anymore," Andre Bavakure, a local leader in the area said. Villagers are making money lifting passengers on the back to cross over.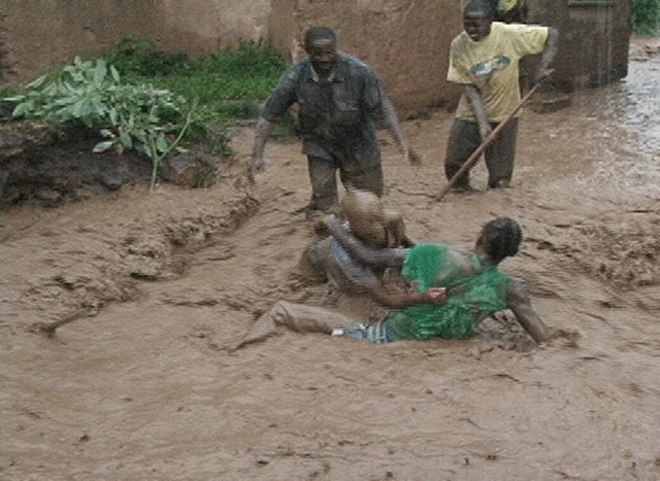 A statement issued by government says Gakenke and Muhanga Districts were the most affected by the landslides, which saw forty-nine deaths; 34 in Gakenke, eight in Muhanga, four in Rubavu and three in Ngororero, while 26 people were severely injured in the above districts.
More than 500 houses were completely destroyed and various road sections rendered unusable.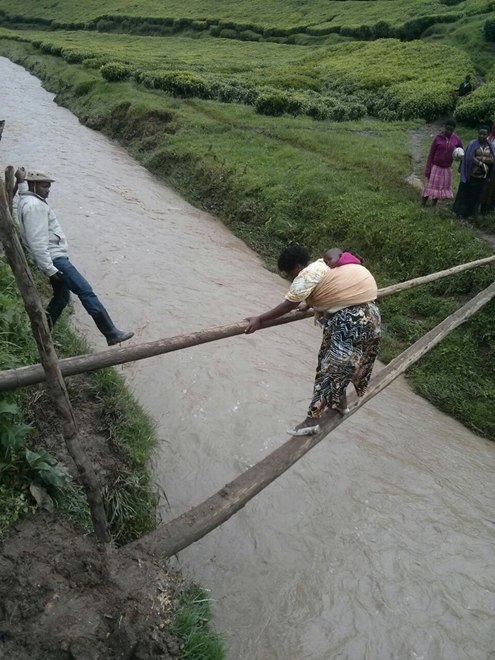 More than 500 houses were completely destroyed and various road sections rendered unusable.
New itineraries
By Monday afternoon, local government had issued a statement on its twitter handle, informing travelers of new destinations that connect Kigali to Southern and Northern Provinces respectively.
"The only operational route to Musanze is Kigali-Base-Burera-Musanze road. We are working hard to have Kigali-Musanze road cleared," the statement said.
This road under construction is now helping the citizen not to be stranded, despite paying double on fare, from Rwf1800 to Rwf3400 on Kigali-Musanze highway.
The statement added: "Both Kigali-Muhanga and Kigali-Musanze roads are still blocked. Floods on Nyabarongo River are beyond control. Government is cleaning Kigali-Musanze road."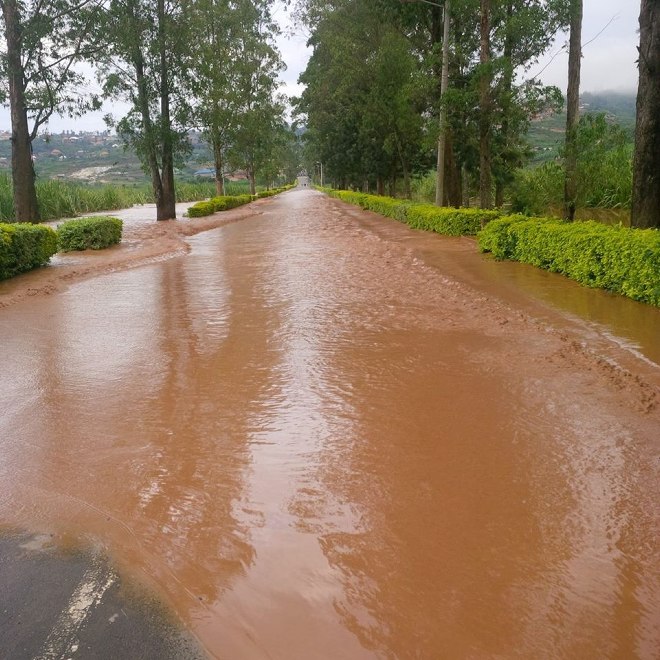 Passengers from the far Rusizi district in Western province, Huye, Nyanza, Muhanga and then Kamonyi were not stranded.
They used the Ramiro-Kibugabuga-Ruhuha- Gasoro- Nyanza road with only trucks required to hold on until the restricted highway reopens.
This road is part of the 144.157km Ngoma-Sake-Ramiro-Kibugabuga-Ruhuha-Gasoro-Nyanza-Gitwe national road, which was recommended in December National dialogue; that it should be paved as a matter of urgency.
With 2,748.835km national road network, of which 1,200km is paved, Rwanda has got alternative roads to use in case of a catastrophe that blocks one road.
There is an urgency to pave the remaining 1,537km, despite huge costs involved.
A World Bank report 2012 indicates that construction of one kilometer of a paved road in Rwanda may cost up to $ 6,139 compared to Tanzania and Ethiopia with $ 348,209 and $322,373 respectively.
Community expresses solidarity
Meanwhile, condolences have been pouring in on social media in solidarity with those who lost relatives.
Prime Minister Anastase Murekezi and other Cabinet Ministers joined the residents in giving a decent burial to the victims; contributing funerals fees, and hurried support of food supplies, shelter and clothes including other basics.
"We will support you until you recover from this disaster," says Seraphine Mukantabana, Minister of Disaster Preparedness and Refugee Affairs (Midimar).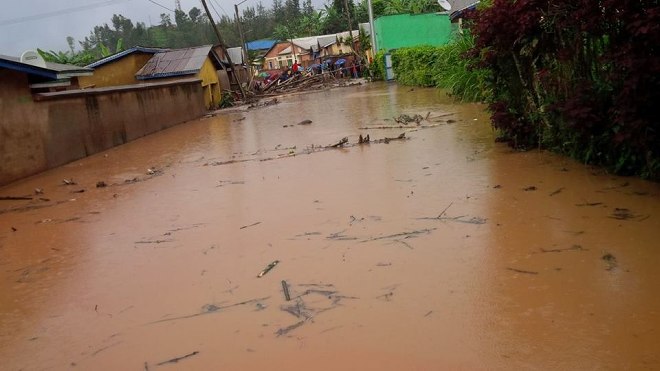 She said the ministry is going to build for families the disaster left homeless. By the time being, the families are hosted by their neighbors.
Rwanda suffers five key disasters including landslides, windstorms; drought, floods and earthquakes.
A report released by the national risk atlas last year indicates that if all these risks occurred in the country, government would count a loss of $133 million.