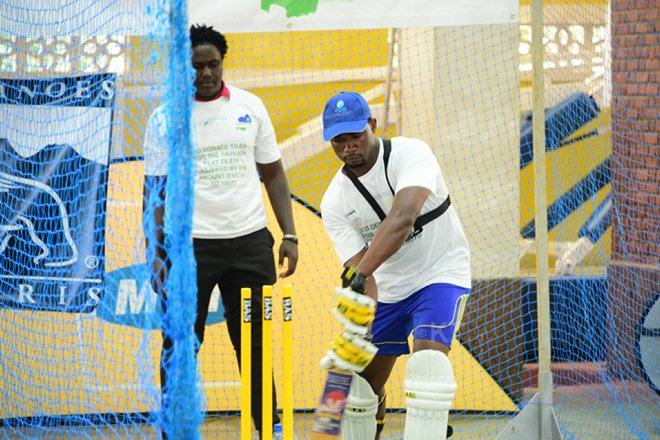 Rwanda's international cricketer, Eric Dusingizimana 29, has broken the Guinness World Record after spending the longest time batting in the cricket net.
Dusingizimana- captain of the Rwandan Cricket team, scooped $1 million (approximately Rwf800 million) after batting for an epic 51 hours.
Captain Dusingizimana's journey behind his triumph is of a big cause.
He wanted to help raise money for the Rwanda Cricket Stadium Foundation (RCSF) – a charity the club has supported in the past who are seeking to build the first ever International cricket stadium in Rwanda.
As he batted, the World Economic Forum on Africa was ongoing in the capital Kigali with over 3000 delegates.
Dusingizimana's backing was global. On the start of the longest competition in Cricket history, he was backed by the former British Prime Minister Tony Blair, who hailed an enthusiastic cricketer for breaking the Guinness record.
Jubilant Rwandan fans and Cricket lovers filled up Rwanda's Amahoro Stadium as history was made at a colourful event attended by Cricket icons and leaders in Rwanda's capital Kigali.
"This is the first Guiness record broken by a Rwandan and indeed the highest compared to others in cricket history," said Anold Murenzi, a Cricket fan.
The current record is 50hr 4 mins 51 sec, achieved by Virag Mare of India in Pune, Maharashtra, India, from 22 to 24 December last year.
To achieve this, he broke the record set by Englishman Alby Shale in the Kia Oval's own Ken Barrington Cricket Centre in 2013, when he batted for 26 hours, facing deliveries from British Prime Minister David Cameron amongst many others.
60% ($600,000) of the cash will go into construction of a national Cricket stadium, while Dusingizimana personally bags the remaining $400,000.
Rwanda has been a member of the International Cricket fraternity since 2003.
The country's team is also a member of the African Cricket Association.